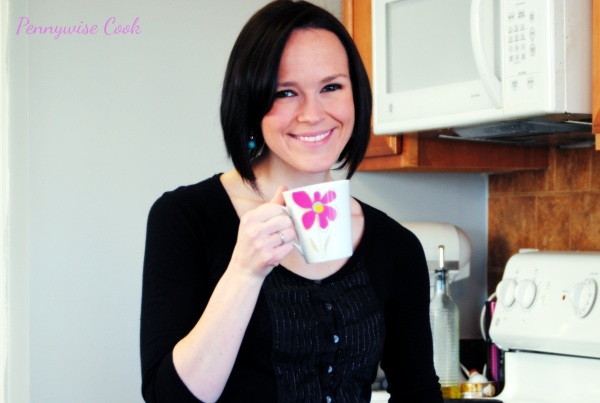 First of all WELCOME to Pennywise Cook! I'm Amy and this is my little corner where I am sharing my journey through cooking. I am not by any means a professional or culinary expert. In fact, I'm just your regular stay at home mom who just enjoys cooking. At this point I'm just trying out recipes that I come across and share them with you. After all, who has time to sit on Pinterest all day long *cough, cough*. I'm a trial and error kinda gal. I love a challenge. Some recipes turn out amazing and others, not so much. Either way, I love taking pictures of my food. I know, kinda silly, huh? Well I find that it's easier than trying to take a picture of a fidgeting 4 year old. 🙂 I'm a huge Food Network and Cooking Channel fan. I'd much rather watch those shows than reality TV. I idolize Rachael Ray, Giada De Laurentiis, Sandra Lee, Paula Deen, and Ellie Krieger. They are my inspiration. While each of them are very different from each other, they all share a common trait in the kitchen- creating wonderful and yummy food!
Why the Pennywise you say? Well I am also the author of a money-saving site called Saving with Amy where I share with my readers tips and tricks for saving money on everything from groceries to electronics. I've been a frugal girl since the moment I found out what money was. Saving money in some areas makes it possible to spend in others so why not save every penny that you can? After all, a penny saved is a penny earned right? Not only do I try to make my meals frugal, but I also attempt to make them healthy. I really like food, but the healthier the meal, the more we can eat!
I want to share recipes that I've been inspired by or adapted and made my own. I want to make the recipes as frugal, healthy, and accessible as possible. I want a fancy meal but without the fancy prices or ingredients! I also share the shortcuts and tips in the kitchen that I've picked up along the way that could help you to stretch your dollars too. I love your input so feel free to leave a comment or email me a recipe or tip! You can find this information under the Contact tab on the home page.
________________________________________
Amy Edmiston is a stay at home mom to her two girls, Addie and Britton. She is going on her 3rd year as a blogger. Amy has been mentioned in the Wall Street Journal and featured on Fox 17 News Nashville and in All You Magazine's December Issue. If she's not creating a fantastic meal or blogging about it, she's spending time with her husband and family. She is a Christian who loves the Lord and strives to be a good steward of His money.
Like this post? SHARE it!