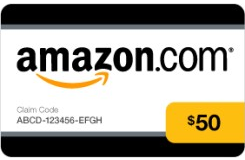 I'm so excited to be posting my first giveaway here on Pennywise Cook! I hope that you have been enjoying the recipes as much as I am. I appreciate all of your kind words and comments. I love having this outlet for sharing my favorite recipes now. Just like with coupons and saving money, I've gotten to the point where I'm calling my mom, sister, and friends all the time sharing awesome recipes! You know what I'm talking about I'm sure. You find something wonderful, you just can't keep it to yourself. And goodness, you can't imagine how much my husband hears. 😉
So to kick off Pennywise Cook's launch and I guess to celebrate a place for me to share, I have a giveaway! Have you been eying cookware or utensils lately? Chances are that Amazon has what you are looking for. And at a darn good price too! So I thought what better of a giveaway than an Amazon Gift Card! Spend on something you need, save it for a gift, or just blow it! Whoever wins can do whatever they please with their gift card.
_________________________________________________________
$50 Amazon Gift Card Giveaway
(Tell you friends!)

Mandatory Entry: Leave a comment on this post with your thoughts about Pennywise Cook! Tell me what you think about the colors, the layout, the recipes, whatever!
Optional Additional Entries:
This giveaway will end on Wednesday, February 29th at midnight CT. I will contact the winner on Thursday, March 1st and they will have 24 hours to respond. If I have not heard from them I will name a new winner.
This giveaway is in no way affiliated with Amazon. I am providing the winner with a $50 Amazon Gift Card.
Like this post? SHARE it!