I know that the title of this post is a little cheesy. Lookie there I did it again. I crack myself up! I hope that your weekend was nice! I always love lazy Saturdays. After about 10 of them in row where we had something that we wanted to organize, clean, etc. it's nice to have one that is spent just doing whatever. Like painting toenails or taking a walk. Or doing the laundry which is technically still cleaning, but instead of actually taking them out the dryer you leave them so you don't have to fold them.
My latest laundry epiphany is that we actually have a laundry basket! Came across it in the closet the other day. Those are quite handy when transporting clothes from one room to another you know. Don't you just hate when you go to pick up a pile of clothes from the bed or floor that one sock that likes to jump ship? Then you lean down (with your hands full of clothes) to pick up that one sock and then more things fall from the pile?
I sometimes feel like that about things in life. It's like you work so hard to organize your house, plans, relationships (etc), only to have pieces of it fall apart. But you know what? If you put it off, you're just stuck with stinky laundry so you have to deal with it some time! Wow, leave it to this mom to compare life to a pile of dirty laundry.
Ok on to the cheesecake! Oh yeah, creamy and light cheeeesecake…with blueberries on top!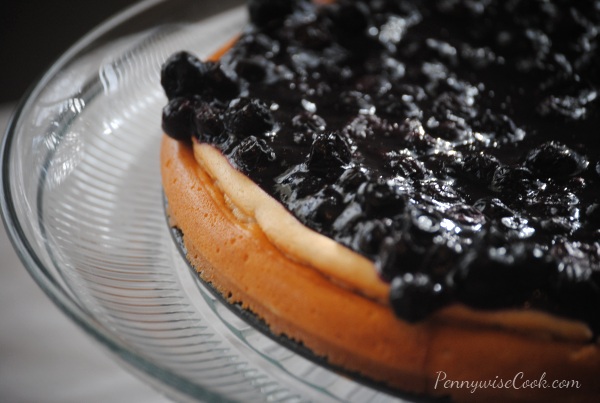 I have to admit, I've never made a cheesecake that goes in the oven before this. Most of them are made of puddings and cream cheese and are just refrigerated. Don't get me wrong, those are yummy. But I just kinda wanted to make one completely from scratch and feel that sense of accomplishment.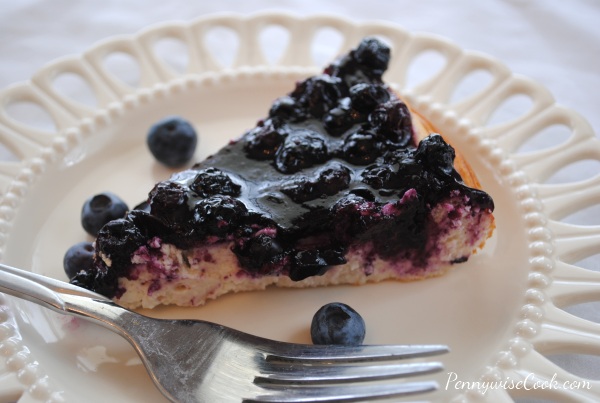 To the drawing board (aka Pinterest and Google) I went! I searched for a recipe that didn't seem to difficult, but presented a fair challenge. And as always, I wanted something that was lower in calories and healthier than most. I ended up finding this recipe over at Hungry Girl and boy am I glad that I found it! This recipe was not only easy, but it also tasted like a million bucks.
We had my mom and stepdad over for dinner one night and I served this for dessert. They never figured out that it was a healthy version of an otherwise unhealthy cheesecake. I love recipes like that.
Recipe courtesy of Hungry Girl.
Berry Tasty Blueberry Cheesecake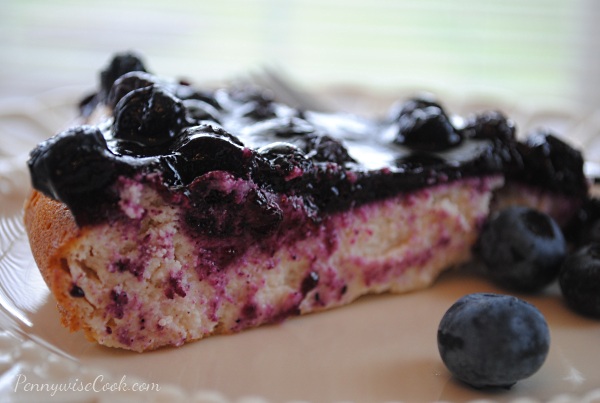 This light and fluffy cheesecake is topped with very berry blueberries and is sure to impress!
Ingredients
For the Cheesecake

16 oz. fat-free cream cheese, room temperature
1/2 cup granulated sugar
1 tsp. vanilla extract
6 oz. (about 3/4 cup) fat-free vanilla Greek yogurt, room temperature
3 large egg whites or 1/2 cup liquid egg whites, room temperature
2 tbsp. lemon juice, room temperature
2 tbsp. all-purpose flour
1/4 tsp. cinnamon

For the Topping

2 cups frozen unsweetened blueberries
2 tbsp. granulated sugar
1 tbsp. cornstarch
1/4 tsp. cinnamon
Dash salt
Method
Preheat oven to 350 degrees. Spray a 9? springform pan with nonstick spray and set aside.
Combine cream cheese, sugar, and vanilla extract in a large bowl. With an electric mixer, beat until smooth.Gradually add yogurt, egg whites, lemon juice, flour, and cinnamon. Beat until thoroughly mixed, about 2 minutes. Evenly pour mixture into the pan.
Bake 40 – 45 minutes, until firm. Set cheesecake aside and allow to cool in the pan.
Meanwhile, bring a medium-sized pot to medium-high heat. Add all topping ingredients. Add 1/2 cup cold water and mix well. Bring mixture to a boil, and then reduce heat to low. Stirring occasionally, simmer until the mixture is thick and gooey, 2 – 3 minutes. Remove from heat and let cool.
Once both the cheesecake and the topping have completely cooled, evenly pour the topping over the cheesecake in the pan. Refrigerate for at least 1 hour, until fully chilled.
Enjoy!
Notes
Be sure to let all of your cold ingredients come to room temp before incorporating them. This helps to prevent your cheesecake from cracking. I learned this one the hard way!
http://www.pennywisecook.com/berry-tasty-blueberry-cheesecake/
Like this post? SHARE it!