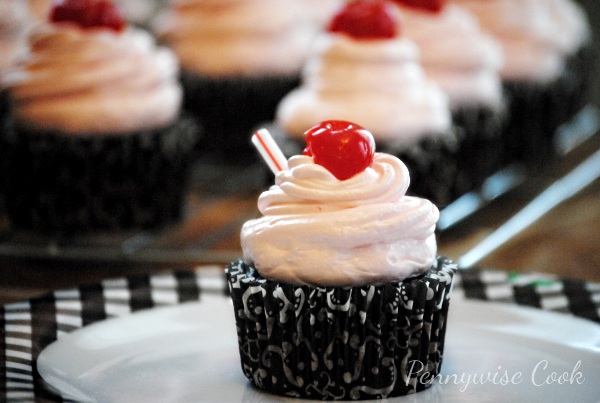 Cupcakes will always be one of my most favorite things to make, ever. Individual cakes? Come on. How can you not love your own little cake with icing and all? What about a Cherry Coke Cupcake? And how about let's make it chocolate too! I think that sounds like a fantastic combination. This cupcake ended up quite cherry-y. A lot more than I had planned, but it was quite tasty. One I will definitely make again.
It wasn't until I set out to make these cupcakes that I realized how hard it was to find Cherry Coke these days. I used to drink it a lot in high school and it was pretty easy to find. I had to settle on Wild Cherry Pepsi to make these, so they may come out a bit different for those who are actually able to find Cherry Coke. Oh and just a little secret, I also used DIET Pepsi Wild Cherry. This made these a little better on the calorie side. You know me, always making things a bit healthier. I also used egg white substitute instead of plain old egg whites, but feel free to use real egg whites.
The frosting on these babies is a very fluffy cherry frosting with BIG taste. I really enjoyed using something other than your everyday buttercream. Sometimes that can be so heavy.
Made with mainly egg whites, boiled and then whipped, this frosting was very easy to pipe onto the cupcakes and made for a very pretty color! It was fantastic. I'll be using it again.
You most definitely don't have to make yours as diet as I did. After all, you're already making cupcakes. It's just in my nature to get my food as low in calories as possible. Any little shortcuts that I can make without sacrificing taste makes me happy!
Chocolate Cherry Coke Cupcakes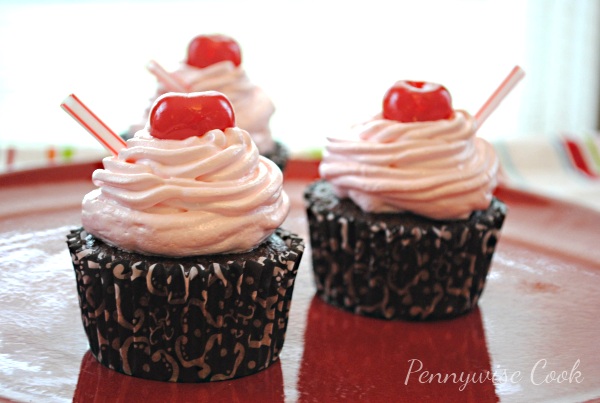 Cherry coke lover? These cupcakes are the perfect combination of chocolate and cherry coke with a healthy twist!
Ingredients
Box Devils Food Cake Mix (Your preference)
2 Egg Whites (Or substitute)
12 oz Cherry Coke (Or Diet)
Maraschino Cherries (for topping)
1-1/2 cups sugar
4 egg whites
1/4 cup water
1/4 cup maraschino cherry juice
1/2 teaspoon cream of tartar
1 teaspoon vanilla extract
1/2 teaspoon cherry extract or 1/4 teaspoon almond extract
Method
For The Cupcakes

Mix cake mix, egg whites, and cherry coke in a bowl. Pour into cupcake liners and bake according to cake mix directions. Simple!

For The Cherry Frosting

In a heavy saucepan, mix the sugar, egg whites, water, cherry juice and cream of tartar. Mix on a low speed with hand mixer for 1 minute. Continue to beat on low over low heat until mix reach 160 degrees on a candy thermometer. This will take about 10 minutes.
Transfer to heavy-duty stand mixer bowl. Add the extracts. Beat on high until stiff peaks form. This will take about 7 minutes.
Frost the cupcakes.
Add your cherries and you're done!
http://www.pennywisecook.com/chocolate-cherry-coke-cupcakes/
Like this post? SHARE it!