My husband and I went to England a little over a year ago on the most amazing trip. It was for his work, but I got to gallivant around and it was pretty incredible. I really enjoyed taking in their culture and how similar, yet so different that country is. One thing that I really loved about the UK is that they are really big on Indian food there. I'm a big fan of Indian food. Kinda ironic considering that I really don't like spicy food. I always order everything mild.
You're probably wondering what this gorgeous pie has to do with England. This is a pie that originated in England known as a "Bonafee" pie. It comes from the words banana and toffee put together. For years, I've been making caramel pies very similar to this and never once thought of putting bananas with it. But boy is it yummy!
This pie is incredibly easy. Like, you wouldn't believe how easy. You simply need a can of Sweetened Condensed Milk to boil. In about 2 hours, it turns to caramel! Yeah, it's really that simple. You can even use fat free sweetened condensed milk. This part of the pie is the most time consuming and takes a little babysitting. You'll want to make sure that the cans stay completely submerged the entire time. You have to add hot water just about every 30 minutes during the 2- 2.5 hours.
Making your own crust is super simple too. I bought some shortbread cookies at Dollar Tree and popped them into the food processor. I ground them up until they were crumbs and then added in some melted butter and pressed that mixture into a pie pan. Bake that for about 10 minutes and you have a 2-ingredient homemade pie crust! Just about any cookies will work for this crust- shortbread cookies, vanilla wafers, even biscotti!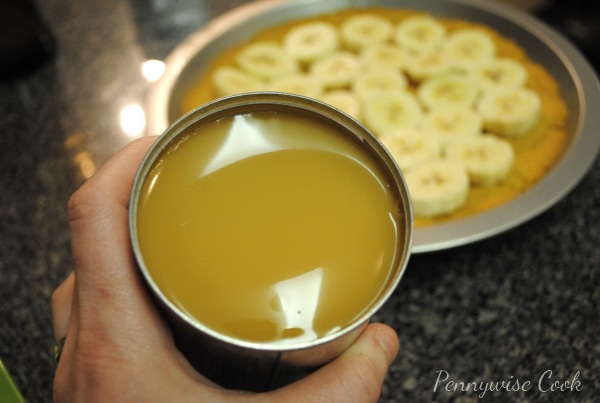 Once your sweetened condensed milk is done boiling it will look like this. Place a few sliced bananas into your pie crust. Then…
..Spread the caramel over the bananas. It's difficult not to dive into this pie already!
Top it with some whipped cream (or homemade if you're adventurous) and shave a little chocolate over the top. It's best to let it chill for about an hour in the refrigerator for it to set. This pie is extremely easy to make and tastes like you put lots of work into it!
Adapted from Brooklyn Limestone's Recipe
Easy Caramel Banana "Banoffee" Pie
Sweetened Condensed Milk magically turns into caramel in this delicious caramel banana pie! Use Fat Free Sweetened Condensed Milk and a Reduced Fat Graham Cracker Crust for a healthier version.
Ingredients
Pie Filling

1 Can Sweetened Condensed Milk
2-3 Bananas, Sliced
1 Graham Cracker Crust (Or See Below for Homemade Recipe)
1/2 Package Whipped Topping
Chocolate Bar for Topping (Optional)

Pie Crust

1 Package Shortbread, Graham Crackers, or Cookies of your choice
3/4 Stick butter, Melted
Method
To Make the Pie

In a large pot of water, place can of sweetened condensed milk. Make sure there is about an inch to 2 inches of water above the can.The can must remain completely submerged the entire process. Boil the sweetened condensed milk in a rolling boil for at least 2 hours.
When the can is done boiling, turn off the burner and remove from pot. Let cool for 5-10 minutes.
Place sliced bananas into the bottom of your crust. Carefully open the caramel can and spread over the bananas.
Spread the whipped topping over the caramel. Shave chocolate bar over whipped topping.
Refrigerate for at least 1 hour before serving.

For Homemade Pie Crust

Place cookies into food processor or blender. Chop until cookies are crumbs.
Add in melted butter and combine mixture well.
Press cookie and butter mixture with your hand into pie pan. Be sure to get up around the edges.
Bake in oven at 350 for 10 minutes. Let cool.
Notes
You can get creative with your crust if making it from scratch. This pie would taste good in just about any kind. I think an oreo crust would be marvelous!
Also, to make a plain old caramel pie, just boil the two cans and throw it in a pie crust! Makes a super easy dish to bring along to a cookout!
http://www.pennywisecook.com/easy-caramel-banana-banoffee-pie/
Like this post? SHARE it!