We had a very good day today. Britton, my 9 month old, was in a very pleasant mood the entire day. And you know that always keeps momma in a good mood too. It was goregeous outside today so Addie got to play outside for quite  long time. And this was probably the first time that Britton ever got to go outside for a length of time. She absolutely loved it! Minus actually having to touch the grass (we kept her on a blanket), she was all about the outdoors. Her favorite part was the wind.
It was such a nice reminder of how we should take a minute every now and then to enjoy the small things in life. Like wind on our face and the sound of birds chirping. I know I sound a little silly, but I'm totally serious. With spring time around us, it's such a beautiful time to really enjoy nature and the simpler things.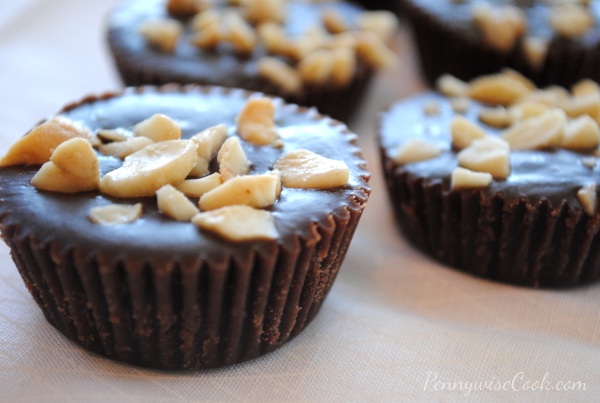 You know what else that I love anytime of year? FUDGE! I'm pretty sure that fudge is the cure-all for just about anything. It's like an instant pick-me-up. There's just something about that creamy and smooth texture that makes it enjoyable. I made a recipe for Two-Ingredient Peanut Butter Fudge over on Saving with Amy a while back. It only calls for two ingredients which makes it not only easy, but also extremely affordable as well. I decided to make up my own little recipe with this one as a base to kinda spice it up and make it a little fancier.
Mini muffin liners make the best fudge wrappers! They make them like little Reeses cups which is also really easy for serving. No sticky fingers and they look pretty too.
The two ingredient method works well, but it doesn't stay firm for long periods of time. In putting together this Chocolate Peanut Butter Fudge, I wanted to add something to make it thicker and also keep it firmer. So I ended up adding some chocolate chips and cornstarch to the equation. I think it did a world of good for this fudge. And as you see, I fancied it up a bit with chopped cashews on top. This was the best fudge I've made! You might just like it too.
One of favorite things about this recipe is that you can actually make it healthy by using reduced fat peanut butter and use sugar free frosting! I haven't tried this recipe with natural peanut butter before so I'm not sure that it will have the same consistency.
Easy Chocolate Peanut Butter Fudge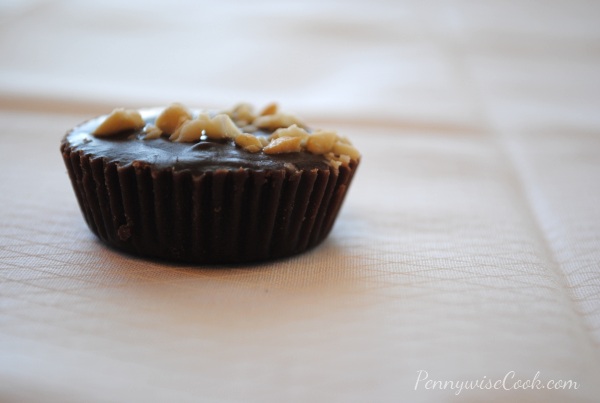 This super easy recipe for fudge is tasty, smooth, and perfect for "one of those days". Or any day!
Ingredients
1 18 oz Jar Peanut Butter (Creamy or Crunchy)
1 16 oz Tub Chocolate Frosting
1/3 C. Chocolate Chips
1 Tsp Cornstarch
1 Tsp Water
Chopped Cashew or Walnuts (Optional)
Method
Place peanut butter and chocolate frosting into a large bowl. Microwave for 1 minute. Remove and stir. Microwave for 1 more minute.
Meanwhile, dissolve the cornstarch into the tsp of water.
Melt chocolate chips in a double boiler (or microwave them to melt)
Remove the fudge mixture from the microwave and stir in the cornstarch and melted chocolate chips.
Pour into mini muffin liners or pan. Top with chopped nuts.
Freeze for 45 minutes to help set quickly.
Notes
Melting the chocolate chips isn't a must. I haven't tried leaving them whole, but I'm sure that it would be tasty even if they didn't melt. Freezing the fudge is not absolutely necessary, but I find it helps it to set better. The peanut butter that you use is completely up to you. I love creamy because it makes the fudge smooth, but by all means if you like things crunchy, crunchy peanut butter works just as well.
http://www.pennywisecook.com/easy-chocolate-peanut-butter-fudge/
Like this post? SHARE it!