It was a busy weekend here. Hence the lack of the DIY and kitchen tip for you. I had the most amazing craft to share with you, but I have been so exhausted that every free moment has been used just plain sitting. You know how those weekends go. Today's recipe is one that can practically save breakfast on days just as I described.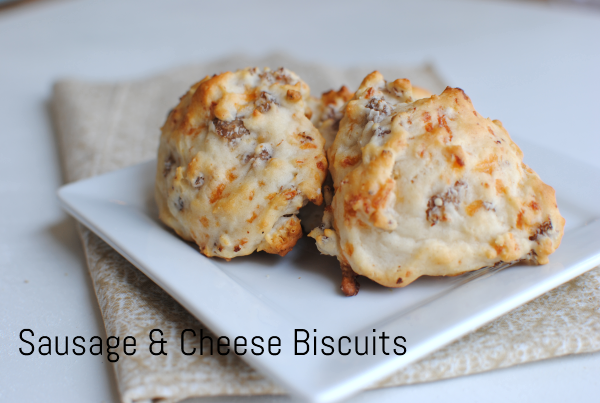 While it's fairly simple to prepare a bowl of Froot Loops in the morning, it's not always filling. The sugary cereal usually makes my oldest hungry within about 20 minutes. Looking for some freezer breakfast ideas the other night I ended up settling on a biscuit idea that I was sure would satisfy and kick start the mornings will something yummy.
Biscuits packed with meaty sausage and cheese.
I could've gone to my mom and gotten a family recipe for special biscuits. I could've gone to Google for a tasty biscuit recipe that was effortless. But to be honest with you, I ended up using the recipe for drop biscuits on the back of my off-brand Bisquik box and just adding what I wanted to it!
They turned out absolutely perfect. So simple, yet so tasty. My favorite kind of recipes!
These make the perfect freezer breakfast on the go! Or just on a lazy morning when you don't feel like making anything. That just so happens to be most mornings around here. Especially lately because Britton has decided that she is an early bird. I'm not yet used to such early mornings just yet, but it's good to know that I have something like these biscuits to just pop in the microwave for a quick bite for breakfast.
Easy Sausage and Cheese Biscuits
Adding hearty ingredients like sausage and cheese to an everyday biscuit make a great kick start to your morning!
Ingredients
2 1/4 c. Bisquik Baking Mix
2/3 c. Milk
1 lb Turkey Breakfast Sausage
3/4 c. Shredded Cheddar Cheese
1 1/2 tsp garlic, minced
Method
Preheat oven to 450 degrees.
Mix all ingredients in a medium bowl until combined.
Drop dough by the teaspoonful onto a lightly-greased baking sheet.
Bake for 8-10 minutes or until golden brown.
Notes
To freeze, let cool completely then place in a ziploc or freezer bag. To thaw, pop in the microwave for around 5 seconds.
http://www.pennywisecook.com/easy-sausage-and-cheese-biscuits/
Like this post? SHARE it!