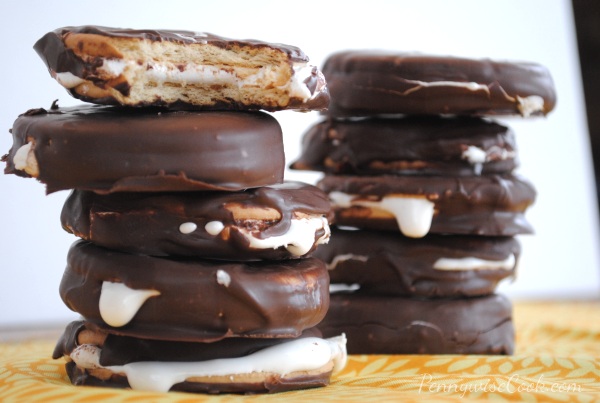 So I got a sweet tooth the other day. Actually, I get sweet teeth everyday. But by now, I'm sure you've figured that one out.
My latest sweet tooth led me to recreate homemade moon pies. You know, those graham cracker-y, marshmallow-y, chocolate-y cookie cake thingys that are incredibly yummy. They go really well with RC Colas too. They have a festival not too far from me called The RC and Moon Pie Festival. No joke. Each year, they create the world's largest moon pie and it's huge! There are sack races, hula hoop contests, and even live blue grass music. Everything that you'd expect from a quaint little festival. It's really a lot of fun. If you're in the Nashville area, it's June 16th this year if you'd like to check it out.
The funny thing about this moon pie recipe adventure is that I didn't end up making moon pie cookies. I was fully expecting the cookies to soften a little, but alas they did not. They tasted much more like S'mores instead. And I'm not going to lie, this accidental recipe was fantastic!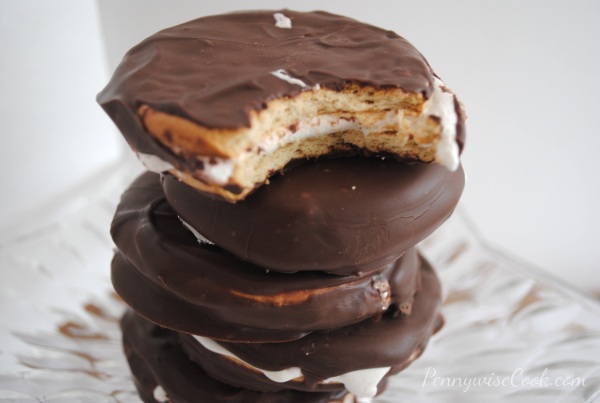 I think that my favorite part was that it didn't cost a bundle to make these. The ingredient that cost the most was the Dolci Frutta Hard Shell Chocolate at $2.98. I found the round cookies at Dollar Tree. I believe they are called "Maria" cookies. I also got my marshmallow cream there. So all in all these cost about $5 to make. These cookies would make an awesome sleep over snack! And no need for a camp fire. Those can be dangerous anyways. 😉
These are incredibly easy, but most likely won't last long if you leave them around.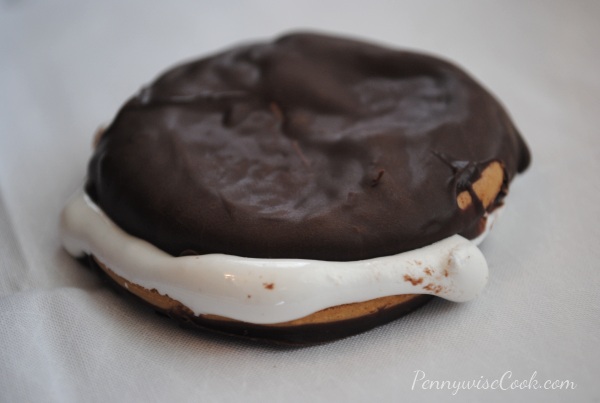 Forget the fire and whip up some of these Gimme S'more Cookies!
Ingredients
1 Package Round "Maria" Cookies (Or Shortbread Cookies)
1 Tub Marshmallow Cream
1 8 oz Canister Dolci Frutta Hard Shell Chocolate
Method
Spread about 1 and 1/2 tablespoons marshmallow cream between two cookies. Repeat until all the cookies are gone. Place in the refrigerator for 45 minutes to 1 hour.
Line a baking sheet with wax paper. (Or lay it out on the counter)
Heat up Dolci Frutta according to the directions on the package.
Take cookies out of the refrigerator and dip into chocolate. Place on wax paper and let cool.
Notes
It's necessary to put these into the refrigerator before dipping them so that the cookie and marshmallow can kinda fuse together and harden that way.
If you can't find the Maria cookies, even regular graham crackers would work just find. You'll have square cookies instead of round. Any sweet cookie would work just fine. These were fairly large.
http://www.pennywisecook.com/gimme-smore-cookies/
Like this post? SHARE it!