I'm not much of a gardener. Most every spring I get an artificial green thumb. I like to waltz around thinking I'm going to make my flower beds and yard look amazing. It usually leads to removing about a third of the weeds and then throwing mulch on top of the rest. At least they look pretty for a little while!
Although I will say that this spring I've decided to stop pretending and actually attempt to grow something that I might use that way I'm accountable. I've started an herb garden in pots. Which Addie insists it's not a garden because it's not in the ground, but I beg to differ. Aside from that, what you see above is probably about as close to a green thumb as I'm going to get.
How about In The Garden Cupcakes? Aren't they adorable? I found these little planter pots at Dollar Tree and they where 3 for $1!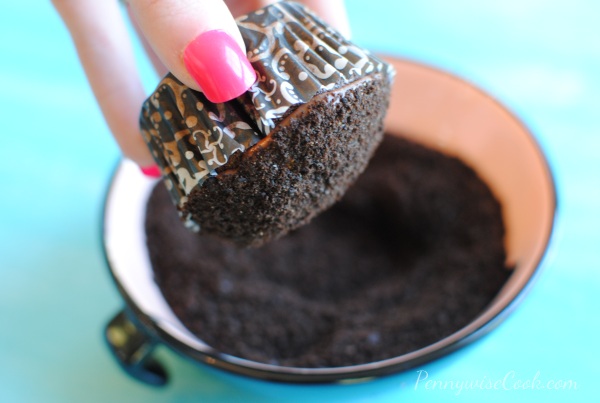 I simply made up some chocolate cupcakes (see recipe below) and frosted them. Then I dipped their tops in crushed oreo cookies like so. Before you go thinking wow are her nails so pretty, they are fake. I love those boxed nails! Cheaper than going to a salon and great in a pinch.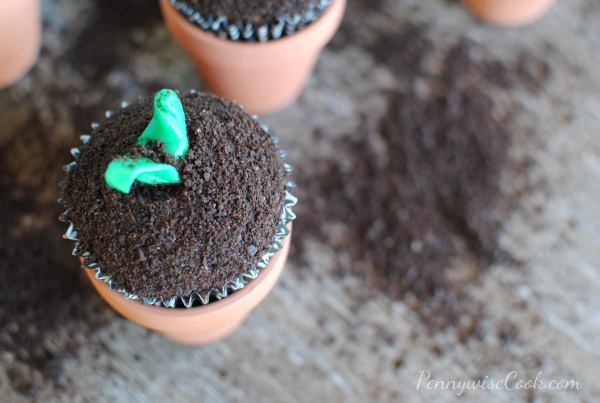 After getting them good and "dirty", I made these little sprouts out of all things….Airheads! Remember those? I just cut them into small pieces and rolled them until they look semi-close to a sprout. Simple!
And then of course, I placed them into these adorable little planters. So fun and the neighborhood kids just loved them. Make these for a party and hand out the planters with them so they can each decorate one with their name. Or hoard them and keep them for another batch of these beauties.
I found this cupcake recipe over at Spark People. It's actually healthy and only has about 110 calories per cupcake. That's not including your frosting so keep that in mind. The frosting that I used on this cupcake was AMAZING and is my new favorite. But you'll have to wait to get that recipe. I've got to have something to keep you coming back! 😉
And of course you can use whatever cupcake recipe you'd like. I'm just sharing with you the one that I used this go round.
Perfect for a party or outside gathering, these In The Garden Cupcakes make the perfect addition. Crushed up Oreos create the look of dirt and small planters complete the look.
Ingredients
1 3/4 cups flour
1 1/2 tsp baking soda
1 tsp salt
3/4 cup applesauce
1/4 cup margarine (softened)
1 cup splenda
1/4 cup sugar
1/4 cup brown sugar
3 eggwhites
1/2 cup skim milk
1 tsp Vanilla ext
2 TBSP coffee
1 cup semisweet chocolate chips
Chocolate Frosting of Your Choice (even Betty Crocker will work!)
Small planters (clean)
1 Cup Crushed Oreos
Green Airheads cut into around sixths
Method
Preheat oven 350 degrees.
Sift flour, baking soda, and salt. Set aside.
Melt semisweet chocolate chips and coffee in double boiler. Let cool slightly.
Cream butter, applesauce, splenda, sugar, brown sugar, and eggwhites. Add melted
Add flour mixture. Mix well. Add vanilla ext. Add milk slowly until well blended.
Pour in cupcake liners and bake for 25-35 minutes or until toothpick comes out clean.
Let cool then frosting with your choice of chocolate frosting.
Dip each cupcake in crushed oreos then place in planters.
Roll each Airhead up and then bend at a 90 degree angle and then stick into the bottom of your cupcake.
Notes
This cupcake recipe makes 24 cupcakes, but you can half the recipe if you don't have that many planters.
Even though this is a "healthy" recipe, I've gotten very good reviews from it!
http://www.pennywisecook.com/in-the-garden-cupcakes/
Like this post? SHARE it!