I hope you enjoyed your weekend. We had a BLAST on our anniversary trip to Memphis. We got a massage and got to eat at two of our favorite places in the world- Bahama Breeze and Benihana. We don't have either of those around here so it's rare that we get to go. They did not disappoint! I only strive to have my chicken fried rice come out even halfway close to Benihana's. It's fabulous.
I'm not scared of heights (I think), but our hotel room was on the 22nd floor. I had a little trouble going close to the window though because it was straight down it seemed. If you're ever in the Memphis area, I do recommend the Hilton. The service was incredible and everything was perfect.
You know something else that's perfect? Brownies! Not just any brownies either, Salted Caramel Brownies. I made these last week and I'm sitting here wishing there were some left. I can't tell you that these are low calorie because that would just be telling a fib. But I can tell you that they are low-ER calorie. How's that for satisfaction? One of these babies only has 180 calories. And believe me, one is plenty. (Yeah right)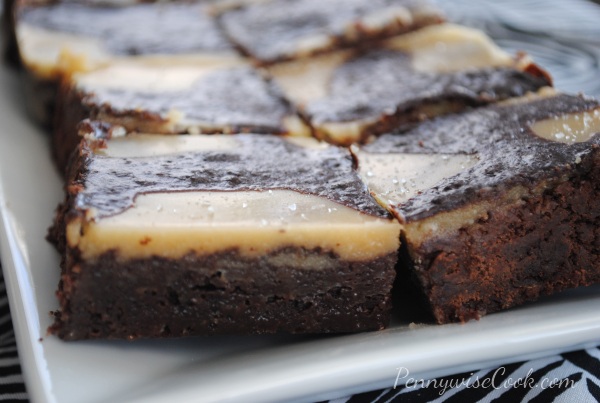 I found these brownies over on Pinterest. If you're not following me yet, you really should. I want to follow you back too! It only took one glance at them to know that I had to make them. As I clicked the picture and prepared myself to view a recipe that was loaded with calories, I was really surprised to see that this is a Cooking Light recipe. I was more than excited when I realized that there weren't 500 calories per brownie.
My brownies didn't end up looking exactly like the picture in the recipe and from the reviews it seems that no one has gotten them to look as pretty as the picture. However, who cares? They are so tasty and that's all that matters. Salted caramel on top of a delicious chocolate brownie? I'm not sure that it gets any better than that.
Recipe courtesy of MyRecipes.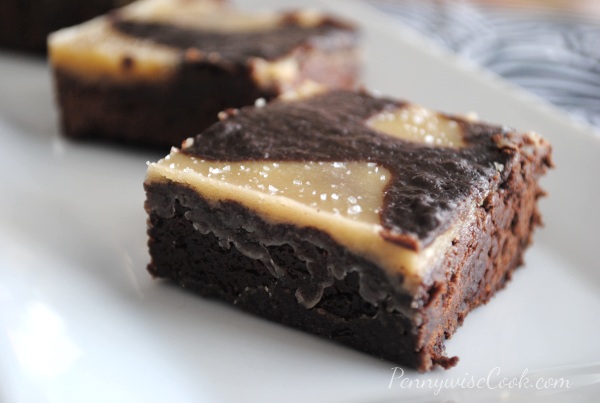 A salty caramel version of your every day brownie.
Ingredients
For the Brownies

3 19/50 ounces all-purpose flour (about 3/4 cup)
1 cup granulated sugar
3/4 cup unsweetened cocoa
1/2 cup packed brown sugar
1/2 teaspoon baking powder
6 tablespoons butter, melted
2 large eggs
1 teaspoon vanilla extract
Cooking spray

For the Topping

1/4 cup butter
1/4 cup packed brown sugar
3 1/2 tablespoons evaporated fat-free milk, divided
1/4 teaspoon vanilla extract
1/2 cup powdered sugar
1 ounce bittersweet chocolate, coarsely chopped
1/8 teaspoon coarse sea salt
Method
Preheat oven to 350°.
Combine flour, sugar, cocoa, brown sugar and baking soda in a large bowl, stirring well. Combine 6 tablespoons butter, eggs, and 1 teaspoon vanilla. Add butter mixture to flour mixture; stir.
Scrape batter into a square baking pan coated with cooking spray.
Bake for 19 minutes or until a toothpick comes out with moist crumbs clinging. Cool in pan on a wire rack.
Melt 1/4 cup butter in a saucepan over medium heat. Add 1/4 cup brown sugar and 1 1/2 tablespoons milk; cook 2 minutes.
Remove from heat. Add vanilla and powdered sugar; stir until smooth. Spread mixture evenly over cooled brownies. Let stand 20 minutes or until set.
Combine 2 tablespoons milk and chocolate in a microwave-safe bowl; microwave on HIGH for 45 seconds or until melted, stirring after 20 seconds. Stir until smooth; drizzle over caramel.
Sprinkle with sea salt; let stand until set. Cut into squares.
Notes
You can add more salt as you see fit. I think I ended up adding about a tablespoon since I like things a bit salty when mixed with sweet.
http://www.pennywisecook.com/incredible-salted-caramel-brownies/
There are the perfect thing to bring along to a cookout or gathering. They will most definitely be a hit!
Like this post? SHARE it!