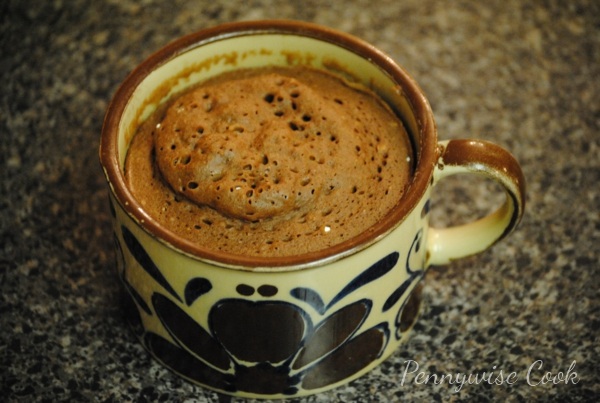 Has it been one of those weeks? It's Friday, so I hereby declare that it will get better. And to celebrate Friday in all it's glory, I think that you need a nice and chocolately piece of cake. How about it? It's almost impossible to refrain from eating chocolate cake if it's in my house. This is the exact reason that I just don't make it often! You start with a really small piece trying to be good. Next thing you know, you've eaten the entire cake in a matter of two days and you feel horrible. At least that's how it goes around here. Either that or I'm having to fight my husband away from the cake every 5 minutes.
But sometimes you just need a good, gooey, yummy piece of chocolate cake to satisfy that sweet tooth or to make your day (or late night) a little better. What if I told you that you could have your cake, and eat it too? Eat it and really enjoy it without guilt and without having to look at an entire cake sitting around afterwards. Yeah, that's my kinda cake. Enter Chocolate Cake in a Mug! This clever little invention has been around for years, but somehow I missed the boat and am just now hearing about it. Two servings of chocolatey, gooey, delicious, indulgent chocolate cake in a matter of minutes without guilt and without a cake staring at you the next day. Sign me up!
After trying out a variety of recipes (it's research you know, so I tried a LOT of them), I found one that I think is the best! There are a bunch of different recipes for cake in a mug, many of which just didn't do it for me. With this one, from beginning to end you know the best way to get this cake to come out perfect each time. I made it as healthy as possible and you can't even tell. Top it with a little powdered sugar or whipped topping and you have yourself a SWEET treat at any hour. No really, you can even eat this as a midnight snack. I give you permission. This has become a favorite snack of mine and my husband's.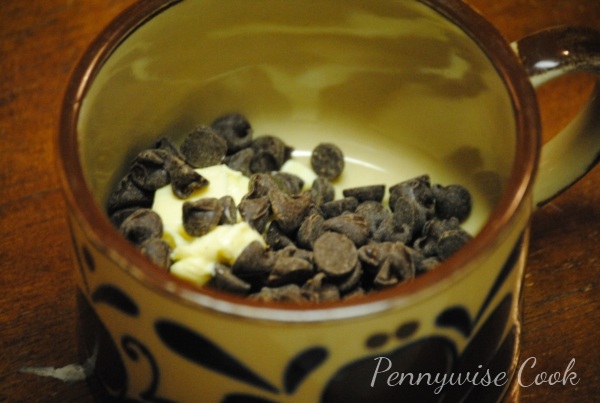 Using your widest and biggest mug, start out by melting 3 tbsp of chocolate chips into a tbsp of butter. I used Fat Free I Can't Believe It's Not Butter and it worked well! Mix that together well and add in 2 tbsp light or reduced fat sour cream (or substitute applesauce) and then 3 tbsp of skim milk. Then mix in 1 egg or egg substitute and 1/2 tsp vanilla extract. It's recommended that you use a fork and I agree that this makes it easier!
It's going to look kinda like this once you've gotten all of that mixed together. Kinda runny because it's missing the sugar and flour!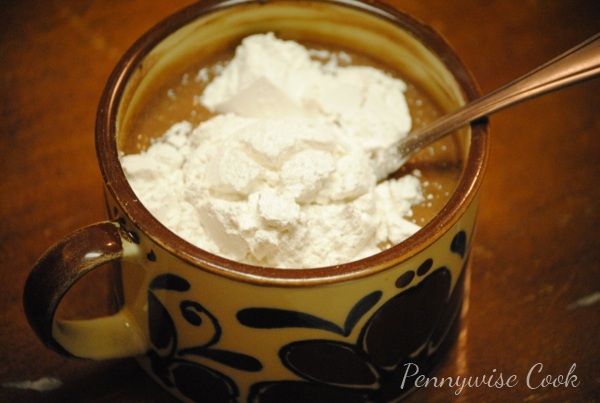 And finally, mix in 3 tbsp splenda and 4 tbsp flour. I used cake flour for a fluffier texture, but of course you can use what you have on hand.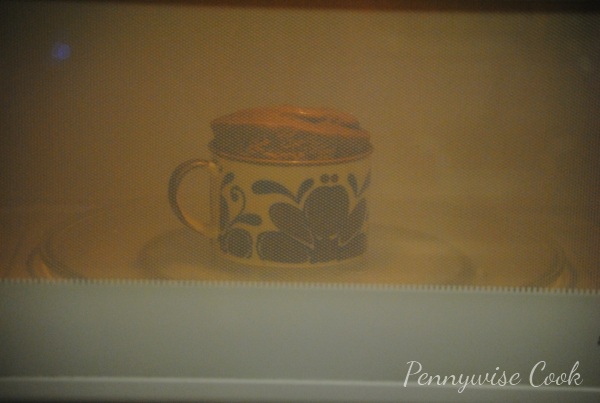 In the microwave, it tends to rise up like this. Don't worry, I haven't had one escape from my mug yet.
How easy was that?
Recipe courtesy of Urban Domestic Diva

Chocolate cake on-demand from your microwave!
Ingredients
1 Tbsp. butter
3 Tbsp. semi-sweet chocolate chips
2 Tbsp. light sour cream
3 Tbsp. Skim Milk
1 egg substitute
1/2 tsp. vanilla extract
3 Tbsp. Splenda
4 Tbsp. Flour
Method
Melt chocolate chips into butter for 30 seconds in microwave. Mix well with a fork.
Add in the sour cream and milk. Mix well.
Next, add the egg and vanilla extract. Whip for a fluffy texture.
Now add the Splenda and combine well.
Lastly, add in the flour and make sure that all ingredients are incorporated well.
Microwave for 2:30- 3 minutes. Times depend on your microwave. (Mine is perfect at 3 minutes)
Top with powdered sugar or whipped topping and enjoy!
Notes
You can eat this right out of the mug or invert onto a plate like we do. Makes it easier for sharing.
http://www.pennywisecook.com/instant-cakeification-chocolate-cake-in-a-mug/
Now, take your cake and go watch Hot in Cleveland!
Do any of you watch that show? It's my favorite!

Like this post? SHARE it!