I've been blessed to have been to Jamaica twice in my life. It's a fantastic place to visit with it's beautiful crystal clear water and "No problems, mon" atmosphere. It's one of the very few places that I've visited that I feel carefree. Two flavors that always bring me back to the Caribbean are pineapple and coconut. I'm a huge fan of both and together they make the most amazing combination.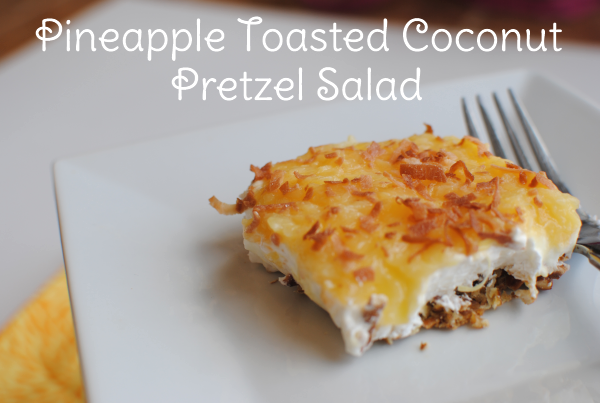 There's of course the ever-popular pina colada made of rum, coconut cream, and pineapples. But I have something new for you to try that might just curb your craving for the tropical duo.
I found this Pineapple Pretzel Salad recipe and made some changes to give it a tropical and healthier twist. Although, the fact that I sat and ate half the pan the night that I made this kinda counteracted the fact that it was healthy, but you'll be smarted than me won't you?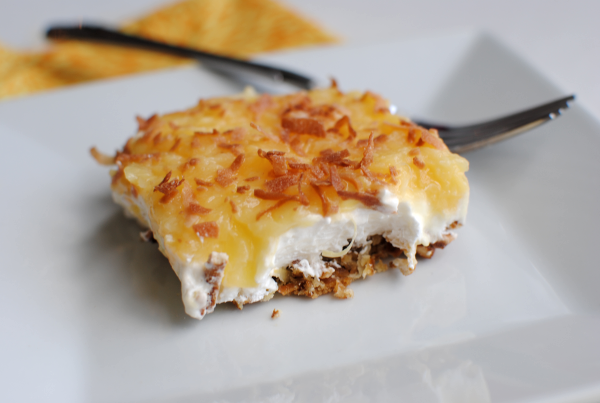 I think that one of my favorite things about this dessert is that it's got that sweet and salty thing going on. The pineapple and cream cheese provide that tasty sweet that you expect from a dessert, but the salty pretzels along with the toasted coconut give it a salty taste. This is the perfect summer dessert.
Pineapple Toasted Coconut Pretzel Salad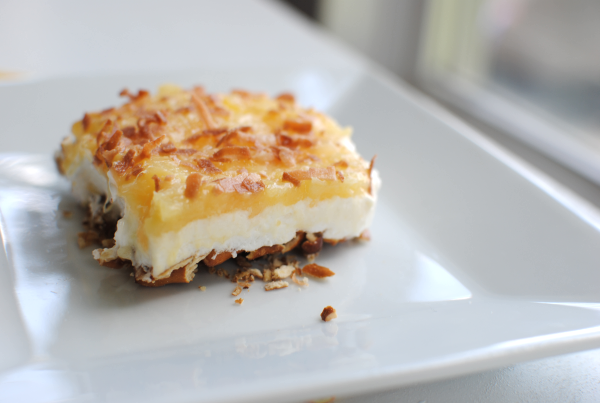 Pineapple and toasted coconut come together with a mixture of sweet and salty for a refreshing summer treat!
Ingredients
2 c. Crushed Pretzels
1/2 c. Shredded Coconut + 1/4 c. Shredded Coconut
1/2 c. butter, melted
Several Sprays of I Can't Believe It's Not Butter
1 8 oz Package of Reduced Fat Cream Cheese
1/4 c. Domino Light or 1/2 c. Splenda
1 8 oz Whipped Topping, thawed
1 20 oz Can Crushed Pineapple
4 Tsp Instant Sugar Free Vanilla Pudding Mix
Method
Preheat oven to 350 degrees.
Toasted coconut in oven for 2 minutes and remove.
Mix toasted coconut with crushed pretzels and place in the bottom of a 9x13 pan. Pour melted butter over the top. Spray several times with I Can't Believe It's Not Butter Spray to coat the pretzels. Bake for 10 minutes. Let cool.
Cream the cream cheese and sweetener together. Fold in whipped topping and spread over crust.
Combine the pineapple and pudding mix and spread over cream cheese layer. Chill until ready to serve.
Notes
An easy way to crush your pretzels is to throw them in a ziploc bag and use a heavy spoon or meat mallet to crush them on a kitchen towels. Or if you want a finer crushed crust, use a food processor.
http://www.pennywisecook.com/pineapple-toasted-coconut-pretzel-salad/
Like this post? SHARE it!