Not only do I enjoy using coupons (when I have the time), but I also really love when I can use them for things that I can actually use! For instance, every once in a while Publix will put cake mix on sale. I usually order extra coupons and stockpile it. Cake mix is such a universal baking ingredient. It's nice to make a homemade cake, but sometimes you don't have the time or patience to start from scratch. I love finding new ways to use it and spice it up.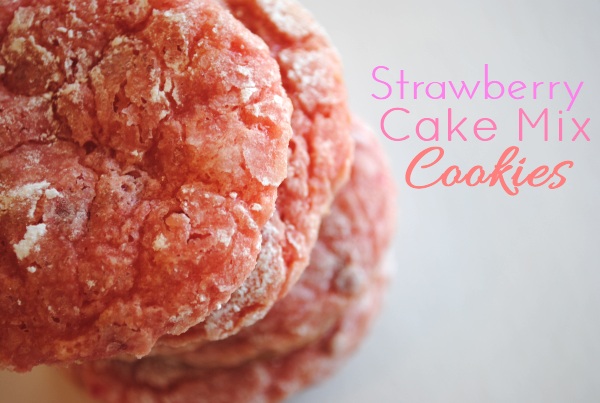 If you get tired of making cakes with your cake mix, try something new and make cookies! I have a thing for pink so I naturally gravitate towards the strawberry mix. They come out in such a spring-y color. However, that doesn't really matter because they will most likely be gone before you have time to enjoy their color. I kid you not, my family ate the entire batch in one day. They were THAT good.
These remind me a lot of sugar cookies because they are so soft. It's the cake mix doin' it's thang. I love soft cookies and I hate them. They are so incredibly yummy and easy to eat, but this also makes them easy to inhale. And before you know it, you've eaten 10 of them. Don't judge me. I don't have much will power when it comes to soft, gooey, and strawberry cookies.
I also love these because they are incredibly cheap.
A box of cake mix ($1- $1.50)
1 egg ($.10)
tub of cool whip ($1- $1.25)
1 cup powdered sugar ($.50)
Total= $3.35
Not too shabby for feeding your sweet tooth. And these are also incredibly easy. We're talking mixing egg and cool whip and then folding in the cake mix. You do have to chill it in the refrigerator for a little bit to help it firm up and set so that you can roll them into balls.
After they have firmed up a bit, you roll them into balls and then roll them in the powdered sugar. This gives a nice and sweet crusty coating when they bake. This is the most time consuming part. I did find it to be very tedious. But I've heard of folks not even going through this step so if you are in a crunch you can just leave it out. You won't be banished to the corner and your cookies will probably be just as yummy.
These cookies can be made with any flavor cake mix. I've tried confetti cake mix and made birthday cake cookies. They were yummy too!
Let me know if you try other flavors and how it turns out!
Strawberry Cake Mix Cookies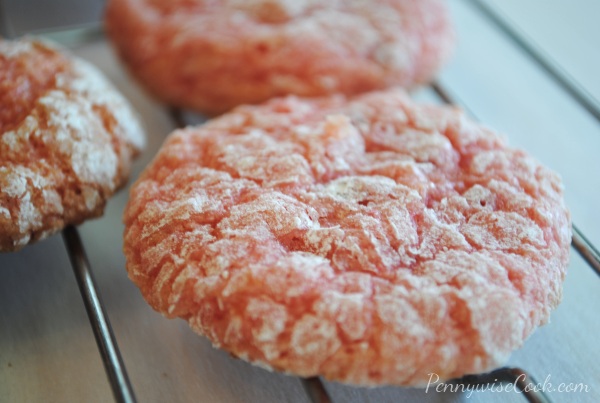 These cookies are made out of cake mix and cool whip!
Ingredients
1 Box Strawberry Cake Mix
1 8 oz Tub Cool Whip
1 Egg
1 C. Powdered Sugar
Method
Preheat oven to 350 degrees.
In a bowl, mix the cool whip and egg together until smooth.
Fold in the cake mix until well combined. Chill in the refrigerator for 20- 30 minutes.
Place powdered sugar in a bowl and drop spoonfuls of the dough into the sugar and roll it around to coat.
Place sugar-covered dough balls onto a cookie sheet and bake for 12-15 minutes.
Let cool on a wire rack.
Notes
The longer that you let the dough firm up in the refrigerator, the easier it will be to roll them.
I had to cook my cookies a bit longer because they were a bit too soft. Be sure to watch the time because you definitely don't want to overcook them.
http://www.pennywisecook.com/strawberry-cake-mix-cookies/
Like this post? SHARE it!