It is FRIDAY folks! Excuse me while I stop to do the It's Friday and It Makes Me Wanna Dance dance. ::dances a jig:: There, that's better. Now we can better reflect on our plans for the weekend.
Let's see what's on the agenda for this weekend….clean out the garage, place dirt in raised garden beds, create lightbox for ceiling light in kitchen. Better yet, let's not reflect on plans for the weekend. Mine isn't actually looking all that exciting after all. If I can get all of that accomplished, however I will be ecstatic! Got any special plans yourself?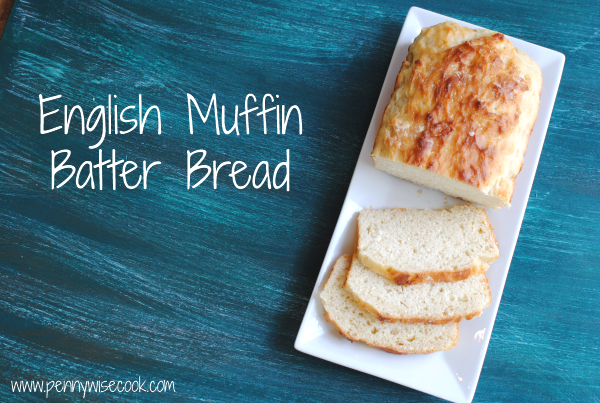 You may just want to bake up a batch of this bread at some point. It's a fairly easy recipe with common ingredients and creates a rich loaf of English Muffin type bread.
While you'd expect this bread to be just like an English muffin, I found that it was quite the contrary. In fact, I'm not really even sure why it's called "English Muffin Bread" to be honest. What I can tell you, is that it tastes incredibly buttery and yet it doesn't contain an ounce of butter! I kept saying that the entire time I was eating the entire loaf it. You may have heard me talk about how divine it smelled while in the oven over at the Pennywise Cook facebook community!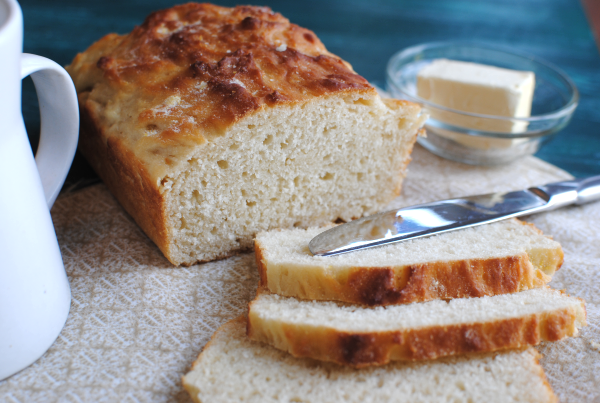 This recipe makes 2 whole loaves. The first loaf was gone the first day. We were cutting pretty pieces like pictured above and properly eating them one after the other, then somehow things changed when we got to the second loaf. Instead of neat as a pin slices, we were just diving in for big chunks of it at a time. It's yumminess somehow sent us into a much more primitive method of serving.
By primitive method I mean lazy. And by serving I mean stuffing our faces. Apparently we have no shame when it comes to good bread.
So how about it. Need a new bread recipe that tastes like butter and is so yummy you'll eat it in chunks? Find it below.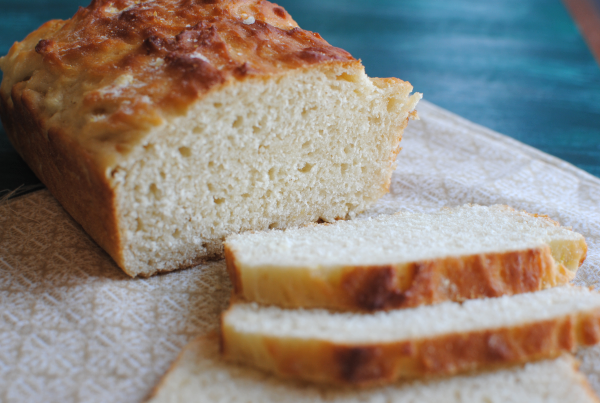 Recipe from The Pillsbury Cookbook.
| | | |
| --- | --- | --- |
| English Muffin Batter Bread | | |
Author:
Easy yet rich English Muffin Batter Bread.
Ingredients
Cornmeal for dusting
4- 4 and 1/2 All-Purpose Flour
1/4 c. Sugar
2 Teaspoons Salt
2 Pkg Active Dry Yeast
1 and 1/4 c. Water
1/2 c. Oil
2 Eggs
Instructions
Grease two 8×4 loaf pans and dust with cornmeal.
In a large bowl, combine 1 and 1/2 c flour, sugar, salt and yeast.
In a small saucepan , heat the water and oil until very warm (120 degrees or so). Add the warm liquid to the dry mixture and blend at low speed until moistened. Then beat 2 minutes on medium speed.
By hand, stir in 3 cups flour to create dough ball. Cover dough loosely with plastic wrap and let rise in warm place until doubled in size, around 50 minutes.
Stir the batter vigorously for 30 seconds the spoon into loaf pans. Cover and let rise for another 40 minutes or so until dough doubles in size.
Meanwhile preheat oven to 375 degrees. Bake 20-30 minutes until all loaves sound hollow when tapped.
Remove pans immediately and cool on wire racks.
Notes
A great place to let this dough rise is in your oven with just the oven light on. Or if your oven light is out, place the dough next to a bowl of hot water in your oven.
Like this post? SHARE it!