I can't help my love for chicken. I love it almost any way that you can cook it up. Though if it's difficult, you most likely won't catch me trying. I'm all about the simplicity of meals as most of you already know by now. I'm also fond of eating healthy and this is another reason why chicken is my meat of choice on most occasions. With the exception of frying it, you can really eat very healthy when you pick chicken over other meats. If you're like me in the simple and healthy boat, then listen up!
Check out those stats! Here's an interesting fact: the stats based on the survey above state that 66% of women and 61% of men admitted to cooking most often with chicken! Kinda staggering consider how men like their steaks and pork chops don't you think?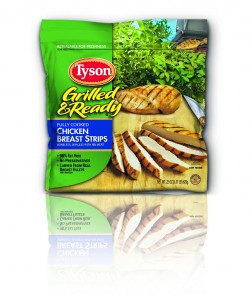 One of my favorite shortcuts when it comes to simplicity (and healthy too!) are the Tyson® Grilled & Ready® products. I actually just made dinner with them last night. I cut the grilled strips into bite-size pieces, tossed them with some brown rice and stir-fry veggies along with some seasonings and voila! Super fast and easy chicken fried rice. 
Tyson® Grilled & Ready® chicken and beef products are fully cooked, available in the frozen and refrigerated sections. Tyson® Grilled & Ready® frozen chicken and beef products are conveniently packaged in resealable bags to create delicious and smart meals in minutes
Or check out this yummy Chicken Avocado and Pear Wrap Recipe below.
 Chicken Avocado and Pear Wraps
Recipe courtesy of Tyson Foods, Inc.
Prep Time: 10 min
Cook Time: 0 min            
Total Time: 10 min
 Ingredients:
 6 ounces Tyson® Grilled & Ready® Fully Cooked      Refrigerated Grilled Chicken Breast Strips
2 large whole wheat tortillas
1/2 cup cream cheese
1 shallot, finely chopped
1 avocado, peeled, pitted and      julienned
1 small pear, julienned
1/4 cup walnuts, coarsely chopped
 Cooking Instructions:
 Prepare Grilled & Ready® Chicken Breast Strips according to package directions.
Spread each tortilla with cream cheese to within 1/2 inch of edges. Sprinkle evenly with chopped shallot.
Arrange chicken in a line across center of tortilla, top with avocado and pear slices. Sprinkle walnuts      over top.
Roll up and tuck in the ends. Wrap in plastic wrap and refrigerate until ready to serve.
Slice in half for presentation.
Serving Suggestion:
Serve with a side of fresh fruit. 
Nutrition Facts:
 Calories 370 Total Fat 14 g Protein 22 g Carbohydrate 41 g Cholesterol 35 mg Sodium 640 mg
 Serves: 4
Countdown to a Better You Program 
Just in time for summer, Tyson® Grilled & Ready®  is rolling out a program designed to help you feel better about yourself! The Countdown to A Better You program not only helps you eat healthier with Tyson Grilled & Ready products, but it also gives you a chance to win some awesome stuff! The "Countdown to a Better You" program will motivate you to eat smarter by encouraging you to create good-for-you recipes with a variety chicken and beef products. To reward you for eating better – the more products you buy, the better the prize!
You'll need to go HERE  and click on the "Countdown to a Better You" tab to register for the program which runs through June 21st, 2013. Start purchasing the Grilled & Ready products. You only need 6 of them to be eligible for the first prize level! You can also enter the sweepstakes for a chance to win 1 of 10 gran prizes- a $500 visa gift card!
1. Buy Tyson® Grilled & Ready® products
2. Save UPC codes from eligible Tyson® Grilled & Ready® products
3. Redeem by mailing in UPC codes along with the submission form available at Facebook.com/GrilledandReady to receive gift codes you can use at online retailers.  
 You decide the value of the gift code.
 6 UPC codes = $10 gift code
 9 UPC codes = $25 gift code
12 UPC codes = $50 gift code 
Plus, while supplies last, there are 10,000 product coupons available on their facebook for download!
I was compensated for this sponsored post made possible by Mom Spark Media. All thoughts are 100% my own.
Like this post? SHARE it!