I'm going to have to apologize for once again tempting you with a very bad recipe. I promise that I really do eat healthy. I'm not pulling your leg. But I have a very big weak spot for sweets.
Especially white chocolate.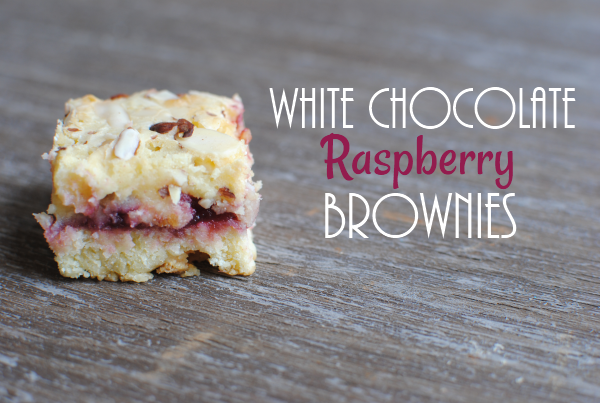 I could eat white chocolate all day long and never get enough. It's THAT good to me. I'm sure that you have your guilty pleasures. Over the last few weeks, I've been attempting to create a recipe that involves white chocolate. I have created several recipes that all failed in some way or another. Don't get me wrong, they tasted amazing. Though you'd never know it by looking at them.
So after eventually giving up, I came across this recipe on Pillsbury's website for Raspberry-Filled White Chocolate Bars and I HAD to try it. It was a redemption kinda determination situation. I said to myself, I'm not letting white chocolate take me down like this! And boy oh boy did I conquer the white chocolate with this recipe.
Oh.
My.
Word.
If you are a white chocolate lover, then you absolutely HAVE to make these. Incredibly rich, smooth and creamy, with a raspberry filling to boot.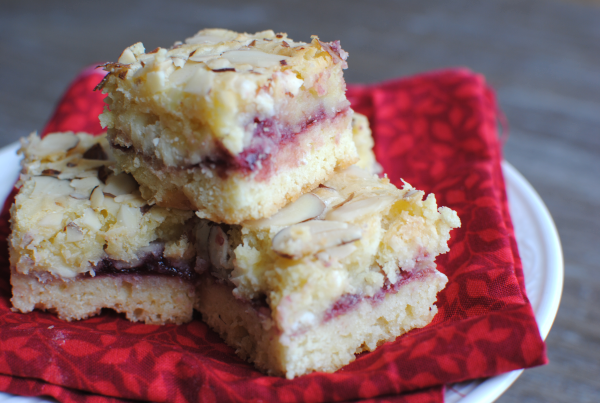 Once into this recipe I couldn't believe how easy it was to make. I made some little healthy changes like substituting sweeteners and using a sugar-free jam. You'd never even know that I made those changes with the richness of the white chocolate. These are simply incredible and worthy of a special occasion or just for the heck of it.
Yep, I'll be doing a little more at the gym to work these babies off. Totally worth it though!
I'm using a different name for this recipe than Pillsbury did. These taste just like brownies to me and they are well worthy of that title.
White Chocolate Raspberry Brownies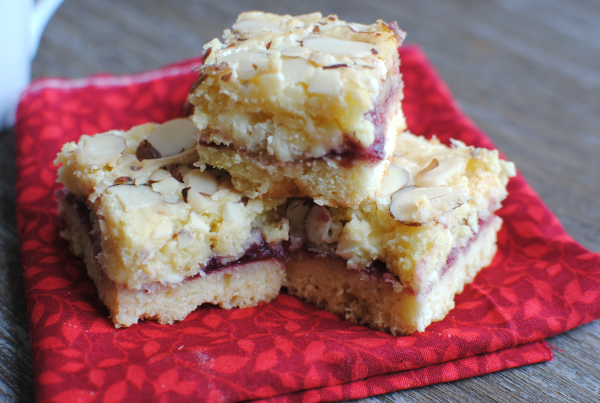 These indulgent white chocolate brownies will have you smiling with a special surprise of raspberry filling in the center!
Ingredients
1/2 cup butter
1 (12-oz.) pkg. (2 cups) white chocolate chips
2 eggs
1/4 cup sugar
1/4 cup artificial sweetener such as Domino Light!
1 cup all-purpose flour
1/2 teaspoon salt
1 teaspoon almond extract
1/2 cup sugar-free raspberry spreadable fruit or jam
1/4 cup sliced almonds, toasted
Method
Heat oven to 325°F. Grease and flour an 8-inch square baking dish.
Melt margarine in small saucepan over low heat. Remove from heat. Add 1 cup of the white vanilla chips. LET STAND; DO NOT STIR.
Beat eggs in large bowl until foamy. Gradually add sugar, beating at high speed until lemon-colored. Stir in white vanilla chip mixture. Add flour, salt and almond extract; mix at low speed just until combined.
Spread half of batter (about 1 cup) in greased and floured pan. Set remaining batter aside.
Bake at 325°F. for 15 to 20 minutes or until light golden brown.
Meanwhile, stir remaining 1 cup white vanilla chips into remaining half of batter; set aside. Melt jam in small saucepan over low heat.
Remove pan from oven. Spread melted jam evenly over warm base. Gently spoon teaspoonfuls of remaining batter over fruit. (Some fruit may show through batter, that's ok!) Sprinkle with almonds.
Return to oven; bake an additional 25 to 35 minutes or until toothpick inserted in center comes out clean. Cool 1 hour or until completely cooled. Cut into bars.
http://www.pennywisecook.com/white-chocolate-raspberry-brownies/
Like this post? SHARE it!