My mom used to have a bread business that she ran out of our home. I remember the smell of fresh bread baking in the oven. It's the most glorious smell. Not to mention that it tastes amazing too.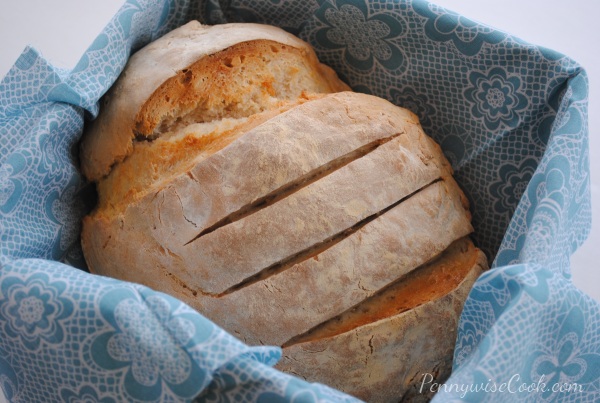 I'm not a bread baker, but every now and then I get the itch to make up a loaf. Instead of entertaining the idea of laboring to make it myself, I usually just buy a fresh made loaf at my local grocery store's bakery counter. Not this time. I became a bread warrior on a random Tuesday afternoon and decided it was time.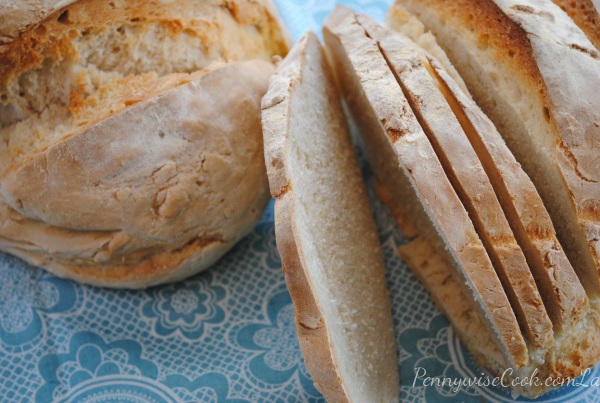 This 4 Ingredient Artisan Bread recipe was super easy, especially with my KitchenAid mixer and dough hook. Love that thing! The "labor" wasn't near as bad as I would have expected with homemade bread. The waiting for the rising was the worst part, but I have kiddos that keep me occupied so I survived the waiting.
This bread made the perfect complement to our warm meal that night. It made two loaves and I shared the other with our neighbor.
Recipe thanks to JoCooks!
4 Ingredient Artisan Bread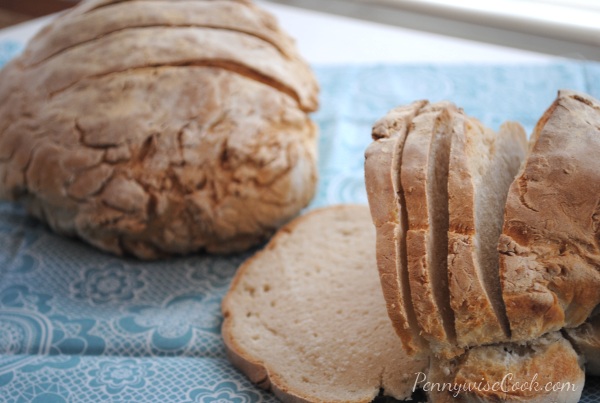 This easy recipe is great for making a nice crusty bread for soup!
Ingredients
3 cups of lukewarm water
1 1/2 tbsp active dry yeast
1 1/2 tbsp salt
6 1/2 cups all purpose flour
Method
In a medium bowl add the warm water, salt and yeast and stir together.
In the bowl of your mixer add all the flour, then pour the yeast mixture over the flour and mix using the dough hook of your mixer, until it's all well incorporated.
Place the dough in a large plastic container, it needs room to rise, and put the lid on it, but do not close completely, there needs to be one corner left open to let the gases escape. You could also use a large bowl, covered well with plastic wrap and poke a couple small holes in the top using toothpicks.
Let the dough rise for 2 hours.
The dough will be very sticky and elastic. It is recommended to bake this on a stone, however a regular baking sheet will work just fine. Cover the baking sheet, or stone with parchment paper.
Add some flour to your hands, and divide the dough in two pieces. Add more flour to your hands as necessary. Shape the dough into the desired shape for your bread and place it seam down on the baking sheet. Sprinkle some more flour on top of the loaves. Let the loaves rest for another 30 minutes so that they can rise a bit.
Preheat oven to 450 F degrees. Before placing the bread in the oven, add a pan with a cup of water and place it in the bottom rack. Slash the top of your bread, to allow gases to escape.
Bake for 30 to 35 minutes. The water will allow for the bread to form a nice crusty top.
Cool before serving.
http://www.pennywisecook.com/4-ingredient-artisan-bread/
Save on the ingredients in this recipe:

$0.40/1 Fleischmann's Yeast, exp. 4/8/12 (SS 12/04/11)
$0.40/1 Fleischmann's Yeast, exp. 4/15/12 (SS 11/06/11)
$1/1 Ultragrain All-Purpose Flour with Whole Grain, exp. 4/30/12 (SS 11/06/11 R)
Like this post? SHARE it!