I'm the kinda girl who knows what she likes. I take forever to make a decision simply because I want to make the best possible choice. But when I see it, I know it right away.
I get "gut" feelings. You know, the ones that make lean a certain way when there are more than one options available. And most always my gut leads me in the right direction. Thank you guts! That's something that I never thought I'd be thankful for. Guts. And I never thought I'd be typing how I'm thankful for my guts.
But I totally digress…
So I came across this recipe on Pinterest. I have a major addiction problem with that place. I won't go into rambling about that, but just know that I am hugely infatuated with being on that site. 🙂
Back to the recipe…Bang Bang Cauliflower thanks to That's So Michelle. Apparently it's supposed to taste like Bonefish Grill's Bang Bang Shrimp. I've never eaten that before, but it sounds like it would be tasty. And at the look of this cauliflower, I knew that I had to make some of this up. Not to mention that Aldi had their cauliflower on sale for just $.39 last week! Yes I know! My jaw was on the floor and my booty was a shakin' walking out with my buggy full of cauliflower. This recipe is the first thing I thought of making when I got home.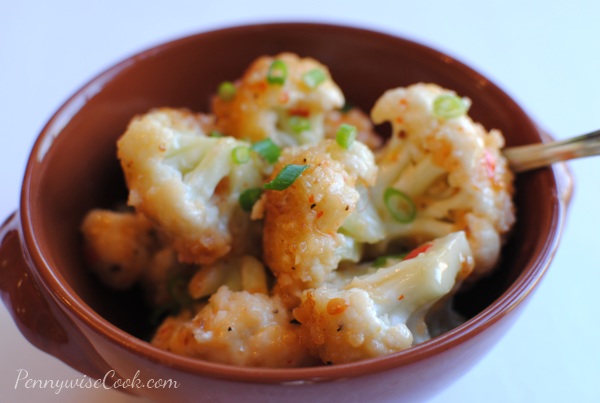 Michelle said that every bite that she took made her say "Oh wow, this is sooo good". I did the exact same thing. Oh yeah, it was that good.
We're talking BREADED cauliflower tossed in sweet chili sauce and some other incredible ingredients. I just couldn't get over how good breaded cauliflower was. I mean, whodathunkit? I'm calling Webster's with that word!
You have to make this. You just have to. If you are a cauliflower fan, it is your duty. Your cauliflower duty.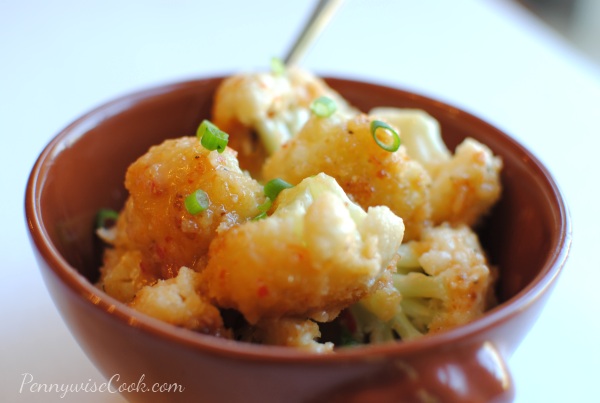 Cauliflower has never been so tasty!
Ingredients
For the Cauliflower

1/2 cup Panko bread crumbs
2 tablespoons cornstarch
1/2 cup egg whites
1 head cauliflower
Salt & pepper
1 tablespoon garlic powder
Green onion
1/4 cup coconut oil (I used olive oil)

For the Sauce

1/4 cup lite mayo
1/4 cup Franks Red Hot Sweet Chili Sauce or Siracha (add more or less depends on how hot you can handle it)
1 tablespoon rice vinegar
2 tablespoons sugar
Method
Cut up your cauliflower florets. Mix salt, pepper and garlic powder into your Panko breadcrumbs in a shallow dish.
Set separate bowls aside with egg whites and cornstarch. Dip your florets one by one into the cornstarch, and shake off excess. Then dip into egg whites, and then coat with Panko mixture.
Warm up your coconut oil in a large frying pan and place all florets in hot oil. Turn with tongs making sure all sides are browned. Set on top of paper towels to remove excess oil. Top with more salt.
In a small bowl mix all of your sauce ingredients. Coat your breaded and pan fried florets with sauce, top with sprinkles of green onion and serve right away.
Notes
Because I didn't have coconut oil, I just used extra virgin olive oil and it turned out just fine. So don't fret if you don't have that.
Also, the breading ingredients were JUST enough for my cauliflower so beware if you have a large head like I did.
The Sweet Chili Sauce was the perfect spiciness and sweetness.
We had this as a side, but I could totally eat a bowl just for dinner!
http://www.pennywisecook.com/bang-bang-cauliflower/
And I don't want to beg you, but will you PLEASE leave a comment if you make this (or even if you don't) and let me know what you think!
Like this post? SHARE it!