I'm one of those sweet and salty folks. I'd like to say that I'm more sweet than anything, but I have a salty side too. Who doesn't? I'm the kinda gal who might enjoy a really indulgent piece of cheesecake and then have to go eat a cracker to offset the sweet. I think I got this from my momma. She always does this.
I threw this recipe together one day when I was craving something rice krispie treats. I had some pretzels in the cabinet and thought how fitting for a sweet and salty kinda bar to combine marshmallows and pretzels? And of course, peanut butter and chocolate are the only other two ingredients that could make this that much more incredible. Within about 10 minutes, I created these bars and they were fantastic. With only 5 ingredients, you can't go wrong. I love the crunch that you get in every bite. Some may not like that about these, but if you're a crunchy kinda person, I think you'll enjoy them.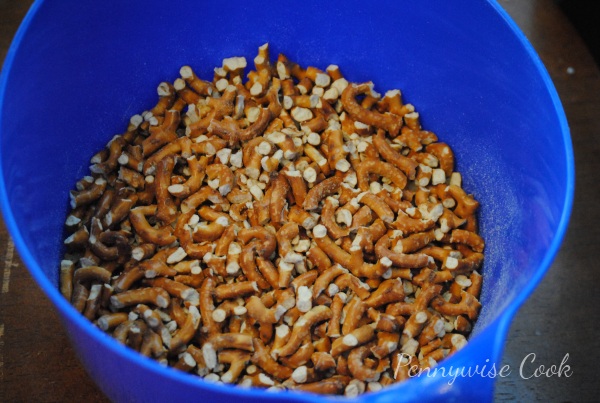 Not really knowing what I was going to do with these ingredients, I threw a bag of pretzels in a bowl and broke them up. You can get them super finely crushed if you prefer. To keep it light and avoid any extra buttery calories, I refrained from adding anything to them.
Next, I got two pots heating up each with half a bag of mini marshmallows inside to melt. Peanut butter in one and chocolate chips in the other. I must warn you though, it will take every bit of willpower that you have inside to not eat the entire batch of peanut butter marshmallow mixture.
After putting half the crushed pretzels into a second bowl, pour the chocolate/marshmallow mixture into one pretzels bowl and the peanut butter mixture into the other.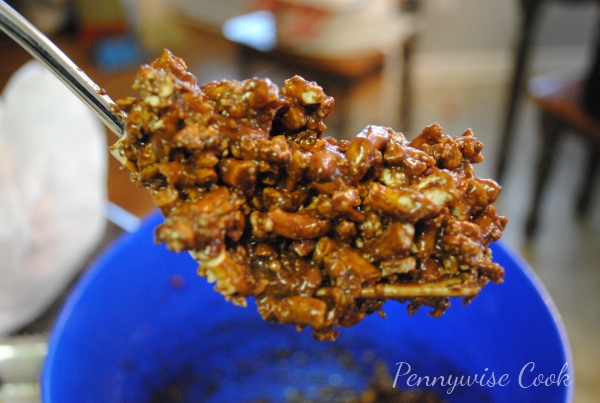 At this point, there is no chance of fighting the willpower. Just take a bite of the chocolatey pretzels. I'll forgive you.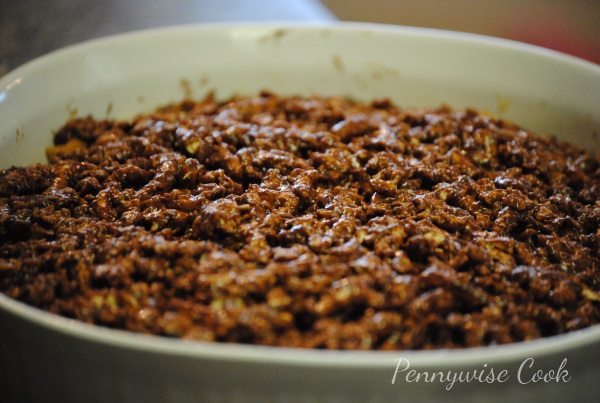 Flatten both mixtures into a pan starting with the peanut butter on bottom and then following with the chocolate. I used a shallow oval dish. Let sit in the refrigerator for a bit to set and you're done!
Chocolate and Peanut Butter Pretzel Bars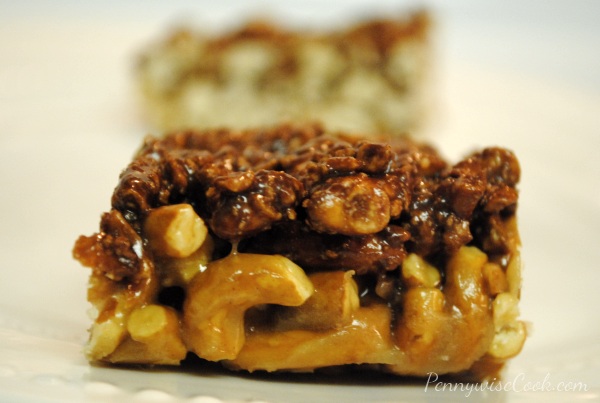 Get that sweet and salty yumminess in one bite with these chocolate and peanut butter pretzel bars!
Ingredients
1/2 c. Milk, divided
1 Bag Mini Marshmallows
1/3 c. Peanut Butter
1/3 c. Semi-sweet Chocolate Chips
1 12 oz Bag Pretzels, You can use any kind- sticks or twists
Method
Crush the pretzels up either in a bowl or in a ziploc bag. Place into two medium-size bowls.
In two sauce pans, place half the bag of marshmallows in each along with 1/4 cup milk. Melt them until almost smooth.
Add in the peanut butter to one sauce pan and the chocolate chips to the other.
Once mixed well, add peanut butter mixture to one bowl of pretzels and chocolate to the other. Mix well.
Flatten the peanut butter pretzels to the bottom of a greased square dish. Then flatten the chocolate pretzels on top of that.
Place in the refrigerator to set. Cut into squares and serve!
http://www.pennywisecook.com/chocolate-and-peanut-butter-pretzel-bars/
Like this post? SHARE it!