WARNING- things could get a bit mushy…
We are finally going to enjoy a few kid-free moments this weekend. Either that or we're going to look at each other and A) talk about the kids or B) wonder what in the world to do! We're going to eat at one of our most favorite restaurants, Benihana and get a massage. Haven't had one of those in quite a while! Tomorrow is our anniversary. It's number 6 for us! We've actually been together since we were sophomores in high school so it feels like longer. Even after all this time, I still love him as much as I did when we married if not more. We have grown up together and it's kinda neat to see how each of us have blossomed into the adult folks that we are today.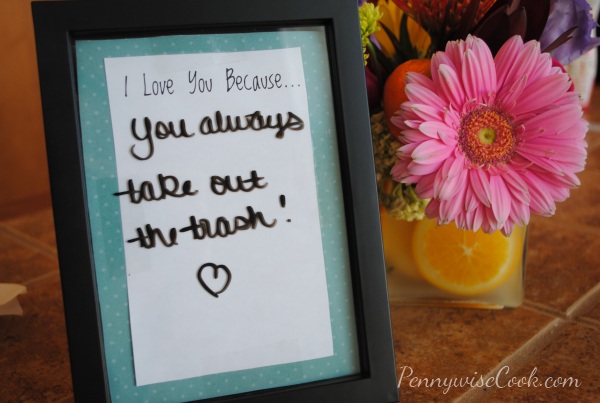 I came across this idea on Pinterest a few weeks ago. Forgive me, I can't find the link anymore. (I never pinned it AH!) If you search, you'll find tons more like this. Most of which probably look a lot better than mine. However, mine is uber frugal and we like cheap don't we? I mean, I'm talking about $1 cheap here.
I simply bought this cute little black frame at Dollar Tree, printed the words in this cute font on a piece of paper that I cut, and taped it to a piece of scrap booking paper that I had. Just use dry erase markers on the glass to leave your romantic messages.
It's not even about how cute your frame or font is. It's about what get's written on it. I've had this on our kitchen table for about a week now. Every day while Max is at work I write something thoughtful on it. I try to make them serious yet light-hearted and encouraging. The messages can easily get cheesy and Hallmark Cardesque, so I try my best to really think of things that apply to us.
It's a simple way that we can connect with each other each day. Love is so hard to share sometimes, especially with a busy schedule and work. But it definitely shouldn't be forgotten. If you don't already do something like this, this might just be a quick and simple way to start!
P.S.- You can also do this with your kids! If they are old enough to read, this would be a great reading exercise or just great encouragement.
Your Turn! Do you write little messages to your significant other?
Like this post? SHARE it!