My littlest baby, Britton has begun to walk! And things are quickly changing around here. I'm running to take things out of her mouth that I wasn't expecting her to be able to reach. I'm running to help her up when she stumbles. I'm basically, running. I love every minute of it. It's so precious to see her starting her independence, but then come wobbling back to me so we can snuggle. I really love this age!
My other, on the other hand, is very much independent. She loves to help out in the kitchen and is finally helping out with cleaning her room. Well, that is with a little coaxing, bribing, and other shameless attempts to get her to clean. I do love meals that we can all make as a family so that everyone feels like they contributed.
Today's recipe is a very simple one and you may already make this at your house. But if you don't and want a quick and easy meal that everyone will love, you might want to make this soon! My mom and I have recently noticed that Dollar Tree carries 2 packs of smaller pizza crusts, for $1 of course. I've been experimenting with all kinds of things to do with these crusts because they are so darn cheap. I thought….Taco Pizza! My husband hadn't had it in so long that he had forgotten what all it included, but he was thrilled to find out what went on these beauties….beans.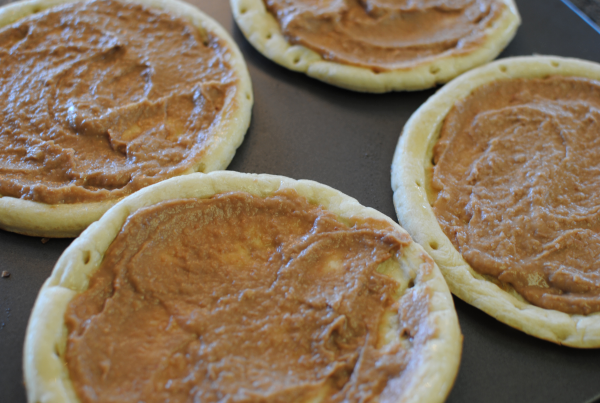 Yes beans are the single ingredient that make these pizzas taste like a taco. Well, that and the…..
Salsa. Those two take the place of your everyday pizza's tomato sauce.
Then it's just a matter of adding all the yummy stuff that your family likes on your tacos. A good amount of cheese, some tomatoes, and lettuce are a great choice. Even a dollop of sour cream.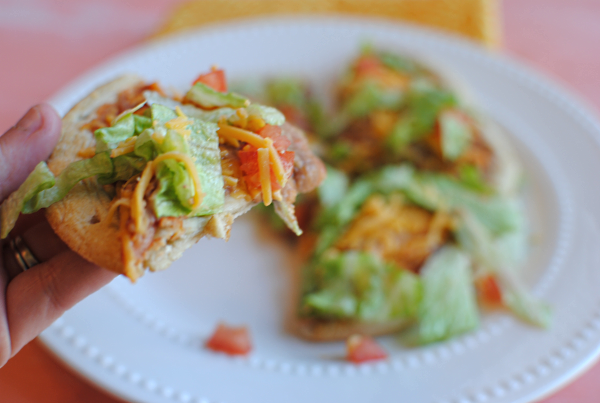 You can either buy your refried beans or you can buy pinto beans and create your own with your own flavors. Heat up the pinto beans, place in a food processor with garlic, cumin, and chili powder. Either way, you should be able to find them for $1 or less. In fact, this whole meal should cost you less than $5 in total! I only had to buy 1 tomato to chop up for the top. I didn't really even need that much since my family doesn't really like them. But I enjoyed it.
You can most definitely make one big pizza with these ingredients instead of the smaller ones. I just have a very picky family so it's easiest this way to please everyone.
Simple taco pizzas that the whole family will love!
Ingredients
4 Small Pizza Crusts (or make your own!)
1 Can Refried Beans
1 Cup Salsa, Divided
1 and 1/2 Cups Shredded Cheddar Cheese + 1/4 cup for topping
1 Cup Lettuce
1 Tomato, Chopped
Method
Preheat oven to 350 degrees or the temp suggested by your pizza crust.
Start by brushing your pizza crusts with olive oil.
Equally disperse the refried beans among the 4 pizza crusts. Next equally disperse salsa.
Add a layer of equals amounts of cheddar cheese to the tops.
Bake pizzas for 8-10 minutes or the amount suggested by your pizza crust.
When pizzas are finished, add equal amounts of lettuce and tomato to each pizza and top each equally with the remaining 1/4 c cheddar cheese.
Notes
There are endless possibilities to these pizzas. Add black beans, corn, chicken, taco meat, chilis, peppers, whatever you'd like! The refried beans are a must though!
http://www.pennywisecook.com/easy-taco-pizza/
Like this post? SHARE it!