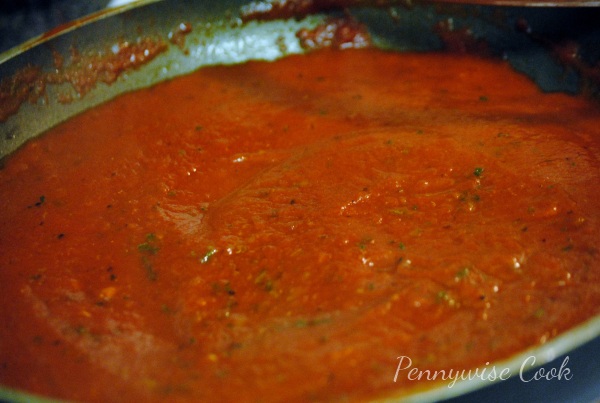 When it comes to cooking, the tomato basil sauce is a go-to red sauce for a variety of different meals. You can use it for practically anything that requires tomatoes. The basil gives such a fresh herb taste. It's become my favorite by far. I just love how easy it is and that I have most everything already on hand. Skeptical at first that the recipe would be too simple, I was amazed at the flavor that this gave a few different dishes that I've used it for.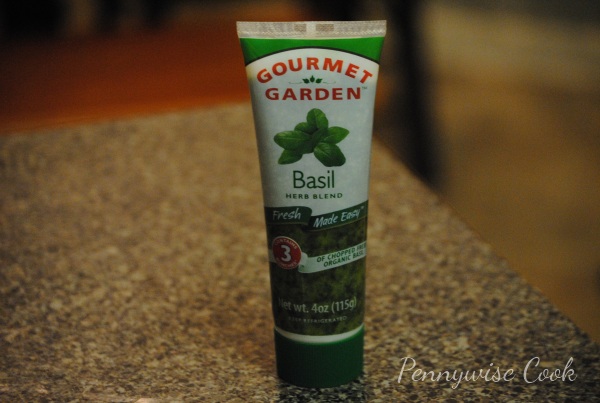 I went to the grocery store in search of fresh basil. Most stores around here (ie. Kroger, Walmart) don't just have fresh basil in their produce. They do have some pre-packaged options, but they are crazy expensive and I refuse to pay for those. I came across this little tube in the fresh herb section and decided to give it a whirl. It's made of fresh organic basil and some additives to keep it fresh longer. It will last in that tube for 5 months! Tablespoon for tablespoon it's equivalent to fresh basil. It was $3.99 for the tube and was worth every penny to me.
We made a homemade pizza the other night and I used my homemade tomato basil sauce on it. FABULOUS! My husband said that this was the best homemade pizza that he's ever tasted and I would have to agree with that. This sauce would be wonderful over pasta, in lasagna, pizza, dipping and more! In fact, why not whip some up for your Cauliflower Crust Pizza? Oh I've done it and it's fantastic!
Adapted from this Tyler Florence recipe.

Simple tomato basil sauce that you can use for a variety of dishes!
Ingredients
2 Tbsp Olive Oil, divided
2 Garlic Cloves, Minced
1 Can Crushed Tomatoes, 16 oz
Pinch of Sugar
Kosher Salt and Ground Pepper To Taste
4 Fresh Basil Leaves, Chopped or 4 Tsp Basil from Tube
Method
Heat 1 tbsp olive oil in pan over medium-high. Add the garlic and cook until soft.
Add in the crushed tomatoes and sugar, then season with salt and pepper.
Turn the heat up a bit and simmer for 10 minutes, stirring occasionally. Be sure to keep a cover on as it will splatter!
Stir in the remaining olive oil and basil. Serve!
http://www.pennywisecook.com/easy-tomato-basil-sauce/
Like this post? SHARE it!