I cannot believe that today is the first day of March! Where did the first two months of this year go? Time sure flies. It seems like every time I get into making food for one holiday, another one comes along. I guess that's alright with me. I love making things, especially themed things.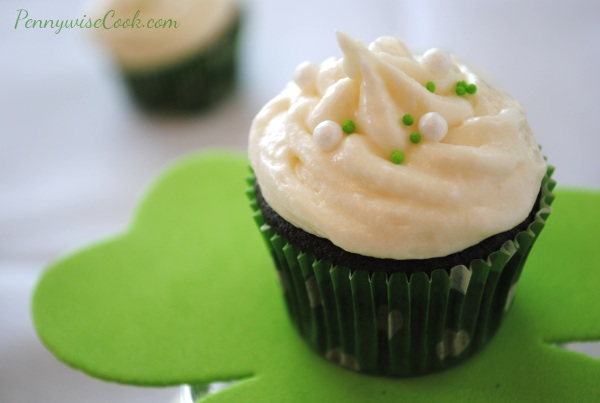 In honor of the day that we all get pinched (or preferably not), I made up some green velvet cupcakes. And if you guessed they are red velvet cupcakes in disguise, you'd be right. Just take your favorite red velvet cupcake recipe and use green food coloring in its place, simple.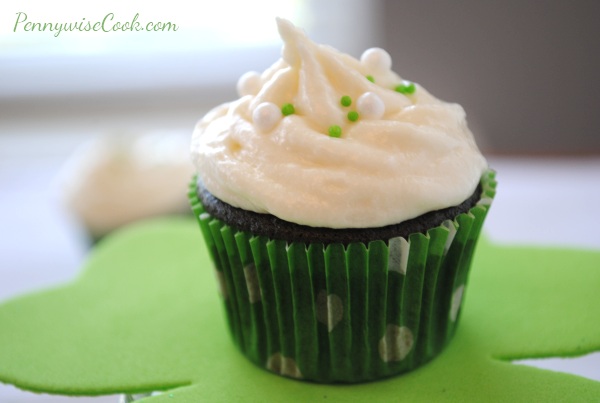 The trick that makes these Irish is using Bailey's Irish Creme in the buttercream frosting! It's a highly recognizable flavor that really does make these feel festive. It's like an Irish party in your mouth. Did I really just say that?
And you know me, I used a Hungry Girl recipe for these cupcakes to make them better for you. I also made most of them mini cupcakes so that I could eat more of them. 🙂 Don't you feel more satisfied when you can eat two of something instead of just one? I do anyways. I was surprised to see hot cocoa mix in the recipe, but I really liked it. By the time that my husband tried them, he was asking me if they are supposed to be chocolate or vanilla. (For some reason the green color suppresses your body's ability to determine flavor, not scientifically or anything but just my observation) I think they taste more chocolate than vanilla, but there is yellow cake mix involved which makes them part vanilla.
The frosting is your everyday buttercream with Irish Creme creamer (or liquor, your choice) as the milk part. Gives it a flavorful tang and makes you want to dance a jig like a leprechaun.
Cupcake recipe adapted from Hungry Girl.
Green Velvet Cupcakes with Irish Cream Buttercream Frosting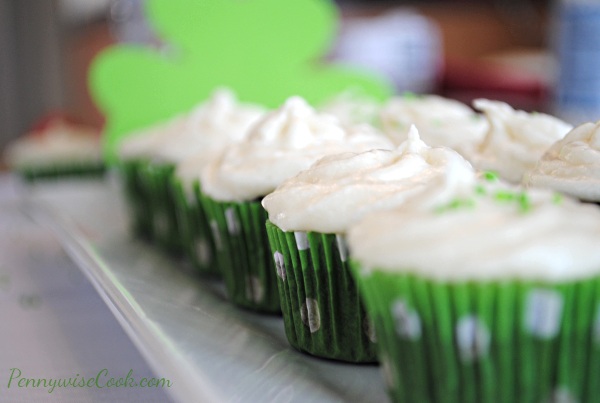 Give your red velvet cupcakes a green makeover for St. Patty's Day and top with Bailey's Irish Cream for a special Irish touch! These are yummy and festive at the same time.
Ingredients
For the Cupcakes

1 C. Yellow Cake Mix
1 C. Chocolate Cake Mix
2 Packets 25- Calorie Hot Cocoa Mix (Or Reg. if you don't care)
1/2 C. Liquid Egg Substitute (or two eggs)
1/4 Semi-sweet Chocolate Chips, Divided
1 Tbsp Green Food Coloring *See Notes
1 Tsp Splenda (1 Packet)
1/8 Tsp Salt

For the Frosting

1/2 Cup Butter (1 Stick)
2 Cups Powdered Sugar
1-2 Cups Splenda for Baking *See Notes
3-4 Tbsp Bailey's Irish Cream (Creamer for non-alcoholic or Liquor for alcoholic)
Method
Preheat oven to 350 degrees.
Place 2 tbsp of chocolate chips along with contents of both cocoa packets in a tall glass. Add 1 and 1/2 cups boiling water and stir until dissolved. Place in mixing bowl. *See Notes
Add the cake mixes, egg substitute, remaining chocolate chips, food coloring, splenda, and salt. Mix batter until smooth and blended well.
Line muffin pans with liners and evenly spoon the batter into them. Bake for 15- 20 minutes. They will look shiny when they are done.
Meanwhile, cream the butter and Bailey's Irish Cream together.
Slowly add in the sugar and splenda until desired consistency is reached. If necessary, add more Bailey's to get it fluffier.
Remove cupcakes from oven and let cool completely. Frost the cupcakes and add any desired decorations.
Notes
*For the food coloring, you may need to add extra. I think I ended up adding close to 2 tbsp to get my desired green color. It's tough changing a brown to a green.
* For the frosting, you can use all powdered sugar if you're not a fan of Splenda. I tried this for the first time and only using half of it as Splenda let the powdered sugar really take over so it didn't taste "fake".
* Lastly, Hungry Girl calls for you to freeze the cocoa and chocolate chip mixture for 30 minutes before adding it to the cake mixes. I did NOT do this and it turned out fine.
http://www.pennywisecook.com/green-velvet-cupcakes-with-irish-creme-buttercream-frosting/
Like this post? SHARE it!