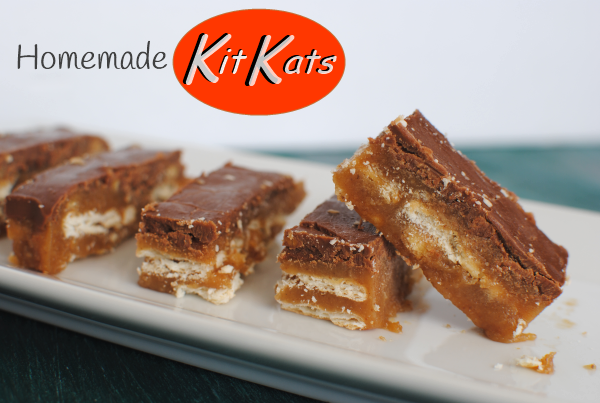 Warning: the following recipe could be detrimental to your diet.
Visiting with my husband's parents every now and then, there's a certain sweet treat that often pops up. His aunt Millie makes these treats and I can remember sneaking into the refrigerator multiple times to grab a bite of these ooey gooey and addicting morsels.
Here's a FAQ to prepare you for what is to come if you make these:
Q- Are these good for a diet?
A- Absolutely not.
Q- Can you eat just one of them at a time?
A- Absolutely not.
Q- Will these last long in my house?
A- Absolutely not.
Q- What's the best occasion to make them?
A- When you will be taking them far, far away from your house.
I hope that this information will be of some help when it comes time to make these Homemade Kit Kat bars. You are going to need to be armed with willpower and a big glass of milk when you do.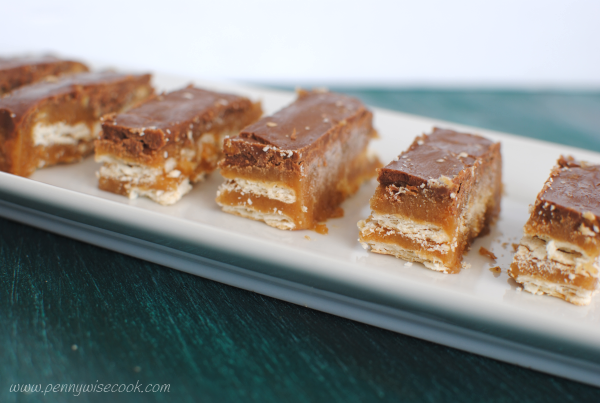 I'm not really sure why I was thinking of these the other day, but I asked Millie for the recipe so that I could make some up. I decided to make them for the 4th of July get together in hopes of getting other people to eat them instead of me. No luck, I couldn't keep my hands off of them. They are SO good.
And I had no idea how yummy the filling was when it was warm until I had it bubbling on my stove. I kept taking the crackers and dipping them directly into the filling. Hubby wasn't too excited when he went to do the same and I had basically licked the pot clean.
What can I say? It's the least I deserve when slaving over a warm stove making Kit Kats, right?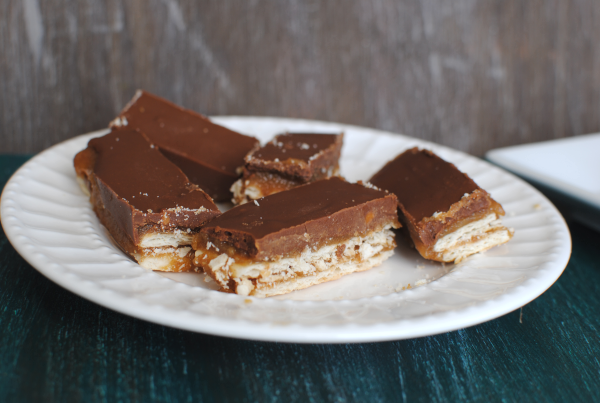 You have free reign to create these bars as little or as BIG as you please. Be cautious and enjoy!
Recipe Type:
Dessert, Snack
Author:
Create yummy and addicting Kit Kat bars at home!
Ingredients
Club Crackers (Less than a box, About 75 Crackers)
1 C. Butter
2 C. Graham Cracker Crumbs
1 C. Firmly Packed Brown Sugar
1/2 C. Whole Milk
1/3 C. Sugar
2/3 C. Creamy Peanut Butter
1/2 C. Semisweet Chocolate Chips
1/2 C. Butterscotch Chips
Instructions
Line an ungreased 9×13 pan with wax paper. Lay a flat layer of Club Crackers along the bottom cutting them to fit if necessary. Set aside.
In a large saucepan, melt butter. Add in the cracker crumbs, brown sugar, milk & sugar. Bring to boil and cook for 5 minutes stirring constantly. Remove from heat.
Pour half butter mixture evenly over crackers. Place another single layer of crackers flat over butter mixture, cutting to fit if necessary. Pour the remaining butter mixture evenly over crackers.
In a small saucepan, combine peanut butter, chocolate chips and butterscotch chips. Melt over medium-low heat, stirring constantly. Spread evenly over top of crackers.
Cover and chill for at least an hour. Cut into bars.
Notes
To make these a bit healthier, I used reduced-fat club crackers, light butter, and part splenda in place of the sugar.
To speed up the chill time, you can also place them in the freezer instead. I prefer to keep them there so they stay nice and hard.
Like this post? SHARE it!