Let's go back to a simpler time shall we? How about way back 80 years ago when things were cheaper. For instance, a new house would cost you only around $7000.  Gas was about a dime per gallon and 1 lb steak was only about $.20.
If we only had a time machine…
Luckily there are some things that can "transport" us back to that time with music, food, and relic furniture. One of which is my personal favorite, food. Popular in the 1930's and a treat still on store shelves today are old-fashioned caramels. I think that it's almost impossible to dislike smooth and rich caramel isn't it? I guess I should never say never because I have some pretty picky eaters in my family, but I can assure you they really loved these caramels.
I've never really been one to make candy that often. A little peanut brittle or chocolate bark here and there, but nothing extremely involved.
And I have a confession- I have never used a candy thermometer in my life. Most recipes will say this is extremely important but I've always been able to get by without one.
So I found this really simple Old-fashioned Caramels recipe in my Pillsbury Cookbook and it looked so simple and tasty that I had to make some up.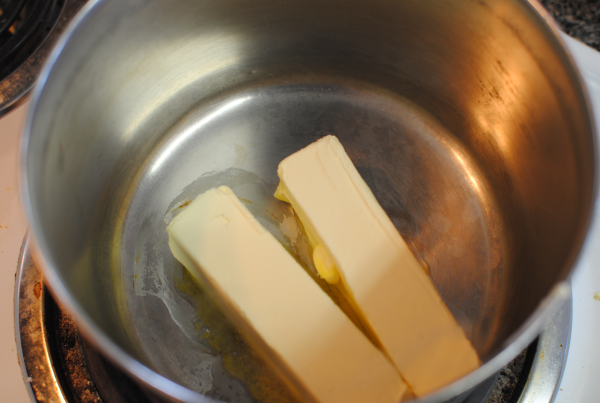 It starts with melted butter.  You know this is going somewhere good when it involves that much butter. But just for the record, I use light butter.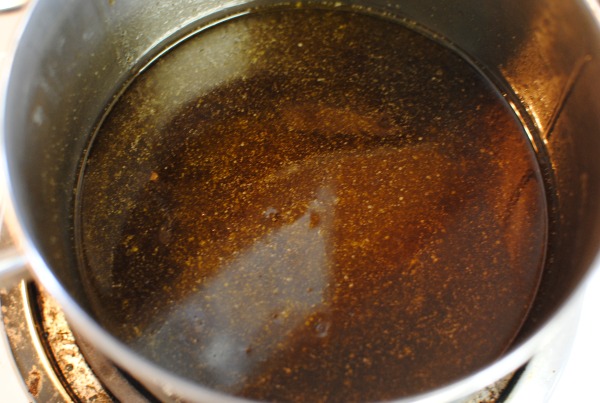 Then you stir in the brown sugar and corn syrup until completely dissolved.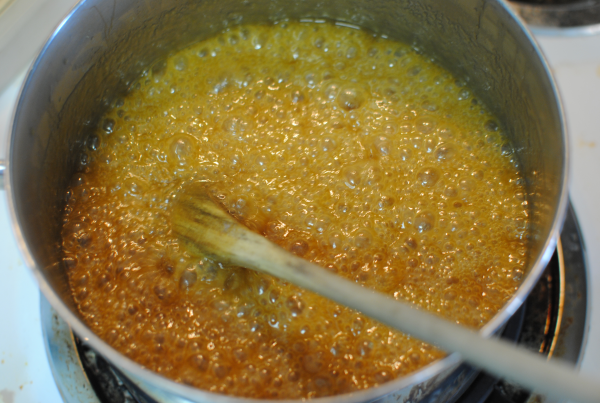 Lookie there, it's already looking like caramel! The next step is to remove it from heat and add in sweetened condensed milk. Then we get it nice and bubbly for about 25 minutes stirring constantly so it doesn't burn.  Now is the time when a candy thermometer should be used, so if you're prepared and have one, use it.
Then it's all a matter of pouring it into a 8×8 pan and letting it harden.
Note- I do NOT recommend using foil to line your pan unless you have very hefty foil. It was a nightmare getting it off the caramel once set. Also be sure to keep your caramel in the refrigerator until ready to eat so that it stays nice and firm.
Once set, you can cut it into small squares and wrap it in squares of wax paper for easy eating and sharing. It's oh so yummy! Even my hubby who is a strict chocolate lover loved this caramel.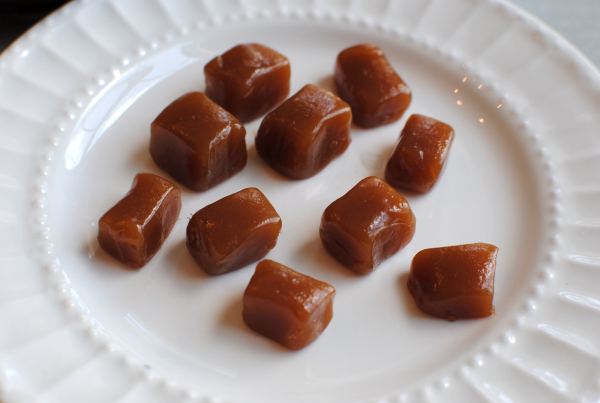 | | | |
| --- | --- | --- |
| How to Make Old-Fashioned Caramels | | |
Recipe Type:
Dessert, Treat, Candy
Author:
With just 5 ingredients you can create a time machine back to a simpler yet sweet time.
Ingredients
1 cup butter
2 1/4 cups firmly packed brown sugar
1cup light corn syrup
1(14-oz.) can sweetened condensed milk (not evaporated)
1 1/2 teaspoons vanilla
Instructions
Lightly grease a square baking dish.
In a medium saucepan, melt 2 sticks butter. Add in brown sugar and mix well. Then add in corn syrup. Stir until sugar is dissolved.
Remove from heat and add sweetened condensed milk.
Heat over medium heat for 20- 30 minutes until it reaches 244 degrees.
Remove from heat and add vanilla.
Pour mixture into greased pan and let sit until firm.
Wrap in wax paper and store in refrigerator.
Notes
This is not a diet dish by any means. Eat at your own risk!
Happy Pennywise Cooking!
Like this post? SHARE it!