Happy Saturday! It's a good day for a DIY project don't ya think?
I have a confession. I absolutely love my spice rack. I'm not sure if it's the stainless steel tins or the beautiful colors that it creates in my kitchen, but I have a love for my spice rack unlike any that I have for my other kitchen gadgets. My KitchenAid stand mixer is a close second though. 😉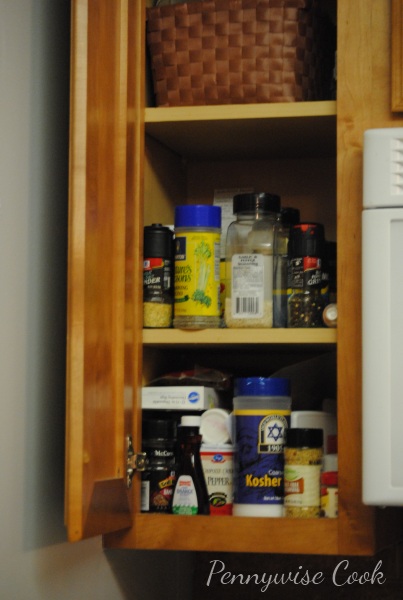 You see, this is my spices cabinet before. In this picture, I've actually removed quite a bit of them already so you don't see them stacked to the top like they normally are, but you get the idea. We have a small house so there just aren't many places for spices to go. They got the cold shoulder into the smallest possible cabinet available. So I got the bottles flying out at me every time that I went to grab my parsley flakes and one day I said enough is enough. I scoured the web looking at tutorials on how to make your own spice rack and I found some that were magnetic. A light bulb went off in my head and I was hooked. I got some fantastic ideas, but most involved expensive materials and things you had to purchase online. Unfortunately I was in a get-it-now mood so I came up with my own plan.
I took myself down to about 5 different stores including your obvious places like Target and Walmart looking for spice tins. Most don't have anything close to what you see above. I did find something similar at Old Time Pottery, but for $1.99 a pop that just wasn't going to do. I was imagining a big and magnificent spice rack and at that price, I would be completely broke. I finally settled on ordering them online from Specialty Bottle. They were a much more affordable $.64 per tin. I got the 4 oz tins and they are plenty large enough. Shipping was a bit expensive, but still cheaper than what I would have paid at Old Time Pottery.
Next I needed a piece of metal for the tins to adhere to. Most suggestions that I saw were to order stainless steel sheets online. I can't believe how expensive those sheets of metal can get. You can't just walk into Lowes and purchase one. Trust me, I tried. You can however, get a piece of steel at Lowes. I purchased an 18″x20″ piece of it for around $10 there. Using my noggin I realized that if its not stainless, it can rust and around the kitchen there is lots of moisture. I opted to get some Rustoleum that mimics stainless steel to coat it with that ran us another $5 bucks. I actually got the "hammered" look and it turned out wonderful! If you want something that will fit in better with your kitchen colors, they have tons of color options of Rustoleom that would be beautiful on a spice rack.
Instead of the usual method of hanging the sheet metal, we opted for using Velcro. It may sound silly, but we have a tile back splash and I didn't want to risk breaking the tile in the process. Surprisingly enough, the Velcro has worked out fantastically. It ran us about $5 in total.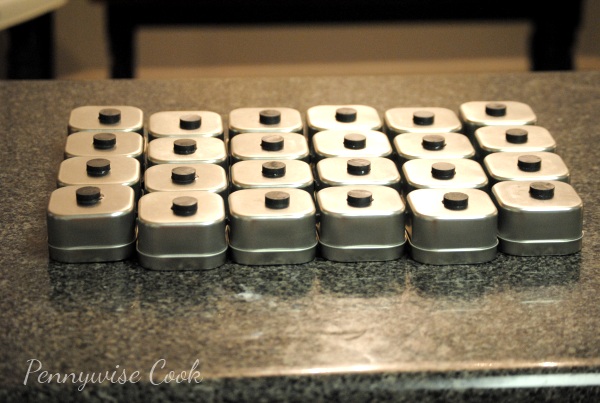 Next, I needed magnets. After all, you can't have a magnetic spice rack without those! I purchased 4 packs of 8 ct regular plain jane magnets at Lowes for about $2.50 each. Total= $10. I also used Locktite Super Glue to adhere them to the tins. I didn't use much at all so they didn't look messy.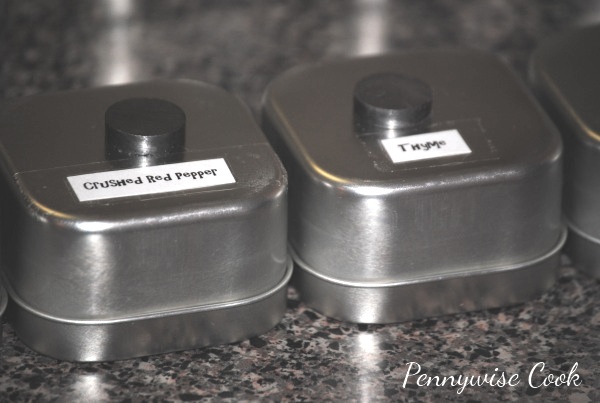 I'm pretty good at knowing what certain spices look like, but I am not great at it with others. It's amazing how some look like others once you get them up there on that rack. I simply typed up the name of my spices on a Word document and cut them out. Then taped them on the back of the tins. When I need to be sure, I just take it off and look. Simple enough and they look clean on the front without words. They have spice labels for sale on Amazon. Most are less than $3, but these didn't cost me a dime.
All in all, my Magnetic Spice Rack cost us about $50 plus the shipping for the tins. They have sites that sell these premade online, but I'm very happy with the result that we got for our money. And it was actually quite easy as it turns out!
If you are wanting to do one of these, use your imagination. Don't always listen to what others suggest. I'm glad that we didn't because this was possibly a lot cheaper than we would have paid ordering from places online or purchasing some of the other expensive materials.
Yay for DIY!
Like this post? SHARE it!