You guys know how I get my cravings. Usually they spark a recipe invention and interesting concoctions. They are sometimes fabulous and other times complete fails. The other night I got a wild hair. I came across a recipe for making cookies out of Reeses cups and an egg. So I thought I wonder if I can do the same with Milky Ways. Had I been using my brain it would have been obvious that the Milky Ways wouldn't work because they are caramel and chocolate rather than peanut butter, but I had tunnel vision and was a bit determined.
So I set out to create Milky Way cookies by placing 24 fun-size Milky Way candy bars into the food processor with one egg. The result? very smooth and creamy chocolate-y and caramel-y mush. There was no way this was making a cookie. So I got innovative and created these granola bars out of the mush and boy were they tasty!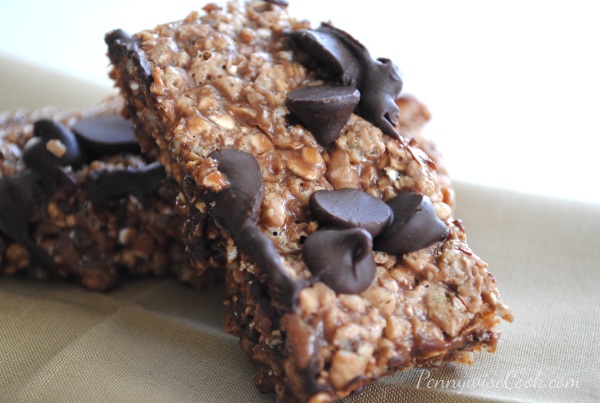 These Milky Way Granola Bars kinda resemble Little Debbie Star Crunches if you've ever had those. They are some of my favorite cookies.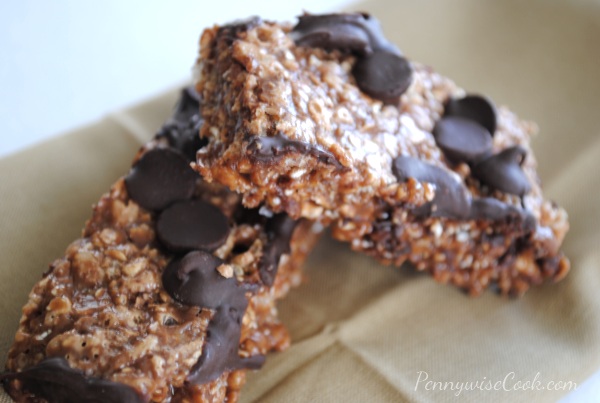 Crunchy with a touch of caramel and chocolate, these aren't your average granola bars. Don't expect them to fill you up with protein or replace a meal, these aren't exactly healthy. But we can pretend they are since they are, after all…..granola bars.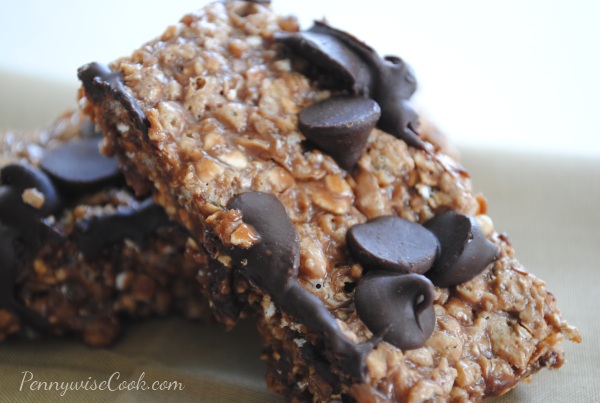 A twist on your average granola bar, these are indulgent and include a favorite candy bar!
Ingredients
3 Packages of Fun-Size Milky Way Candy Bars (24 Total)
2 c. Rice Krispies
1 c. Quick Cooking Oats
1 Egg
1/4 c. Chocolate Chips
Method
Preheat oven to 350 degrees. Spray a baking dish with nonstick cooking spray and set aside.
Unwrap all the Milk Way candy bars and place in a microwave safe bowl. Microwave for about 45 seconds or until a little soft. You don't want to get them melted just a little softened so you can chop them in the food processor.
Place the candy bars in the food processor and chop until there are no longer any big pieces. Add the egg and chop until smooth.
In a large bowl, pour the smooth candy bar mixture along with the rice krispies and oats and mix well. Flatten into your baking dish using the back of your spoon.
Sprinkle the chocolate chips evenly across.
Bake for about 12 minutes. Let cool completely before cutting.
Notes
When flattening these into your baking dish, I find it helps to spray the back of my spoon or hand with cooking spray before hand. It keeps them from sticking.
After they bake, you might place them in the freezer or refrigerator for 15 minutes to give them a head start on hardening if you are in a hurry.
I find these stay together pretty well.
http://www.pennywisecook.com/milky-way-granola-bars/
Like this post? SHARE it!