It's been a bit of a crazy week around here. It's like it appointment season or something. We've had all kinds of appointments lately. And that means driving around a lot of leaving the house a complete mess between events and plans. That ended today. I was determined to get this place in order. When it gets warmer outside I always get a bit crazy on the house. There's something in the air that compels me to do this.
Do you do a big spring clean?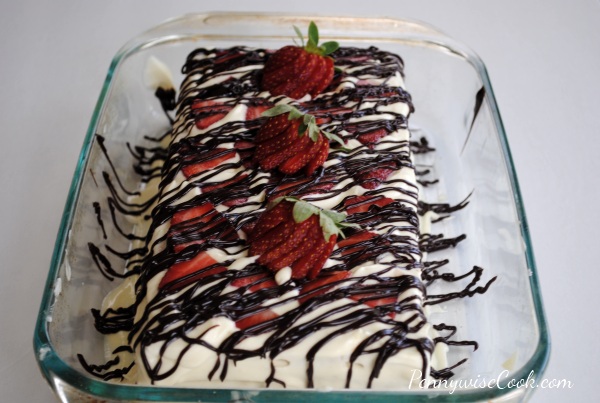 You know it's spring when strawberries start getting cheaper. Aldi had them priced at $.49 the other day when I was in there. I about fell out on the floor when I saw that price. So of course, I did my little happy dance walking out with a few pounds of fresh strawberries. I knew I had to make something incredible. I came across this amazing looking No-Bake Strawberry Icebox Cake at The Kitchn and I immediately knew this was what I was going to whip up. It just does not get better than a cool, refreshing cake with strawberries, whipped cream, graham crackers all drizzled with chocolate. I made a few changes to that recipe to make it a little easier.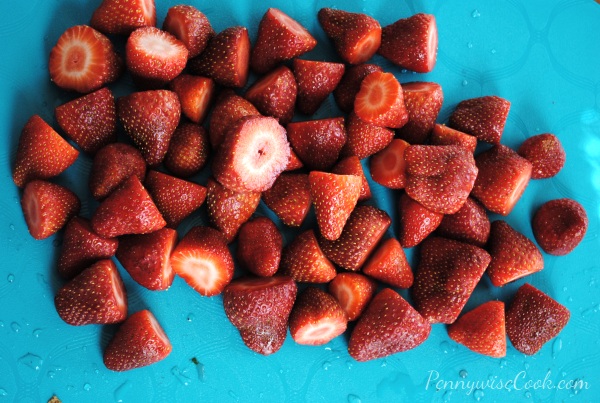 Strawberries are such a beautiful site aren't they? I was cutting their stems off and just had to snap this picture. Can't you almost taste them? Reminds me of summer.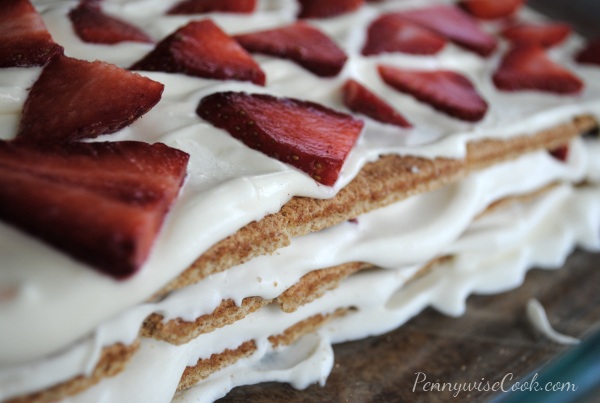 This cake is SO incredibly easy to make. I think it's kinda funny that it's called a cake. It doesn't need any eggs, sugar, or even flour. It's a simple process of layering a yummy combination of pudding and whipped cream with slices of fresh strawberries and graham crackers. That's pretty much it! The idea is that as this sits in the refrigerator ("icebox") that the graham crackers will soften up and become like cake. And they do!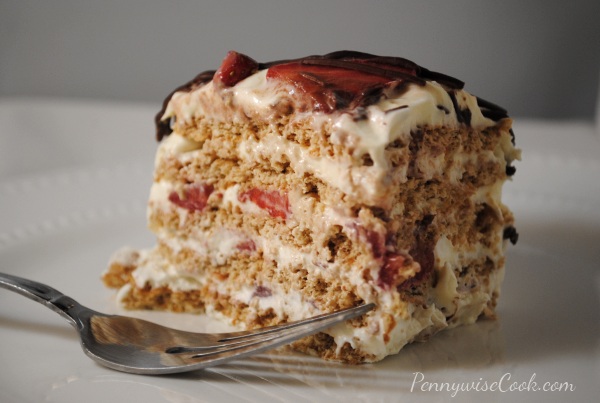 Here's a picture to give you an idea. This cake just simply doesn't last at my house. It makes a HUGE 9×13 pan of yumminess, but we always go through it within a couple days. I don't feel bad though, I always use reduced fat graham crackers, sugar free whipped cream, and sugar free pudding mix. So you could call this healthy too!
This cake makes a really great dessert to serve when you have company. It looks fancy, tastes amazing, won't bust your diet, and best of all you won't break a sweat making it! I highly encourage you to try this one. You won't regret it, I promise!
Adapted from The Kitchn's recipe.
No-Bake Strawberry Icebox Cake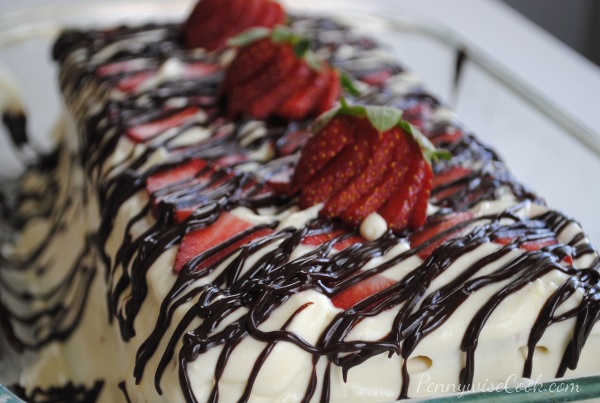 This yummy No-Bake Strawberry Icebox Cake is easy, fun, and especially yummy. Looks fancy without a lot of work!
Ingredients
1 pound fresh strawberries, washed
1 tub whipped cream, divided
1 Package Vanilla (or your choice of white pudding)
2 Cups Cold Milk
24 whole graham crackers
1/4 c. semi sweet chocolate chips
Method
Take a couple of the best looking strawberries out for garnish later on. Remove the stems and cut the strawberries into thin slices.
Make up the pudding according to the package. Most will call for 2 cups cold milk. Place in the refrigerator to set a few minutes. Once thickened, gently fold in the whipped cream. Reserve 2 tablespoons for the chocolate topping.
Spread a spoonful of the whipped cream on the bottom of a 9x13 pan. Place 5 graham crackers across in a line.
Lightly cover the graham crackers with more whipped cream. Add a single layer of strawberries across. Then top them with more graham crackers. Repeat this process until you have 4 layers. On the 4th layer use the rest of the whipped cream leftover by covering the sides if desired. Finish the layers off with strawberries.
For the topping, melt the chocolate chips in a double boiler. You could also microwave them if you feel confident. Mix in the 2 tablespoons of whipped cream that was reserved until smooth and shiny. Place the chocolate into a ziploc bag and snip off the very tip. Drizzle the chocolate across the cake.
Top with your whole strawberries for garnish and refrigerate cake for at least 4 hours.
Notes
When it comes to pudding for this cake, I think white chocolate is a winner! You could also use cheesecake. That might be really yummy too.
Note- I don't completely cover each layer in strawberries. I just evenly distribute a little here and there. The other recipe called for 2 pounds, but I liked it just fine with 1 pound.
Feel free to use whatever type chocolate chips that you'd like. I'm going to be making one of these soon with white chocolate chips. I think that would be yummy with the white chocolate pudding.
http://www.pennywisecook.com/no-bake-strawberry-icebox-cake/
Like this post? SHARE it!