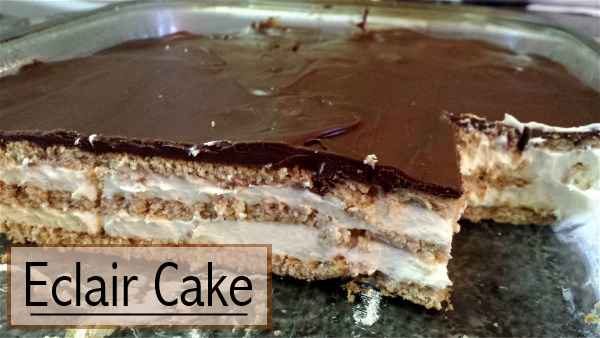 Let me begin by apologizing for the lower-than-normal quality pictures. You have to understand that I've made this cake a few times in the past few weeks and it was brought to my attention that I had to share it with you and therefore, I haven't gotten a chance to take better pictures. Not to mention that each time I make it, the entire cake is gone before I can come close to taking pictures.
It's that good y'all…
My mom had a recipe in her collection from years and years ago for Eclair Cake and she just raved about it. She used to have it all the time, but hadn't made it in a long time. I recently came across a recipe that seemed similar and decided to make it for a family that we were taking a meal to. I knew my family wasn't going to be happy with me if I left them out so I made one for us too.
Man oh man was this cake a hit! But I should've known because this cake is awfully similar to the Strawberry Icebox Cake that I make. There is just something about graham crackers and pudding in the refrigerator.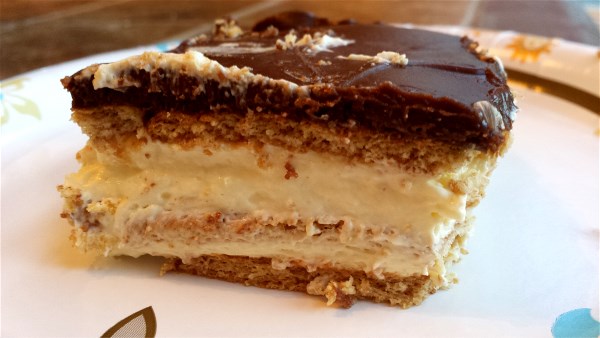 I think that the best part about this cake (aside from how amazingly tasty it is) is how easy it is to make! 5 ingredients, 10 minutes, and BOOM I'm mom and wife of the year.
And to think, you didn't even have to turn on the oven!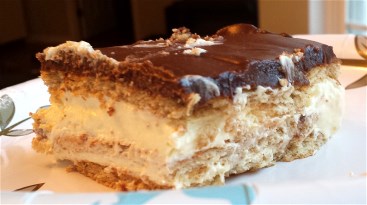 Make this cake. This is an order. You will not be upset. I promise.
The only difference in my mom's recipe and this one is basically the frosting part. Her's had a bunch of ingredients and required extra refrigeration. I'm sure it tasted amazing, but I really like the use of frosting and according to my husband and girls, it's the very best part!
Eclair Cake- It's So Stinkin' Good
Recipe Type: Dessert
Author: Pennywise Cook
This no-bake Eclair cake will be gone in no time!
Ingredients
1 Package Honey Graham Crackers
2 Packages Instant French Vanilla Pudding
3 c. Cold Milk
1 (8 oz) Tub Whipped Cream
1 tub Chocolate Frosting
Instructions
In a mixing bowl, combine 2 packages french vanilla pudding and milk. Mix until completely dissolved, about 1-2 minutes. Fold in whipped cream until combined well.
Meanwhile, line a 9×13 dish with graham crackers.
Pour half of the pudding mixture over the graham crackers and spread evenly.
Place another layer of graham crackers. Pour the rest of the pudding mixture over the top of the second layer and spread evenly.
Place another layer of graham crackers on top.
Take the top off the frosting and remove the foil cover. Place the tub in the microwave for 40 seconds or until melted.
Pour over the last graham cracker layer and spread evenly.
Place in the refrigerator for 1-2 hours and serve!
3.2.1230
I could not find where I originally found this recipe (so sorry!), but the same one is found at All Recipes.
Like this post? SHARE it!