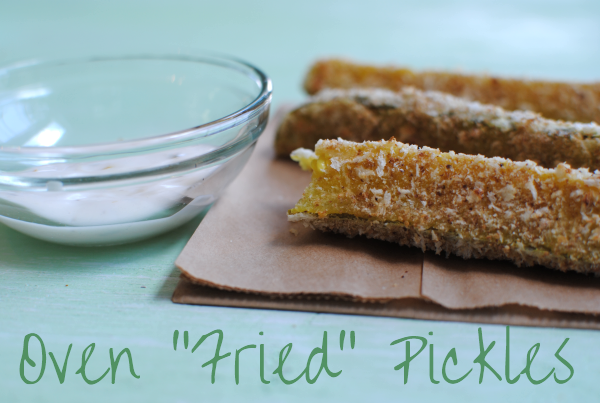 Pickles.
I love the heck out of some good old fashioned dill pickles. They've saved me through diets when all I wanted was something to crunch that contained little calories. They've saved me through pregnancies when I just wanted something high in sodium. They've saved me through times when I just wanted to be reeeeeal bad and eat something deep fried. I'd have to say that they've always had my back.
My favorite way to eat pickles? Oh covered in batter and fried to a golden brown and served with a spicy ranch sauce. But since I have this slight (but I really mean huge) aversion to eating fried things, I don't make or order them too often.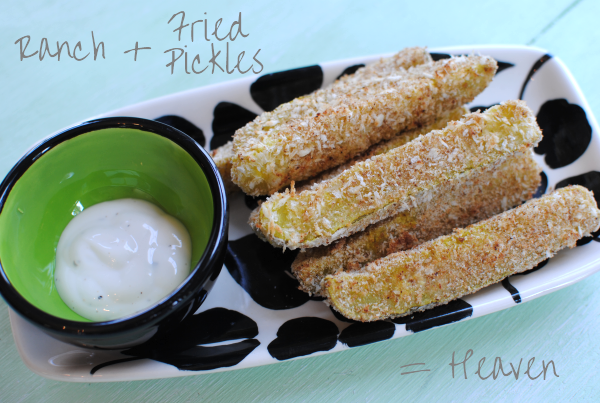 I decided I wanted some "fried" pickles but I didn't actually want to fry them. Which usually means hello mister oven!
So to begin, we start with a pickle assembly line. Just experience from baking things with coatings on them, I knew that cornstarch was going to be necessary. Then you have your egg substitute, or regular egg if you're feeling wild. But I promise, you won't be able to tell if you just use the substitute. It will keep the calories lower this way. Next are a mixture of plain bread crumbs, panko breadcrumbs, and garlic powder. Then you have your pan lined with foil ready for its pickle partners!
Oh and by the way, pickles themselves are needed too. They just didn't make it into my pictures yet. 🙂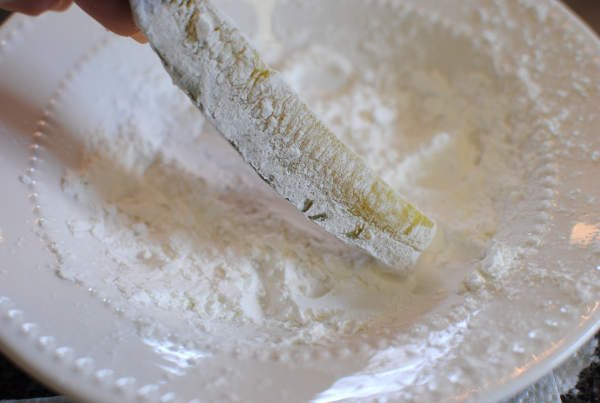 So start off with dipping your pickle in the cornstarch, making sure to shake off the excess.
Take your cornstarched pickle and dredge it through the egg.
Here comes the crunchy part. Then roll it around in the breadcrumbs and place it on the foil lined baking sheet.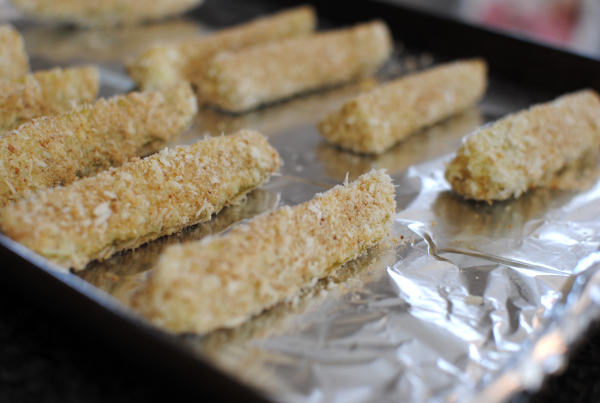 Oh look. Now you have all your ducks pickles in a row. Now bake those ducks pickles!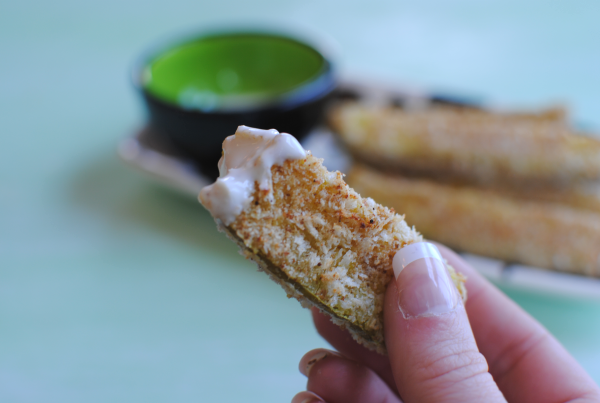 I felt no guilt at all indulging in these "fried" pickles. The pickles themselves are practically calorieless and the breading is used in moderation making these are great snack even for the serious dieter. Plus, the only cost that I had was buying the pickles themselves. They were $1 at Aldi so those didn't even break the bank. Other than that, you might even have all the ingredients in your pantry right now.
Check out the recipe below.
Recipe Type:
Snack, Appetizer,
Author:
You can have the best of both worlds with these oven "fried" pickles. Satisfy your fried pickle craving without the shame or guilt.
Ingredients
1 Jar Dill Pickle Spears, Drained and dried well on paper towels
4 Tbsp Cornstarch
1/2 c. Egg Substitute
4 Tbsp Panko Breadcrums
4 Tbsp Plain Breadcrumbs
1/2 Tsp Garlic Powder
Instructions
Preheat oven to 450 degrees. In a shallow dish, mix together breadcrumbs and garlic powder. Place the egg in another shallow bowl and the cornstarch in another shallow bowl. Line a baking sheet with foil.
Coat the spear in cornstarch, then shake off excess. Dredge through the egg substitute, then coat with the breadcrumbs.Place on baking sheet.
Once all around on the sheet, very lightly spray the tops. Bake for 12 minutes turning them once every 4 minutes (total of 3 times) so that each side (there are 3!) gets a good brown.
Serve with your favorite low-cal ranch and you have yourself a snack!
Notes
This would also work with the sandwich slices or regular chip versions. However, be prepared for it to take forever to dredge and dip!
Like this post? SHARE it!