I do apologize for having the same exact little image at the top of all the posts this week. But I made it and it's cute. So there. But really, isn't it festive? Kinda like all of these sweets this week, aren't they just yummy!
I was just telling someone the other day that one of the best parts of having a food blog is that you get to eat all of the goodies. On the other hand, the worst part of having a food blog is that you eat all of the goodies. I saw something recently that said, "I like running. I like running because I like dessert." That's me! And just as much as I'm running to work the dessert off, I'm running back home to eat more.
To continue Easter Treats Week I've got a pretty familiar treat for you. Rice krispie treats. They aren't usually an Easter treat, but with a little imagination (and sprinkles) you can turn them into morsels that are fit to sit next to your Easter ham.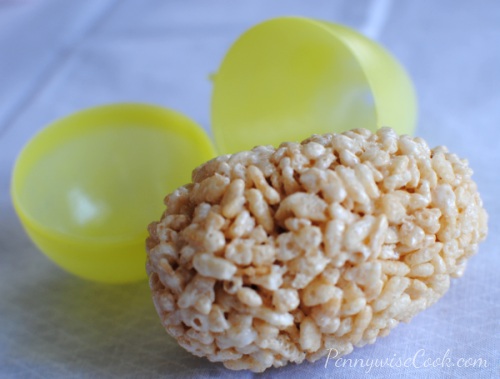 It really is a simple as making your favorite rice krispie treat recipe (I've got one for you below) and then before it sets, shoving them into the middle of a large plastic egg to mold. Pop it out and VOILA! You have a treat in the shape of an egg. And at this point, you could just eat it like that or you can doll them up and go sprinkle crazy like we did.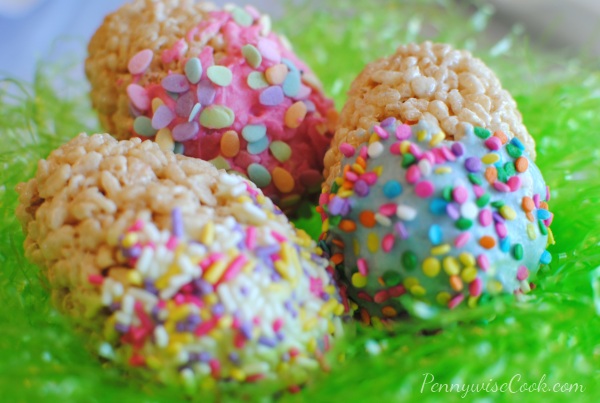 We tried out a few different varieties and combinations of colors and sprinkles on our eggs. I think the favorite turned out to be the pink chocolate coating with colorful decoration. Although it was hard to tell.
Just about every egg that we made, Addie wanted to eat right then and there. But you know, I couldn't let her eat them yet because I had to take pictures for you. That's how the cookie crumbles around here. Nobody eats until mommy gets her pictures! Kinda sad really, but you wouldn't want pictures of an empty plate would you? Nah.
We used the white candy coating bark to make these and used food coloring to make our colors. You can feel free to use white chocolate chips or candy melts if you prefer. It would all taste just as yummy. As for decoration, the sky is the limit! Sprinkles, colored sugars, cookie crumbs, whatever you'd like. We didn't completely cover ours in the candy bark because I was trying to cut down on mess. If you're using sprinkles, you can't exactly avoid a mess, but be prepared to sweep!
Rice Krispie Treat Speckled Eggs
Make your favorite every day treat into your favorite Easter time snack with these Rice Krispie Treat Speckled Eggs.
Ingredients
3 Tbsp Butter
4 Cups Mini Marshmallows
6 Cups Krispy Rice Cereal
Candy Coating Bark or Candy Melts/White Chocolate Chips
Sprinkles
Large Plastic Egg (for molding)
Cooking Spray
Method
In a large saucepan, melt butter over low heat. Stir in marshmallows and until melted. Remove from heat.
Add the Rice Krispies and stir until well coated.
Spray inside of plastic egg and yours hands with cooking spray. Mold even amounts of the egg into the egg. Let sit for a little bit to help them set a bit.
Melt candy bark according to package or in microwave.
Dip the eggs in the candy coating and then sprinkle them with sprinkles. Let cool and serve.
http://www.pennywisecook.com/rice-krispie-treat-speckled-eggs/
Like this post? SHARE it!