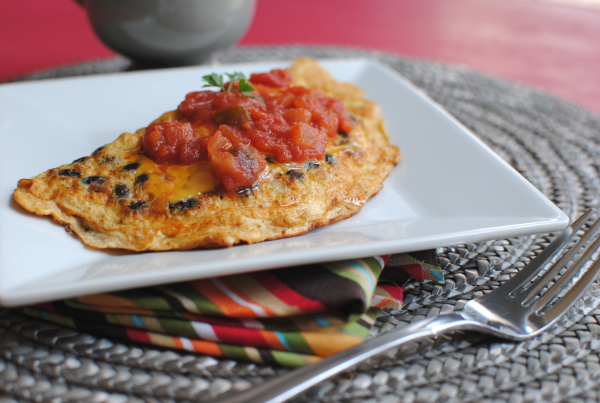 My mission lately is to make sure that I eat all 3 meals. I have a tendency to get busy with the girls, cleaning the house, or perhaps blogging my favorite recipes with you and just completely lose track of time and meals. That's coming to an end because I'm on a mission to find filling, yet easy breakfasts and lunches. I've been making one that I wanted to share since I find it really tasty.
This Southwestern Black Bean Omelet is filling and tasty, but also low in calories. I figured it up and there are just 160 calories in this entire omelet! That even includes the cheese, which is where almost half of the calories come from. You could easily knock off even more calories by using reduced-fat cheese.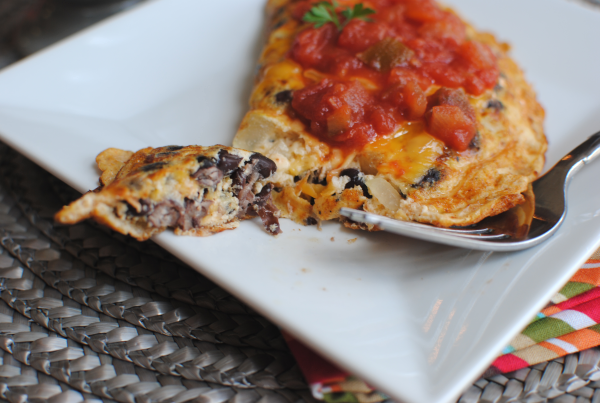 My favorite thing about this omelet is that it's super fast to make. It takes no time at all to whip up but leaves you feeling satisfied. With the protein from the egg beaters and the fiber and antioxidants from the black beans, it's also very healthy.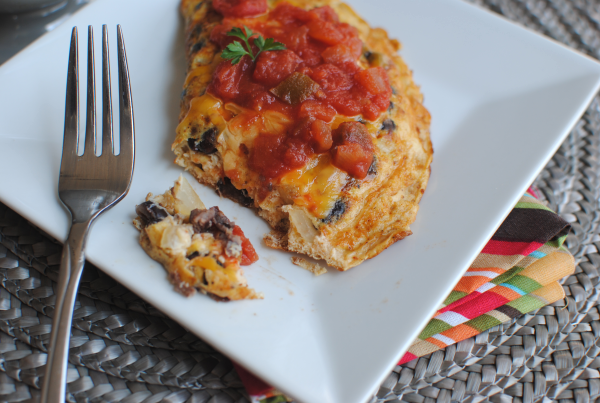 I find myself eating this for lunch more than I do for breakfast! If you're looking to change up your everyday lunch or breakfast, you might try this out.
Check out the recipe below and enjoy!
| | | |
| --- | --- | --- |
| Southwestern Black Bean Omelet | | |
Recipe Type:
Breakfast, Lunch
Author:
This black bean omelet is not only filling and tasty, but it's healthy too!
Ingredients
1/3 c. Egg Substitute
2 Tbsp Chopped Onion
1/4 c. Black Beans
1/8 Tsp Chili Powder
2 Tbsp Shredded Cheddar Cheese, Divided
1 Tbsp Salsa
Salt & Pepper to Taste
Cooking Spray
Instructions
Heat a skillet over medium-low heat. Combine the egg, onion, black beans, salt & pepper, and chili powder in a bowl. Spray skillet with cooking spray then pour in the egg mixture. Immediately sprinkle with 1 tbsp shredded cheese. Let cook for 4-5 minute until the edges start to firm.
Flip and the omelet in half and top other tbsp of cheese. Cook for about another 2 minutes until cheese is melted. Remove from skillet, top with salsa and serve!
Notes
Save the rest of your canned black beans and leftover onion for another day to make another omelet!
Like this post? SHARE it!