I have always been a huge fan of Chinese food. I absolutely love garlic, onions, soy sauce, you name it. The combination that is used in that ethnicity is just my kind of flavor. And what most people don't realize is that a lot Chinese dishes are simple to make. There are two things in recipes that I look at to decide if I want to make it.
1) Does it contain ingredients that I would have on-hand or that I would actually buy and use later?
This is what makes it frugal. You don't want to have to make a special trip to a crazy store 30 minutes away to use that ingredient just once.
2) Is the recipe simple with steps that are easy to follow?
I'm all about simple. If a recipe contains a bunch of steps that are difficult, I usually move on. I'm ok with maybe one challenging step in a recipe, but the more challenging the more time it takes and the less simple that it becomes. And we all know that time is very important too. With two kiddos and a hungry husband, there's not a moment to spare when getting dinner on the table.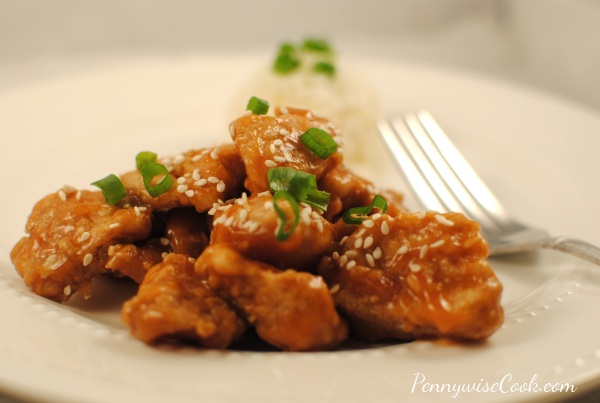 If you've been following this blog for a while, then you know I'm a big fan of Hungry Girl. I love her use of resources and out of the box thinking when it comes to making meals healthier. I found this recipe for Sesame Chicken over there and I was a bit turned off by the ingredients to be honest. There are a total of 15- 16 ingredients in this recipe. Yeah, exactly. It doesn't sound like one of those easy recipes, but after actually seeing what the ingredients were I quickly changed my tune.
With the combination of regular everyday ingredients that you might have on hand, you can whip up this super yummy Sticky Sesame Chicken! I'm serious too, it's healthy but it's also amazing! The only drawback to this recipe is the time it takes to coat each piece of chicken. Just make sure that you give yourself plenty of time to do that when preparing this recipe.
Recipe adapted from Hungry Girl.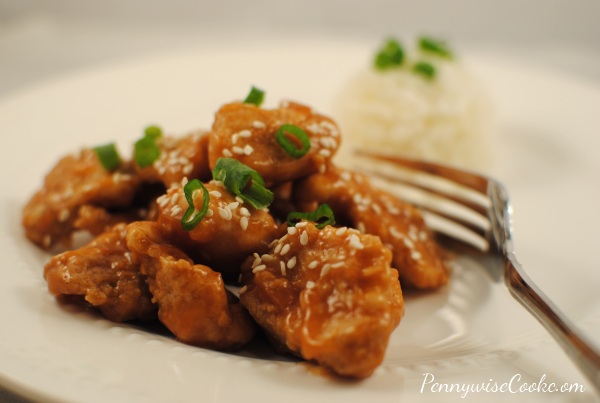 Make your own yummy Sesame Chicken just like your favorite Chinese restaurant without all the extra fat!
Ingredients
10 oz Boneless Skinless Chicken Tenders, chopped into bite-sized pieces
1/8 tsp. salt
1/8 tsp. black pepper
1/4 cup fat-free liquid egg substitute
1/4 cup whole-wheat flour, divided
1/4 cup fat-free chicken broth
1 tbsp. cornstarch
2 tbsp. sugar-free pancake syrup
2 tbsp. seasoned rice vinegar
1 tbsp. ketchup
1/2 tbsp. lite/low-sodium soy sauce
1/2 tsp. sesame oil (I used olive oil)
1/2 tsp. crushed garlic
1 tsp. sesame seeds
2 tbsp. thinly sliced scallions (optional)
Method
Preheat oven to 375 degrees. Spray a baking sheet with cooking spray and set aside.
Place chicken in a bowl, season with salt and pepper, and cover with egg substitute. Toss to coat and set aside.
Place 2 tbsp. flour in another bowl. Use a fork to transfer half of the chicken to the flour bowl, allowing excess egg substitute to drain back into the egg bowl. Thoroughly coat chicken with flour, and then transfer to the baking sheet. Wipe the bowl clean, and then do it again with remaining flour and chicken.
Bake chicken in the oven until cooked, about 10 minutes.
Meanwhile, combine broth with cornstarch in a small nonstick pot and stir to dissolve. Add the syrup, vinegar, ketchup, soy sauce, oil, and garlic. Mix well and bring to medium heat on the stove. Stirring often, cook until thick, 2 - 3 minutes. Set aside.
Place cooked chicken in a bowl, top with sauce, and toss to coat. Sprinkle with sesame seeds.
Top with scallions or crushed red pepper if desired and serve!
Notes
This recipe is made for 2 people, but I had more than 10 oz of chicken so I added a little of each ingredient to make it go further for our family. I used vegetable oil instead of sesame oil and it turned out just fine. So don't fret if you don't have that. Make sure that your chicken is nice and warm when you serve it with the sauce. I found that it gets cold pretty quickly.
http://www.pennywisecook.com/sticky-sesame-chicken/
Like this post? SHARE it!