I can almost say without a doubt that Elvis and I would have got along great. Besides the fact that he was easy on the eyes (younger years), he also had great taste. I've toured Graceland before and Elvis's style was definitely unique and modern for his time. My favorite room, of course, was the Jungle Room.

Though the King of Rock and Roll is gone, his influence on taste has stuck around. Take these incredible Peanut Butter Banana Cupcakes for instance. Fit for a king and rockin' and rollin' with flavor, you just can't go wrong with the creamy combination of peanut butter and banana.

These cupcakes are almost like a poundcake. I didn't expect to have such dense cupcakes, but the more that I ate them, they grew on me. The banana taste in these comes directly from real bananas with no artificial flavoring. I think that's what makes these so good.
Oh yeah….
And that peanut butter frosting.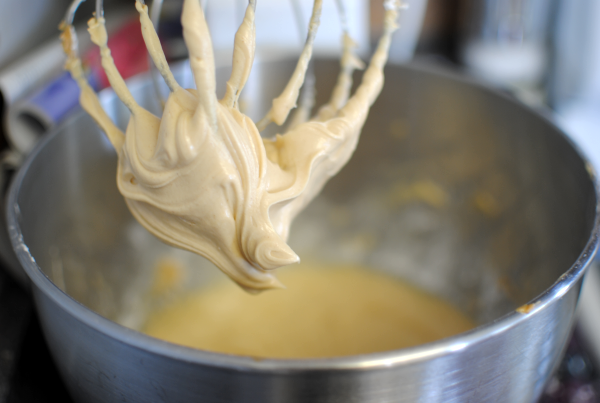 This frosting by far is one of my favorite frostings that I've made. Not because others have made are not as good, but this is one that I could just sit and eat out of the bowl all day.
And I did. I have no shame.
This peanut butter frosting is the key to completing such a royally-inspired cupcake. And though you'd expect to spend a long time baking up a completely from scratch cupcake, it's also very easy. And frugal at the same time.
Most ingredients in this cupcake are things you might have on-hand. You may have to grab some bananas at the store if you don't usually keep those around. And those will put you out like what….$1?
Banana Cupcake recipe inspired by gourmetgeema at grouprecipes.com. Peanut butter frosting recipe inspired by hutchison at recipes.sparkpeople.com.

Peanut Butter Banana Cupcakes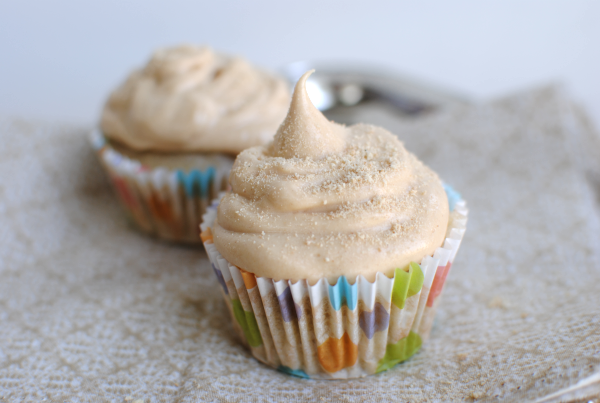 Creamy banana cupcakes topped with a smooth and decadent peanut butter frosting are fit for a king! Of rock and roll that is!

Ingredients
For the Cupcakes

1/2 c. Butter
1/2 c. Domino Light or Splenda
1/2 c. Sugar
1 egg, slightly beaten
1 and 1/2 c. flour
1/4 tsp Salt
1 c. Bananas (very ripe), mashed
1 tsp Vanilla

For the Peanut Butter Frosting

2 c. Powdered Sugar
1/4 c. Skim Milk
1/4 c. Butter
1/2 c. Peanut Butter
1 tsp Vanilla
Graham Cracker Crumbs for sprinkling (optional)
Method
For the Cupcakes

Preheat the oven to 350 degrees. Add all ingredients to a large bowl and mix until well combined.
Fill cupcake tins 1/2 full and bake for 15-20 minutes.
Let cool.

For the Frosting

In a large bowl, cream butter, milk, and peanut butter together. Slowly add in the powdered sugar. Add vanilla and whip until combined well. Frost cooled cupcakes.
Sprinkle with graham cracker crumbs (optional).
Notes

The cupcakes don't get really brown on top like most cupcakes do. The banana in them tend to keep them light. Don't let this fool you when you are timing them in the oven. Be sure to use a toothpick to tell if they are cooked through and remove them right away. They can become extremely hard if overcooked.

http://www.pennywisecook.com/peanut-butter-banana-cupcakes/
Like this post? SHARE it!