Driving down the road you pass a dirty old dresser with missing drawers by the curb, and the remains of someone's stinky trash. You might look at it and think that is one ugly dresser. You might look at its missing drawers and consider it rendered useless. You might think how in the world would I ever get this in my van even if I could get past the fact that its butt ugly?
You MIGHT even slow down long enough to get a good gander at its bones…
Not this girl. I stopped in my tracks and got out of my van to look it over. My suspicions of its stankiness were confirmed. There was a good reason someone was getting rid of this stinker. I made room in the back and gave hubby a call for help to load 'er up.
I didn't have a clue what the plan was for this piece of roadside furniture, but you know Pinterest came into play. I had a plan by that evening. Time was most definitely not wasted.
Then we made a huge move into our new and amazing home and this little guy with all its potential was locked up in our shed for a couple of months before I could get my hands on him. The anticipation was killing me and then finally one day, I got him out and began his road to transformation. Why I'm dubbing this dresser a he? I'm not sure. I've never called it a he before now, but it feels right so let's go with it.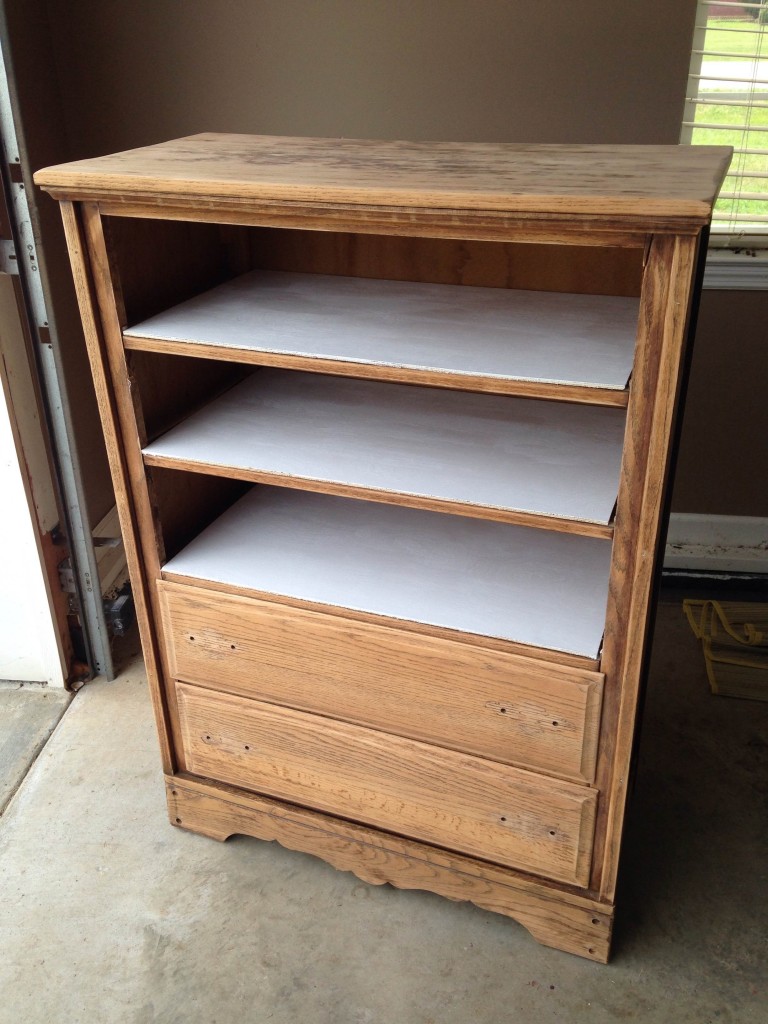 The first thing that I had to do with this thing was to wipe it down really good. It was absolutely disgusting inside and out. It was as though someone had used it for housing small stinky animals and then, to cover up the smells, had sprayed it heavily with a chemical solution. Y'all. Y'aaaaaaall. It was bad.
After that, I removed all the hardware from the drawers. Then I sanded every inch of the dresser that I could. Some parts were solid wood and other parts were particle board type stuff so I did the best I could. Not my favorite part of the transformation I must say. It's for real getting down to the nitty gritty. And then getting it all up in your eyeball. Should I have worn goggles? Maybe.
I decided to only use the bottom two drawers since they were really the only ones functioning anymore. I removed the drawer tracks for the other three. Then I measured the space on top of each drawer and tacked in very thin plywood as a new base. Nothing fancy here. I could've made this part look better. This part literally was a little rough around the edges. And as you can see, I painted the plywood before placing as to access them easier.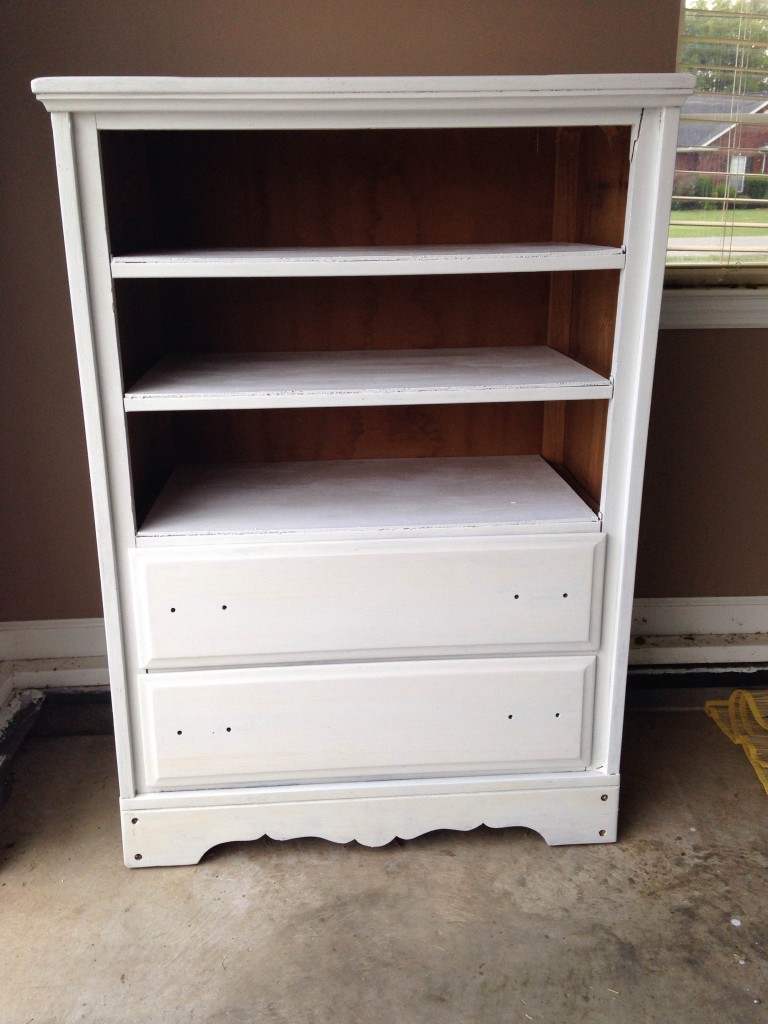 Then I began the process of painting the whole thing. I didn't use any special paint. Just some simple Rustoleum Ultra White latex paint. It may have been trim paint? I also bought new hardware for the drawers to match the hardware in my living room. Dark and bold to contrast the stark white.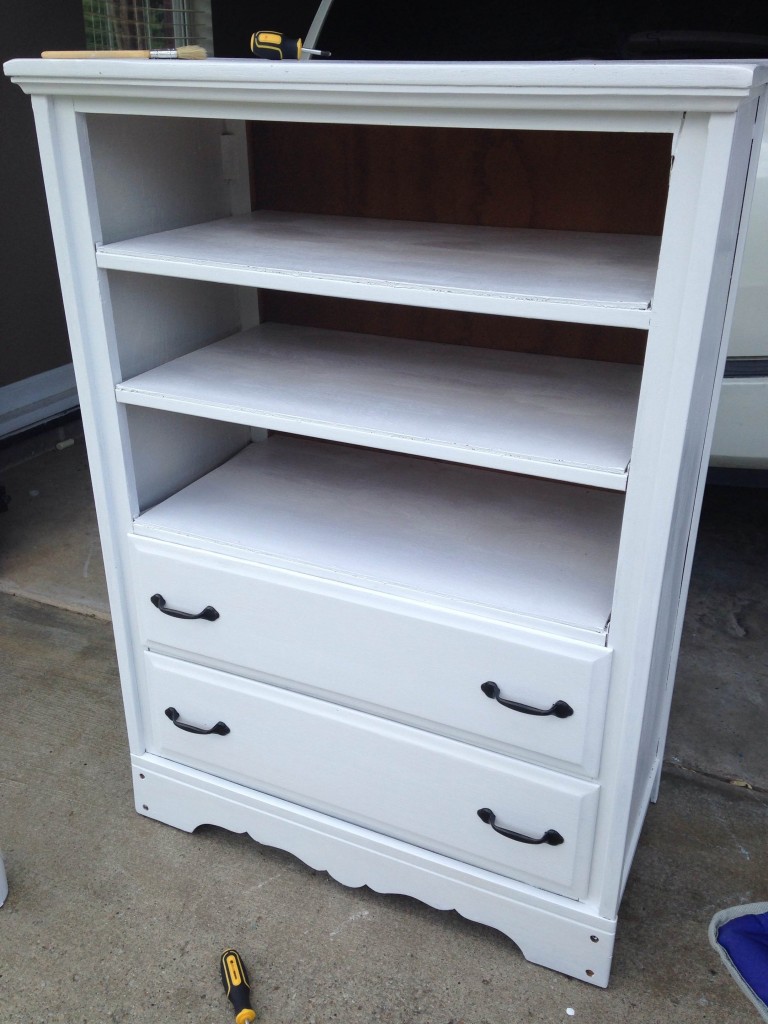 Here she is with added hardware. (Why is this dresser changing sex all of the sudden?)
And here's a bonus- you get to see my screwdriver!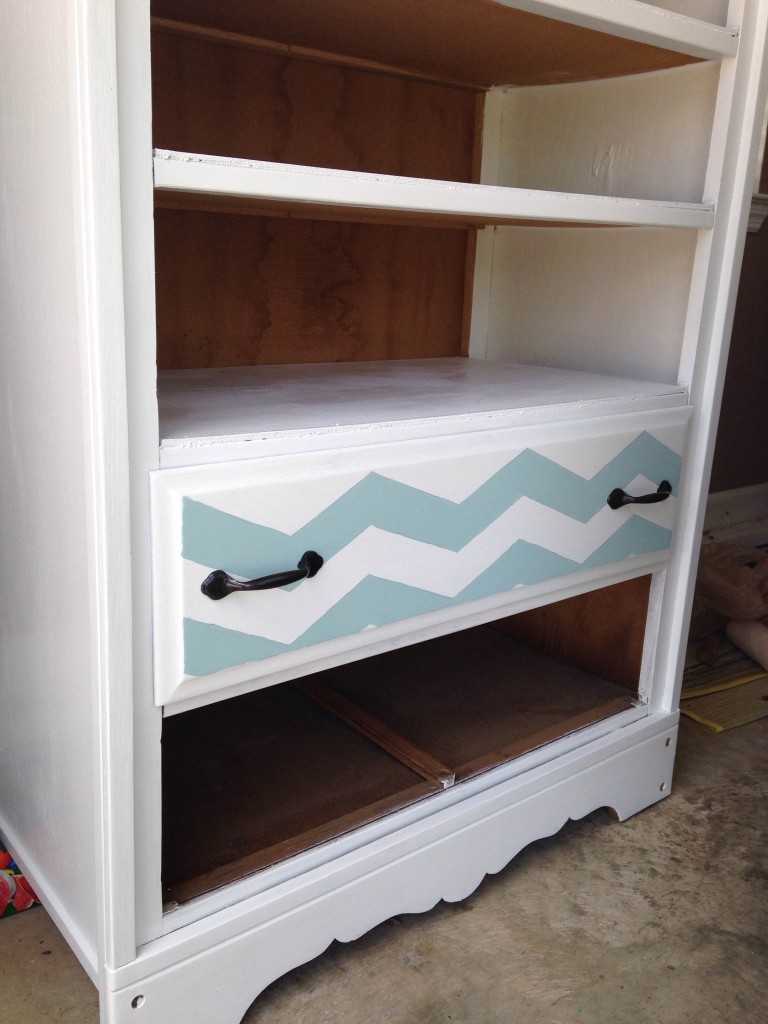 I do have a teenie tiny little obsession with chevron, so I added that to the drawers. I think it gave it some serious style. Don't you?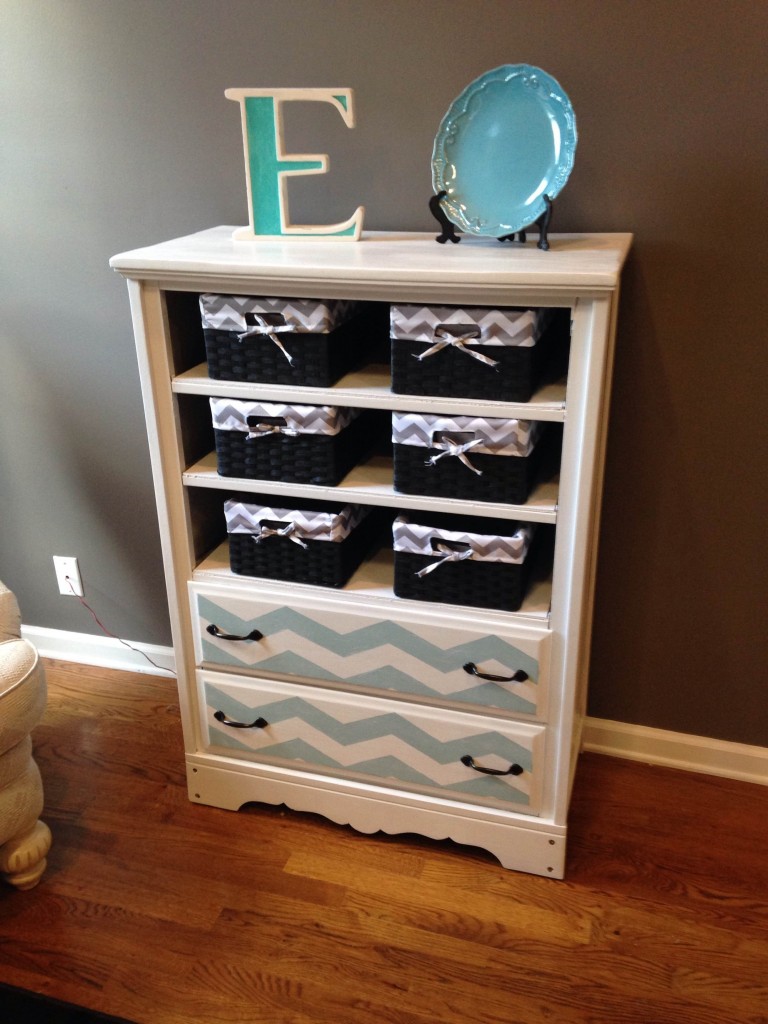 Finished product! I searched for days for baskets and bins to use in place of the drawers for this thing. I'm horrible at making decisions. Absolutely. Horrible. I wanted to make sure they were not too dark and went ok with the chevron and color of the room, etc. I gave into these cute chevron baskets at Old Time Pottery after days of looking and complete discouragement at the price of these boogers. Not cheap!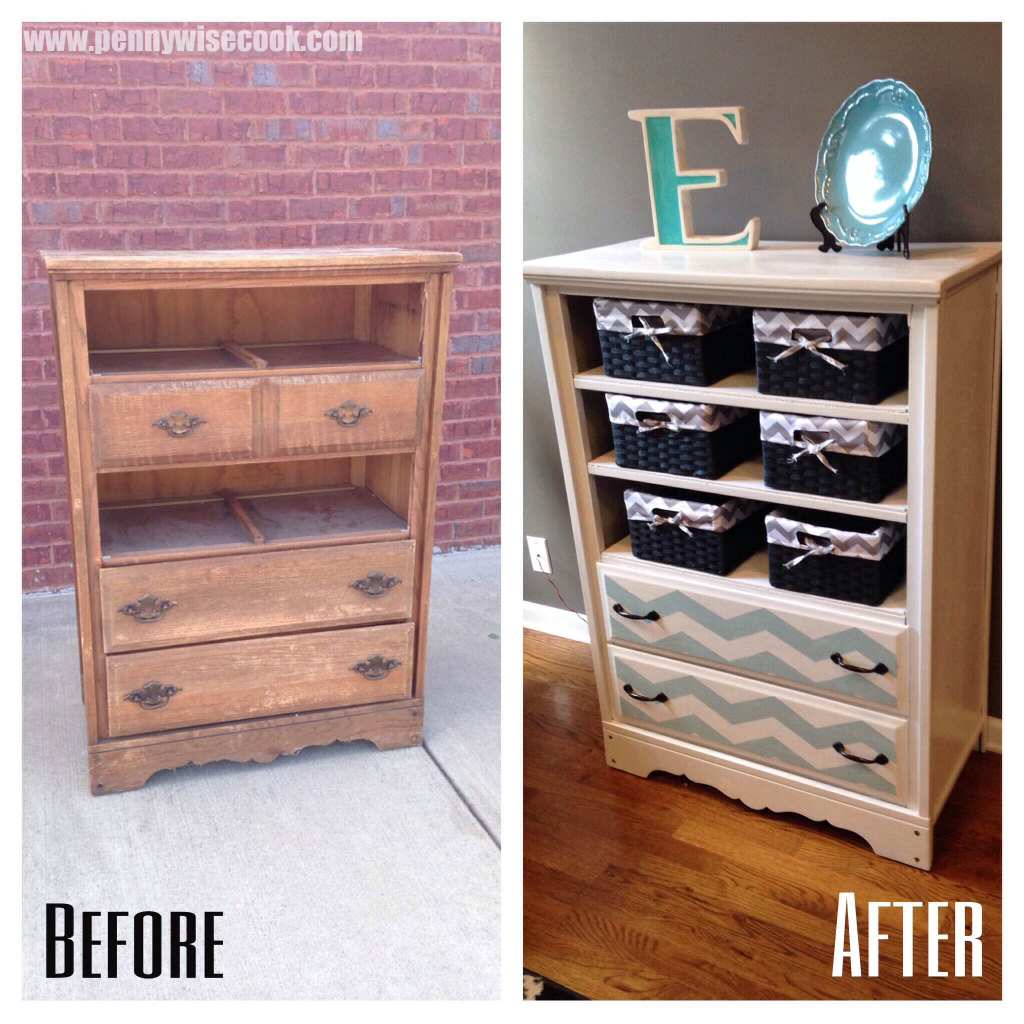 It is by no means perfect, but it makes for lots of storage space for my crafts! I had it in our living room for a bit. Now it's in the bonus providing ample and stylish storage for our craft stuff. HE turned out so good!
What do YOU think?!
Like this post? SHARE it!