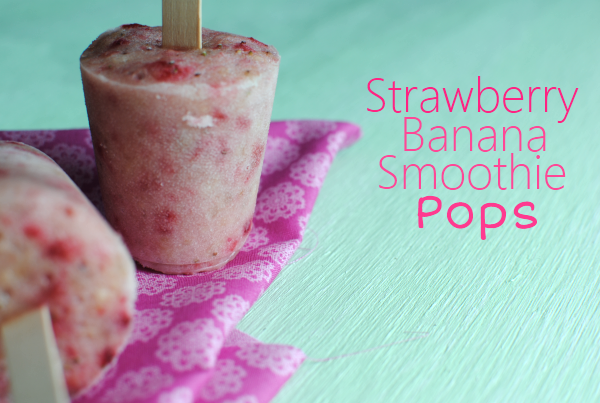 Sometimes I wish that I had a dime for every time that my daughter came to me during the day saying "I'm huuuuuuuungry". You don't even have to have kids to know exactly what that statement sounds like. I can remember saying that to my mom when I was young. Even after my daughter has just eaten a complete meal, not 10 minutes later I hear those words come out of her mouth. So around here it's imperative that we have healthy snacks available for these moments of huuuuuunger.
Some of the snacks of choice that I like to have on-hand are string cheese, peanut butter crackers, and fruit snacks. But we're almost to summer and it's time to cool off with some refreshing snacks on a hot day. My favorite store for produce, Aldi of course, had a great price on strawberries the other day and I stocked up! They also almost always have the best price on bananas in town. To me, nothing brings those two fruits together better than a smoothie! But if you don't want to have to create a smoothie every time you would like one, the pops might just satisfy your strawberry banana smoothie craving!
I mixed a couple of bananas and several strawberries together with a little plain yogurt and a pinch of splenda and threw it all in several dixie cups. I popped popsicle sticks into each one and froze them to create these yummy smoothie pops.
It's a snack that's not only healthy but really satisfying and refreshing at the same time. And I love that making them in these cups make them fairly big. Maybe more than you would get from a store bought pop and way cheaper for sure!
Strawberry Banana Smoothie Pops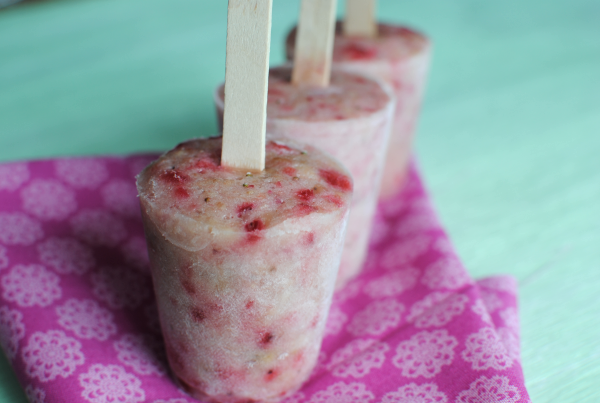 A natural and refreshing popsicle made from fresh strawberries and bananas.
Ingredients
2 Large Bananas
10 Medium-Large Strawberries, Cored
1/4 Cup Plain Nonfat Yogurt
1 Tsp Sugar Substitute (optional)
8 Small Dixie Cups
Method
Place all ingredients in a food processor or blender and mix until smooth.
Pour into cups and freeze until solid (around 2-3 hours).
Notes
You don't have to use "Dixie" cups. Use whatever cups you might have. We used plastic bathroom cups. Depending on the size, you may have more or less popsicles.
The sugar substitute addition is not completely necessary. The strawberries and bananas give it plenty of natural sweetness, I just like mine extra sweet!
http://www.pennywisecook.com/strawberry-banana-smoothie-pops/
Like this post? SHARE it!