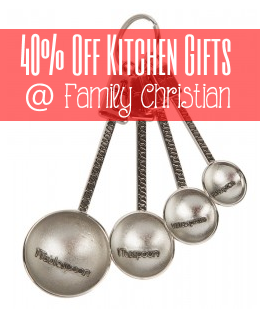 I have some more gift ideas for you today!
Now here's a sale that I can get excited about! I'm a sucker for cutsy kitchen gadgets. I love cooking, but cooking with an adorable spatula makes it more fun somehow. Tell me that I'm not the only one!
So these adorable Metal Measuring Spoons with Cross Emblem? Yeah, they reeled me in. I'm going to get a couple of these for gifts. And I'm going to grab a set for myself. They are normally $14.99 but they are on sale for just $8.99 right now!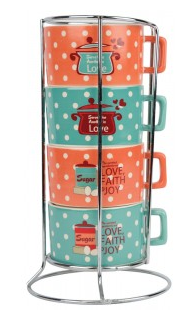 Or what about these Retro Look Stackable Mugs with Rack. These would look great sitting around my kitchen. The top two say "Serve One Another in Love" and the bottom two say "The Sweetest Ingredients Are Love, Joy, & Faith". I LOVE these. Normally $24.99, right now during this sale you can get them for just $14.99!

There no doubt that I will be buying a set of these. How adorable are they? This Retro Look Measuring Cup Set comes with four different cups including 1/4, 1/3, 1/2, and 1 cup measurements. It's currently on sale for $10.79!
There is a bunch more and ALL of the Kitchen Gifts at Family Christian are 40% off! You need to check it out!
Sale is good 12/5- 12/24!
Like this post? SHARE it!