So I completely understand if you look at the title of this recipe and think, what in the world? How can a recipe be both bread and cookies at the same time? Well it's simple really. You take the best flavors and tastes from a popular bread and bake it into a cookie leaving the cookie every so slightly bread-ish, but in bite-size form. It's a tremendous feat. Creating the impossible.
You can be a kitchen super-hero just by making these cookies!
No really, your kids will love them. And hubby too. Mine won't get out of the kitchen eating them. But I'm not going to scold him for it because I can't get away from them either. I think I've already eaten about 6 myself.
I got this recipe from this eCookbook at Amazon called Keep the Cookie Jar Full, but I made some changes to it to accommodate what I had on hand. These turned out fantastic!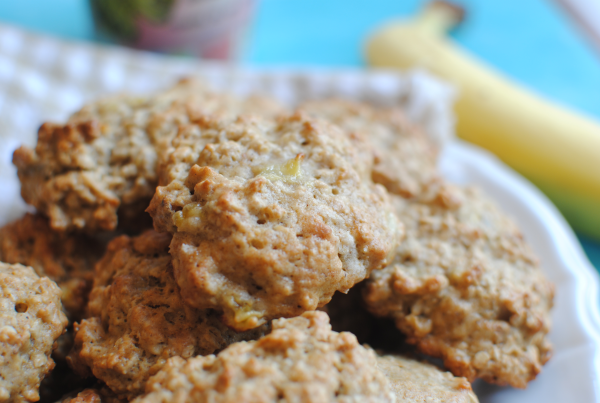 Just the right mixture of bananas, oats, and walnuts make these ultra soft and mimic the flavors of banana nut bread perfectly. Great idea for bringing along to a get together!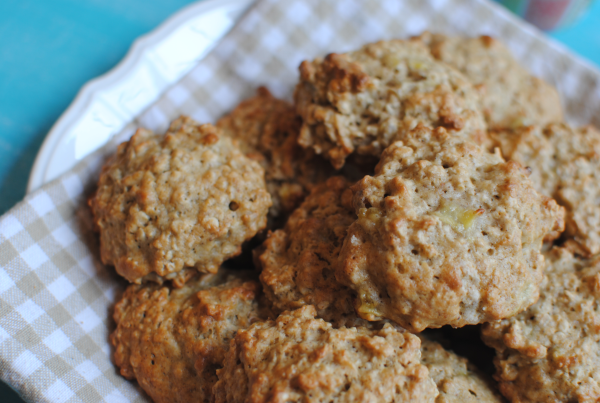 I can't believe that tomorrow is July 4th already. I feel like I'm still waiting on Easter or something. Sheesh I'm behind! I'm just praying that all of these fireworks don't set off fires all over town. Scary stuff with how dry it's been.
I digress….
Try these cookies! You won't be sorry.
Recipe Type:
Dessert, Cookies
Author:
As tasty as a fresh loaf of banana nut bread, these cookies are the perfect alternative.
Ingredients
1 and 1/2 c. All-Purpose Flour
1/2 Tsp Baking Soda
1 c. Sugar
1/8 Tsp Nutmeg
1/2 Tsp Cinnamon
3/4 c. Butter
1 Egg, Beaten
1 Tsp Salt
2 Very Ripe Bananas, Mashed
1 and 3/4 c. Oats
1/2 c. Chopped Walnuts
Instructions
Preheat the oven to 400 degrees.
In a large bowl, sift together the flour, baking soda, sugar, nutmeg, salt, and cinnamon. Add in the butter and combine until most of the lumps are gone.
Add the egg and bananas and combine well. Fold in the oats and walnuts and mix well.
Drop dough by the teaspoonful on an ungreased cookie sheet. About 2 inches apart.
Bake for 10-12 minutes or until the edges start to brown.
When done, immediately remove from pan and place on wire rack to cool.
Like this post? SHARE it!