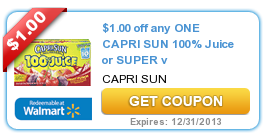 First of all, did you realize that you can print coupons from Pennywise Cook? Take a gander at the navigation bar at the top and hover over the coupons tab and there are TONS of them to choose from! I'm going to work on doing a better job of showing you some of the most fab ones that pop up.
I will begin with this $1 off any ONE Capri Sun 100% Juice or Super V coupon. At Target, you can grab these for only $.33 after the following little coupon maneuver. You will need to be able to print your coupons from 2 computers since there is a limit of 2 coupons per computer.
Buy (3) Capri Sun Super V Packs $3 each (on sale)= $9 Use (3) $1/1 printables= $6 Receive FREE $5 Target Gift Card Final Price= $1 or $.33 each!
Yes, my inner Saving with Amy has been raring her head lately since we are trying to save money. You may see a few more deals like these! I hope that you enjoy them.
Thanks to The Coupon Centsation for the deal!
This post may contain affiliate links. You can read more about this in my disclosure policy.
Like this post? SHARE it!