If any of you follow me on Pinterest you might notice that I like to pin crafty things. Some things are just pipe dreams that I pretty much know that I'll never be able to create, but others are those duh kinda crafts. The ones that you wonder why you didn't think of sooner. My life is full of those moments. The day that I came across this genius idea at The Mayberry Home Journal, I had one of those moments. I like to think that I can see potential in things, but never once have I seen my toilet paper rolls as art like Corrabelle.
Until now…
Yes, I have a TON of toilet paper rolls at my house. We simply go through toilet paper like it's going out of style at my house so it didn't take me long to make a collection.
Ladies and gentlemen, we are going to make art…out of toilet paper rolls. Yes indeedy, your next masterpiece for the dining room could be as close as your bathroom and you didn't even know it.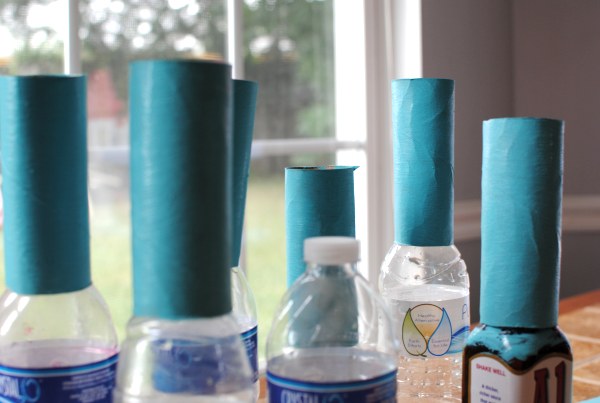 As you can see, I'm not completely prepared for a toilet paper roll painting party. I used what I had to paint them including some pretty blue paint leftover from another craft and some water bottles for them to sit and dry. Oh and I used my A1 bottle to paint them on. Little did Mr. A1 know that he was getting a makeover today!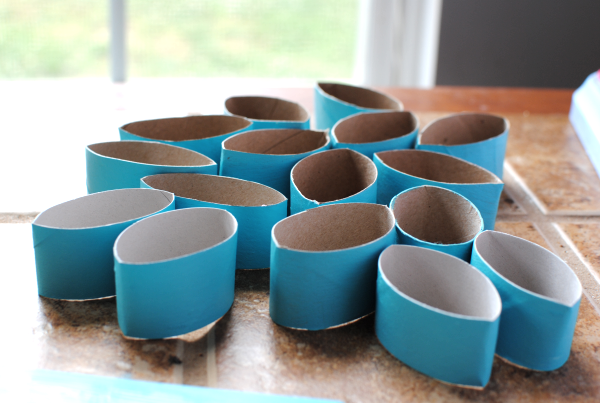 Then I cut them into smaller pieces. You can get about 4 pieces per roll. More if you're using paper towel rolls.
Then it's really just a matter of hot gluing them to each other in a pattern. This is really lame, but I didn't get any pictures of the process of gluing them. I'll leave that to your imagination. There was really no rhyme or reason that I started with. Just 4 glued together for the middle and then I branched out from there. I filled in the holes as a went and did my best to make it even.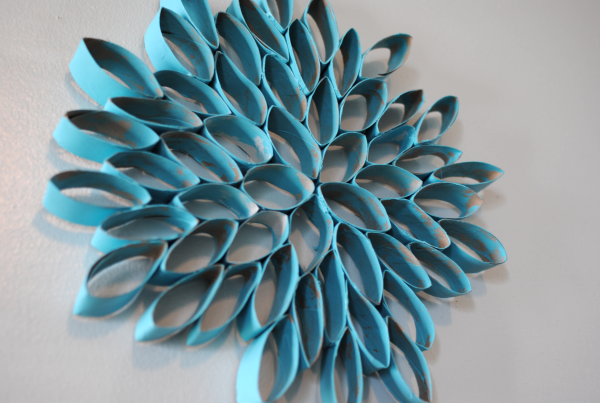 And the finished product looks like something straight off the wall decor section at Kohl's! The best part? This didn't cost me a thing!
Now go see how many toilet paper rolls you have. 😉
Like this post? SHARE it!