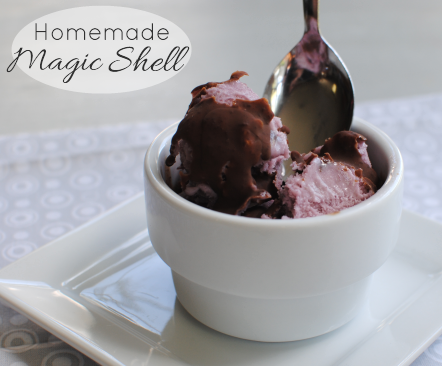 Ever since I can remember, I have been in love with the dipped cones from Sonic. I remember as a kid, we'd be coming home from church or school and I'd close my eyes and imagine that my parents' blinker would come on once we got to Sonic. Oh the joy that would come when I'd hear that click click click. And if we did stop, sometimes that joy would be crushed by my dad eating the tip off my dipped cone. I still have a complex about that to this day…
I also adore that Magic Shell liquid that you pour over your ice cream. You know the stuff. It starts as a liquid, but the minute that it hits your ice cream it starts to harden and forms a shell. It's basically the same thing as the dipped cones from Sonic. No wonder I love the stuff.
It was only recently that I found out how extremely SIMPLE it is to make magic shell. You can pay around $3 bucks for a bottle of it at the store. After you read this recipe, you may never purchase it ever again. I know I won't.
There's something about the fun of starting off with a liquid and watching it turn to a solid. Brings me back to high school when we would do science lab. I was usually pretty bored until we did the hands-on experiments.
You see the TWO ingredients that are used to make this lovely, tasty, and sweet ice cream topping combine together to make your own little science experiment each time that you eat a bowl of ice cream. Coconut oil is the ingredient that essentially causes the hardening with contact to the cold. And then of course, you have your chocolate chips that mix with the coconut oil to create the "shell".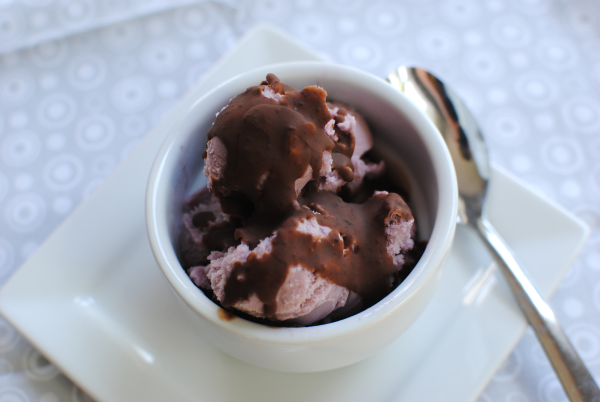 Therefore, you end up with a liquid that becomes a chocolatey, yummy, shell on top of your creamy ice cream. And to think that this recipe only contains two ingredients that takes only seconds to make. You'll never go back to store-bought, I promise…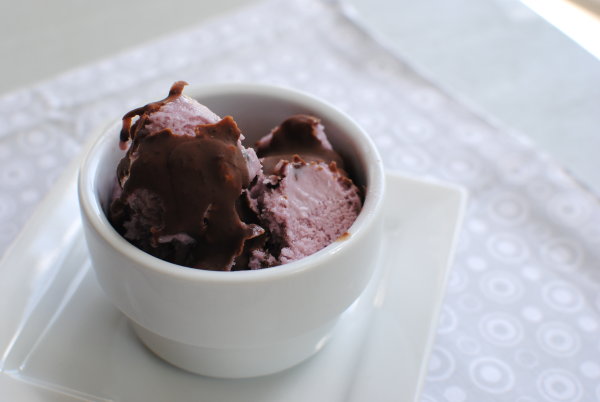 You can use your favorite flavor of chips to make this. Use butterscotch chips, white chocolate, dark chocolate, milk, or semi-sweet. I store mine in an old chocolate syrup bottle. With the coconut oil as an ingredient, it tends to harden in the bottle after a while at room temp. Simply pop it in the microwave for about 30 seconds and it'll be back to liquid and ready to create a chocolate shell over your ice cream.
Recipe courtesy of I Wash, You Dry.
| | | |
| --- | --- | --- |
| 2-Ingredient Homemade Magic Shell | | |
Author:
With just 2 ingredients, you can create your own magic shell without a trip to the store!
Ingredients
1/2 c. Coconut Oil
12 oz. Semi-sweet Chocolate Chips (or your choice)
Instructions
In a large microwavable bowl, combine the coconut oil and chocolate chips.
Microwave at intervals of 30 seconds at 50% power, stirring between intervals.
Pour over ice cream and allow to dry and harden.
Store in an airtight container at ROOM TEMPERATURE.
Notes
If your magic shell hardens in the bottle, microwave it for about 30 seconds to get it back to a liquid again.
Like this post? SHARE it!