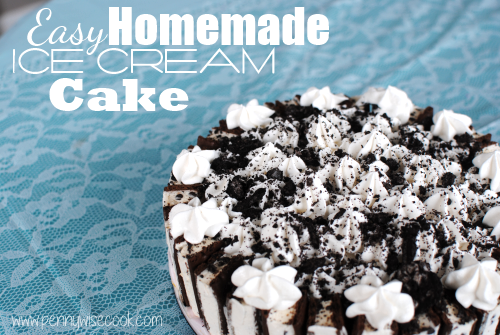 Ever since I can remember I've been a fan of ice cream. Not just your everyday fan. We're talking I have to have it quite often kinda fan. Not just once every now and then.
I inherited this strong love for ice cream from my dad. He taught me how to eat it straight from the tub with a fork.
Yes, a fork.
I'll never really understand why he liked to use a fork, but I'm almost 100% certain that it tastes better with a fork. #dontwaskmewhy
If you crave ice cream, then you might be in the mood for an ice cream cake come time for your birthday.
Or just to stuff your face with on a random Tuesday night…
Check out this SIMPLE and awesome recipe for creating a beautiful ice cream cakey masterpiece. It looks like it came from DQ itself. I posted this recently over at Gathering Grain, but I thought it would be kind of me to let y'all in on the awesomeness as well.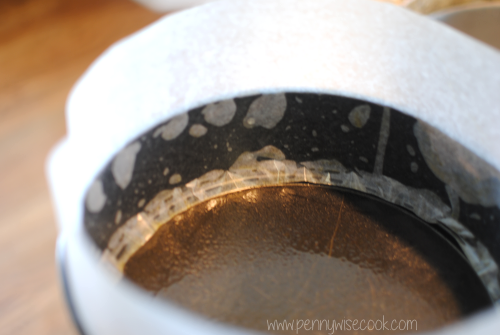 One thing you'll most definitely need is a springform pan. If you don't have one, you'll want to get one. I use them for all sorts of things these days. It's my magic tool for making things pretty. Amazon has a CuisinArt 9-inch Springform Pan for just $13.95.
Or you could just check your local thrift store next time you're in there.
Coat your pan with non-stick cooking spray. Then place a strip of wax paper around the sides. This makes it so much easier when it's time to take it out of the pan. It just peels off leaving it beautiful around the outside.
*Note*- Though I didn't have this issue, a friend of mine still had some trouble with the edges sticking to the wax paper so you might even spray the top of the wax paper if you're concerned.
And now, with the magic of blogging (not TV y'all because Lord knows I'm not Pioneer Woman), this is what you'll come up with after you place your ice cream sandwiches.
Cut them longways in half and then cut each of those halves in half again. This will give you 4 pieces per sandwich. Um k?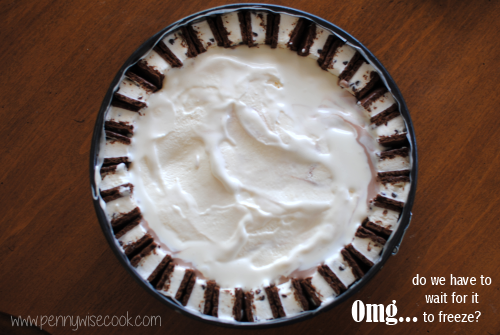 Once again, we're going to fast forward. You will make an easy oreo crust for the bottom and then spoon in softened ice cream (whatever flavor you choose!). I used 3 different flavors to get the neopolitan affect.
Pop into the fridge and then dollop some whipped cream and crushed cookies on top. Let set a little bit and then serve!
Or sit on your couch, use your fork, and go to town.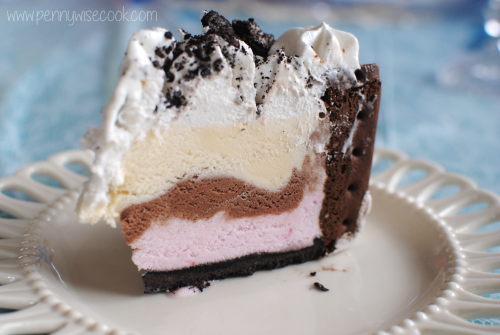 A picture of the middle. Isn't it pretty? It is amazingly tasty too. You'll just have to try it for yourself!
Homemade Ice Cream Cake
2014-10-18 15:45:07
A simple yet amazingly beautiful ice cream cake made in your very own kitchen.
Ingredients
18 chocolate sandwich cookies (Oreos)
1 tbsp milk
8-10 ice cream sandwiches (depending on the size of your pan)
3 pints ice cream of your choice
1 8 oz container whipped topping, thawed
Instructions
Begin by removing your ice cream from the freezer. Let thaw and once its soft around the edges, transfer to bowls so the middle can thaw. Give it a good stir.
Meanwhile, throw 15 chocolate sandwich cookies in a food processor to crush finely. You can also do this by hand if you don't have a food processor. I usually do this ahead of time to save time when assembling the cake. Once crushed, mix in the tablespoon of milk to create a crust mixture.
Coat the bottom and sides of a springform pan with cooking spray. Cut a thick strip of wax paper and place it around the edges of the pan. The cooking spray will help it to stick. Cut any excess off the top.
Cut each ice cream sandwich into 4ths and place standing up around the edges of the pan. It will appear like a wreath.
Using your created crust mixture, press into the bottom of the pan evening it out all the way around.
Pour your softened ice cream into the middle of the pan. Smooth out evenly. Continue with the other 2 pints of ice cream.
At this point, I like to place my cakes into the freeze for about 30 minutes or so to firm up a bit before adding the whipped topping.
Take out of the freezer and using a piping bag and tip or simply a ziploc bag with the tip cut, fill with whipped topping and add dollops all of the top of the cake.
Crush your last 3 chocolate sandwich cookies and sprinkle over the top.
Freeze for a couple of hours (or best overnight) and serve!
Adapted from Gathering Grain
Pennywise Cook http://www.pennywisecook.com/
Like this post? SHARE it!