What's the one thing that you always have to hand at all times? Milk? Cheese? Perhaps a tub of ice cream? 😉
One of my important things to have in my fridge these days is wonton wrappers. You've probably seen them in your grocery store before. I encourage you to pick some up the next time you're at the store. They usually run around $2.99 for a package (give or take a little). They are so incredibly versatile when it comes to making small foods. Yes, that's been one of my obsessions lately. Anything teeny tiny and can fit in your palm. I mean come on, how cute are cupcakes? What about Meatloaf Cupcakes? If you haven't gotten a chance to make those yet, you're missing out!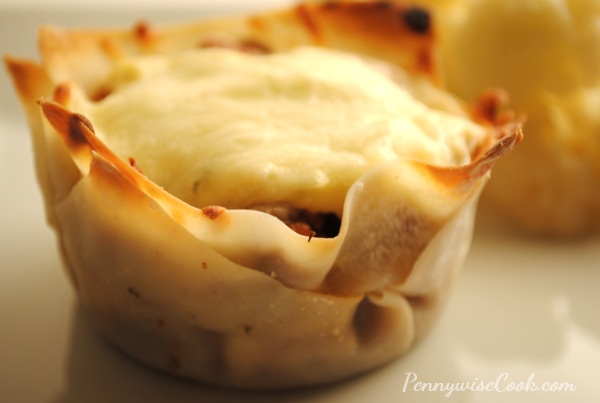 I first came across these Lasagna Cupcakes reading up low calorie recipes in the Hungry Girl cookbook. I was floored when I found them and could not wait to make some up. They turned out beautiful and quite tasty (even to the hubby), but they were a little bit spinach-y. I like spinach more than I ever have, but only when it's nicely camouflaged and hidden. I don't even mind seeing my food green because of spinach, but it just can't taste like spinach.
So I came up with my own version of this main dish cupcake and it was fabulous!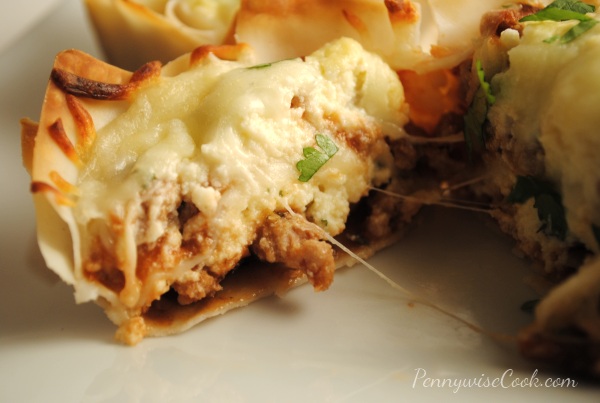 On the outside, these are adorable and so incredibly cute, but on the inside they actually taste like mini lasagna. Two words come to mind- portion control. These are the perfect idea for a party or having company over. They look like a million bucks, but it's basically the same as lasagna without the noodles and in tiny form. Most everything is cute in tiny form and kids love that which makes this a kid-friendly dish as well!
Putting the wonton wrappers on added more prep time, so just be aware of that. But other than prep time, this is an easy meal. Serve it up along side a salad and corn and you've got a meal.
Ingredients
1/2 Pound Ground Turkey or Extra Lean Beef
1 c. Ricotta Cheese
1 and 1/2 c. Mozzarella Cheese, divided
1 c. Parmesan Cheese
1 8 oz Can Tomato Sauce
1 Large Egg or 1/4 c. Egg Substitute
1 Medium Onion, Chopped
1 Tsp Garlic
24 Wonton Wrappers
1 Tsp Italian Seasoning
1/4 Tsp Salt
1/8 Tsp Pepper
Method
Preheat the oven to 375 degrees.
Over medium-high heat, brown ground turkey, onion, garlic, salt and pepper until meat is no longer pink. Add in tomato sauce and simmer for about 5 minutes.
Spray a muffin pan with cooking spray and set aside.
Meanwhile, mix ricotta cheese and egg.
Place a wonton in each muffin well bringing it up along the sides.
Distribute 1/2 the ricotta mixture among the cups.Smooth them out with a spoon.
Top those layers with 1/2 the meat mixture and evenly distribute. Add 1 tbsp mozzarella cheese on top of each meat mixture.
Place another wonton wrapper in each cup.
Repeat those steps and then bake them for about 10 minutes or until the cheese is all melted.
http://www.pennywisecook.com/883/
Like this post? SHARE it!