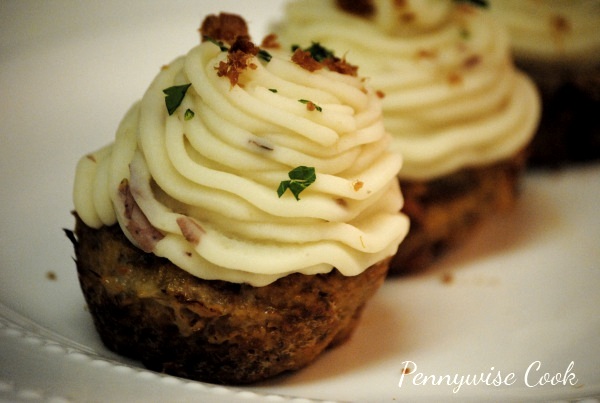 I've never been a meatloaf kinda person. I can't even recall a single time that I've made it for my husband. I have an issue with putting meat in the form of a loaf. Why I don't mind it in the form of meatballs or now cupcakes is something that we can ponder on. Yes, the other day I came across this recipe at First Look, Then Cook and immediately added it to my list of things to conquer. I have a new obsession with small food these days and this is right up my alley.
I was pretty much giddy to make these and I ran it by my husband to see what he thought of this. He's quite the picky eater, so I also kinda wanted to prepare him. Without any hesitation, he proceeded to give me a disgusted look. The words meatloaf and cupcake in the same sentence really threw him for a loop. 😉 I then explained that no, these were meatloaf flavored cupcakes, they are literally meatloaf in the form of a cupcake with mashed potato "frosting". He was on board then.
The night that I made these, everyone cleaned their plates. Even Addie who we usually have to set food aside (that she has to eat) for devoured hers. She doesn't usually even like mashed potatoes, but she did that night! I didn't make the mashed potatoes from scratch, by the way. Took a little help from the store and Betty Crocker. It was a heck of a lot easier that way! Of course, you can make your own mashed potatoes. My sister did and had fabulous results. I made mine with ground turkey, but feel free to use any ground meat that you have on hand.
You can also make these ahead of time to freeze them. Make the meat mixture (do not cook) and place the pan in the freezer for about 2 hours to keep their form. Once firm, place them in bags. To cook, bake at 350 degrees for about 30-40 minutes until temp inside is 160 degrees.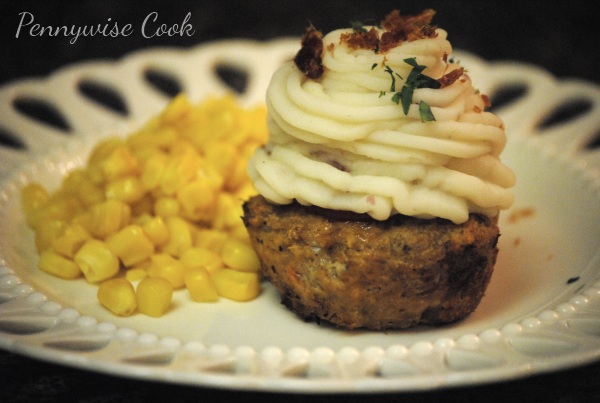 A spin on traditional meatloaf with a tasty yet fancy presentation!
Ingredients
1 lb Ground Turkey
1 c. Onion, Finely Chopped
1/2 c. Carrot, Finely Chopped
2 Cloves Garlic, Minced
2/3 c. Ketchup, divided
1/2 tsp Oregano, Dried
1 Tbsp Olive Oil
1/2 Tsp Worcestershire Sauce
1/4 Egg Substitute or 1 Egg
2/3 c. Plain Bread Crumbs
Salt & Pepper to Taste
Cooking Spray
Betty Crocker Potatoes for Topping (Or make your own)
Bacon Pieces for Topping (optional)
Parsley or Chives for Topping (optional)
Method
Preheat Oven to 350 degrees.
Saute onion, carrot, garlic and oregano in olive oil. About 2 minutes until softened. Let cool.
Combine the onion mixture, 1/4 cup ketchup, and all remaining ingredients except cooking spray in a bowl. Get well incorporated.
Spray muffin pan with cooking spray. Place meat mixture into the muffin cups and top each with 2 tsp ketchup (or a good circle around the top).
Bake for 25- 30 minutes or until brown and the internal temp is 160.
Top meatloaf cupcakes with mashed potatoes. Use a piping bag with large star tip or cut the tip of a Ziploc bag to pipe.
Sprinkle with toppings and serve.
Notes
I served them with corn and Addie came up with a fabulous idea to put her corn on top of the cupcakes. She was calling it "sprinkles". 🙂 These will for sure be a regular on our menu!
http://www.pennywisecook.com/turkey-meatloaf-cupcakes/
Like this post? SHARE it!