Do you have a spot in the house where everyone leaves their stuff? Perhaps the entryway or foyer area. In my house, the living room and kitchen are the drop zone. We come into out house through the garage and on the way to the living room, we tend to expel our belongings as we go. And by we, I mainly mean the children. One of our biggest problems is finding shoes. Yes, I know this may sound silly to some, but for some reason my Addie likes them off the very moment that she arrives at home. This isn't one of those "Take your shoes off at the door" kinda situations.
We have hard floors.
This leads to shoes that go missing. Under the couch. IN the couch. Around the couch. Under random toys. IN random toys. You name it, we've probably found a shoe there. So I wanted an easier solution for keeping the family's shoes in one place.
I originally wanted one of those storage benches with matching shelf and hook above. I spent countless hours on Pinterest looking for ideas. I even found a few that I liked, but I cannot justify paying the price for those sets. Many are upwards of $300-$500. Then I came across numerous ideas for hall trees made from old doors on there. What a genius idea, huh? Plus this gave me a reason to visit one of my favorite stores on earth, Habitat Restore! That place is brimming with old building materials, paint, light fixtures and all for awesomely affordable prices.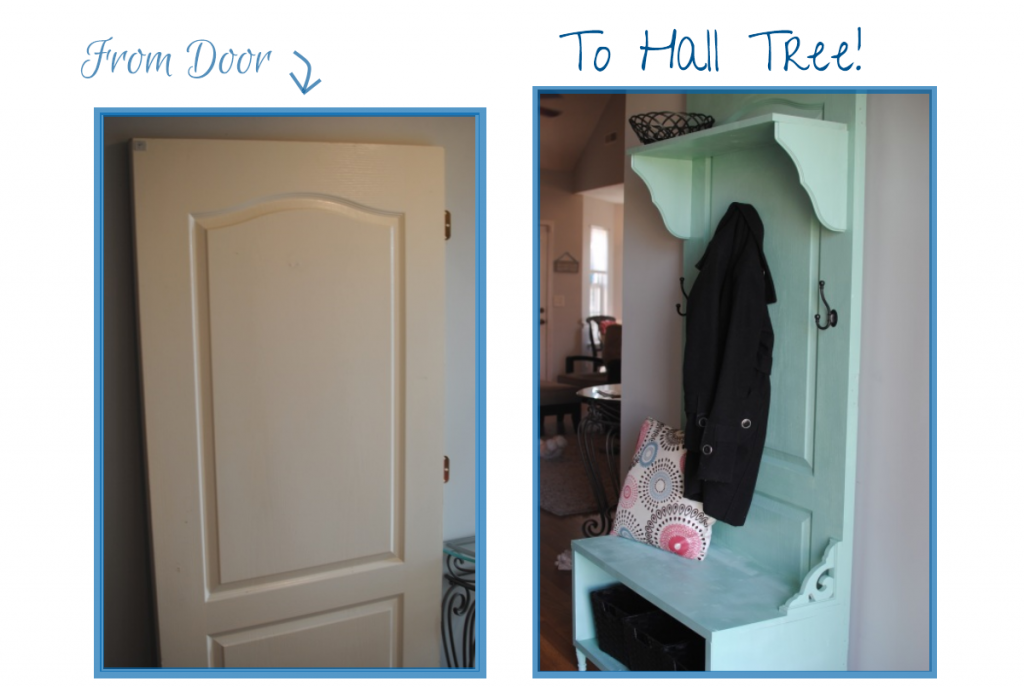 This is my creation! When I started, I really had no idea what it was that I wanted to do with this door. I knew that I wanted to have a bench, a place for bins, and hooks. I didn't even have plans for HOW this was going to occur. I kinda just winged it to be honest.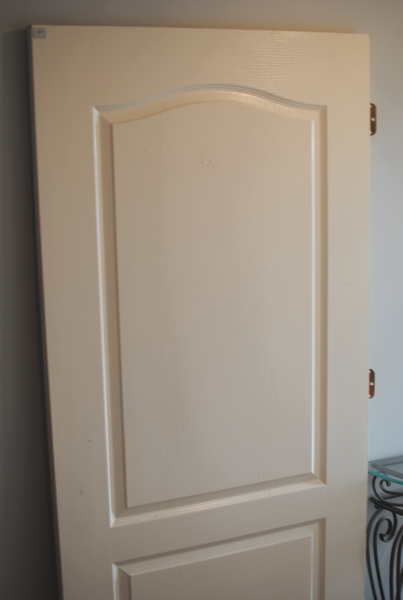 It all started with this door. I liked this one because it was really wide and in great shape. No big scratches or gauges. It only set me back $25 bucks.
Knowing that the bench wouldn't need a back (the door is the backing), I knew building the box for it would be fairly simple. I measured the door and the estimated height that I would want the bench and created this box that is 36 inches long and 13.25 inches high. We used a drilled to screw the boards directly into each other.
The wood for this cost about $14 at Lowes.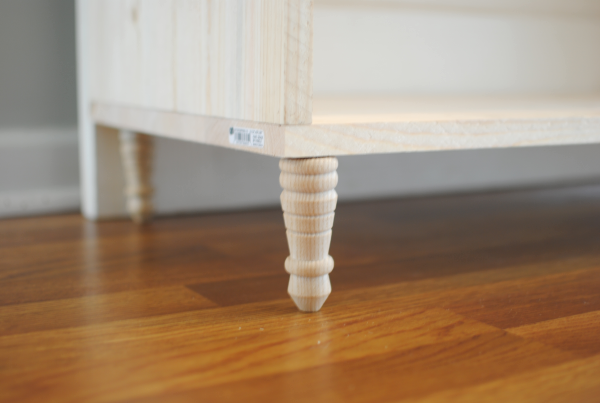 I also knew that I wanted to have sweet little spindle feet on the bottom of the hall tree to dress it up. I found these 3.25 inch feet at Lowes for $1.47 each for a total of $5.88. I had really only planned to have the 4, but hubby brought up that it might be more sturdy to do ahead and put on 4. It didn't look as silly as I was expecting it to look once we got them on. Though next time, I'd probably go for thicker legs.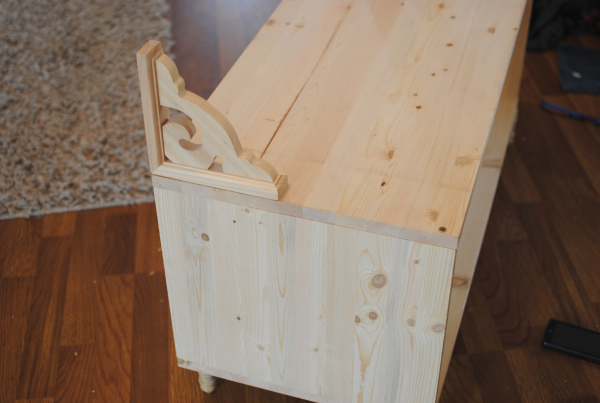 Then it was time to dress the bench up a bit. I got these exterior house accessories at Lowes as well. Not exactly what I was hoping for, but they made nice and delicate arm pieces for the bench. They were a whopping $8.50 each for a total of $17 bucks.
Then we attached the bench to the door using long wood screws through the backside of the door. This included one each directly into the pretty little arms.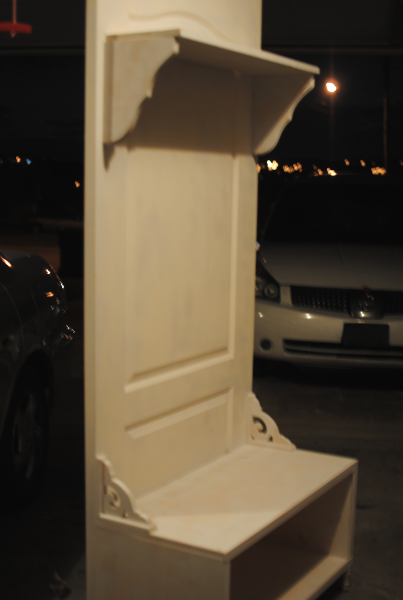 This picture is absolutely horrific, but you can see that we added the shelf on top. We didn't make this as wide as the door, leaving a couple inches on each side. I used wooden shelf pieces to give it some pizazz. The shelf was around $11 total including the support pieces. They were surprising inexpensive!
I knew that it had to get difficult at some point and this is where it did. Getting the shelf to line up perfectly with the screws in the back was the hardest part. In the end, we didn't do it perfectly and the shelf is not flush on both sides, but it holds and we aren't very concerned about it. You'd have to be looking to really notice it.
We also added framing around the bench's opening to finish off the edges a bit. I simply got a thin framing piece and we cut with a handsaw to fit, then tacked it on. It gives the box a sort of "lip" around the edges. I also primed and painted at this point. I used paint that I found at the Habitat Restore. I got a gallon of this beautiful aqua/greenish color for just $4!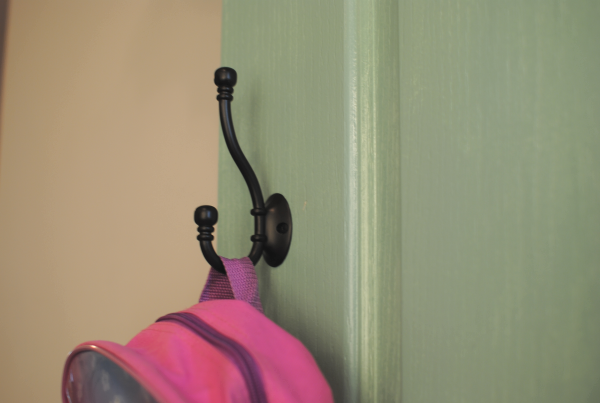 Then came the finishing touches. I splurged on these hooks at Lowes for $4.50 each for a total of $13.50. I really didn't want to spend that much on simple hooks, but I liked the color and knew that I wanted the bins to be dark like this too.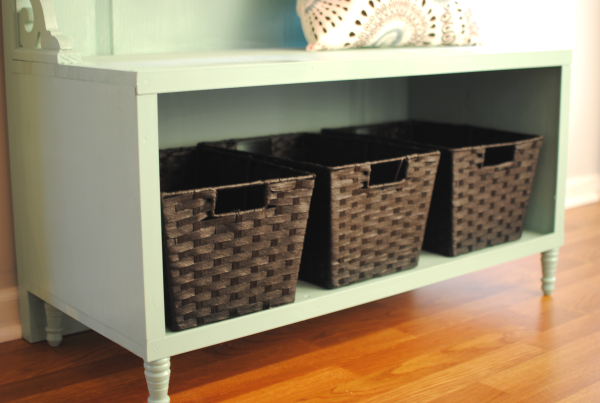 Now for the biggest function of this hall tree—bins! I got these smaller bins at Lowes for $7 each or $21 total. They look wicker but are an eco substance that mimics it. Nice and durable for the ravaging that our family might put them through.
I am in love with this hall tree for many reasons. It was so easy to make, even for the wood-working challenged. We didn't even have to break out a big saw. I love the color that we painted it. So cheery and such a beautiful accent to the entryway. And I love that it was completely custom and not out of a box.
Did I mention that I love its functionality? I have been working on making sure that backpacks get hung along with coats and purses. I also have a rule to make sure all shoes go in the shoe bins. Once the deep winter hits, we'll also keep scarves and gloves here too.
And my fancy shelf? I can use it for more storage with smaller bins or maybe even just place a seasonal item up there like a pumpkin to be festive!
Yay for DIY! What do you think?
Like this post? SHARE it!