Take a deep breath Amy. It's just the very first recipe that everyone will see here on Pennywise Cook. No pressure or anything. I've been cooking for quite some time and I have a lot of recipes to share. So when it came time to pick one to start out with, I had trouble. In the spirit of the upcoming Valentine's Day I thought what better of a recipe than to share one that the hubby will like too. I do find that leaving out the fact that these include black beans helps to make them a little more appealing to husbands. But after they have one, they'll come around.
In hopes to get my family to eat more vegetables and healthier, I'm always looking for substitutions. I'm not huge into making fake meat burgers, but I really love black beans so I decided to give it a whirl. With high hopes and confidence I made up these burgers and served them to my family one night. To my surprise, the reaction from the hubby was that of pure enjoyment. He even stated, "they're acceptable". If you know my husband, then you know that that is HUGE praise for a meatless burger. I consider him to be a burger connoisseur among the best.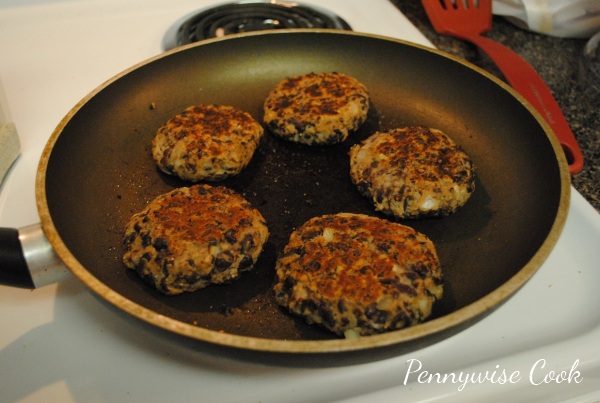 It's pretty incredible the consistency that black beans can take on when mixed with a few other ingredients and grilled like a burger. They are very moist, much like a very well cooked burger. With all the fixin's, you'd never even know. Here's my recipe.
Ingredients
2- 15 oz Cans Black Beans- divided, drained and rinsed well
1/2 medium onion, chopped
2 Tbsp Mayonnaise (I used reduced fat)
1 Tbsp Worcestershire Sauce
1 Tsp Cumin
1/4 Tsp Cayenne Pepper
1/4 Tsp Dried Parsley
1/2 Cup Plain Bread Crumbs
1/2 Tsp Dried Oregano
2 Tbsp Extra Virgin Olive Oil
6 Hamburger Buns
Method
Place 1 can of black beans in food processor with onion and Worcestershire sauce and pulse until it's a coarse puree. Transfer to large bowl.
Mix in the mayonnaise, cumin, cayenne pepper, parsley, bread crumbs, oregano, and last can of black beans. Mixing with your hands is easiest.
Form into 6 patties. Heat oil to medium-high heat and fry burgers on each side until outsides become browned. Usually around 5- 8 minutes total.
Serve on buns with your favorite fixin's!
http://www.pennywisecook.com/black-bean-burgers-even-your-husband-will-like/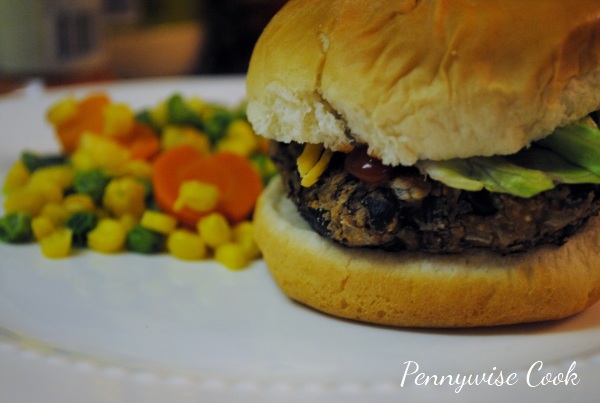 Like this post? SHARE it!