There is but one food that I know for sure that both my husband and oldest daughter will eat- fries. I can also be positive that there won't be even one left in the pan when dinner is over. The problem lies with trying to find the perfect method for getting them exactly the way we like them, crispy. Time and time again I would attempt a few different methods that only ended up with huge pieces of potato with spots of crispiness but mostly just soggy. Don't get me wrong, I still ate them but deep down I wished they were crispier. Don't we all? While we'll never truly figure out the technique that McDonald's has for the perfect french fry (or do you know? can you share?), we can try to get as close as possible.
There were two things different about this recipe than most that I've tried. 1) you boil the cut fries before you bake them and 2) you broil them towards the end to give them that extra crunch. Somebody has been using their noggin!
While I'm not completely sure this is the absolute best that home fries can be made, this is most definitely the BEST home fries that I've ever made! And the crispiest too. Try it for yourself and let me know what you think or any suggestions you may have. These would make a great side dish for Easy Black Bean Burgers.
Life's Ambrosia recipe

Crispy Homemade Oven Fries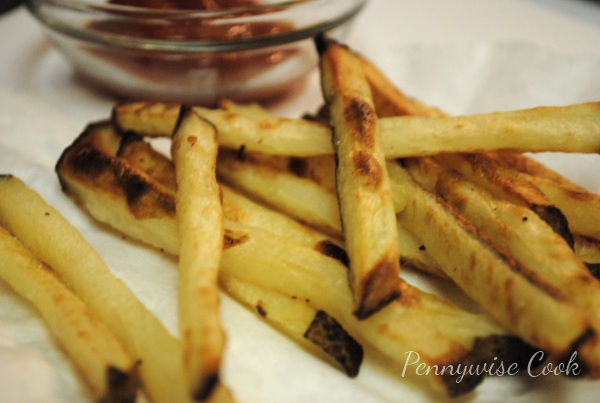 A trick for making your homemade oven fries crispier!
Ingredients
2 pounds of russet potatoes (about 5 potatoes); peel or unpeel them, your choice! Slice into 1/2 strips
Water for Boiling
1 Tsp Salt
2 Tbsp Olive Oil
1 Tbsp Seasoned Salt
Cooking Spray
Method
Preheat oven to 400 degrees.
In a big pot, place sliced potatoes into water and bring to a boil. Once boiling, add salt. Cook the potatoes until they are about 3/4 the way done. This should take about 4 minutes. Stick your fork in one- should still be a little tough to remove it. However, you don't want to over cook them, otherwise they may end up too soft.
Remove from heat and strain, then run under cold water to stop the cooking process. Pat dry with paper towels.
In a large bowl, toss the fries with olive oil and seasoned salt. Spray a cookie sheet with cooking spray and place fries in a single layer.
Cook for 15 minutes. Remove from oven and flip them over. Return to oven to cook for an additional 10 minutes.
Set your oven to broil and let get completely heated. Broil the fries for 5 minutes or until you are happy with the crispiness.
Notes
The biggest thing is the watch the fries once you begin to broil them. They can burn very easy so it's very important to keep an eye on them during this process. This recipe can be easily adjusted and there are tons of ways to make them by adding other seasonings!
http://www.pennywisecook.com/crispy-homemade-oven-fries/
Let me know how they turn out for you!
Like this post? SHARE it!