Happy Monday! There are only about a million reasons why today is a GOOD Monday, y'all. First off, my oldest baby starts kindergarten today! It just doesn't seem right. I've been at home with her since the beginning and it's going to be really different around here without her energetic self. I might just be able to keep the house clean. 😉
Another reason that today is a great day is because I had a fantastic weekend and someone those always seem to make way for a good week. Enjoyed some time with all of my family. I got to snuggle my step-sister's little boy and even worked a little Scrabble game in. My dad even made me up some homemade ice cream. You know, the automated cranked kind. (I must be really special, huh?!) It was such a wonderful weekend and makes me so thankful for my family.
The biggest reason that I'm so glad that it's Monday is that I have now declared TODAY the beginning of CandyBar Week here on Pennywise Cook! Oh yeah, we're talking homemade versions of your favorite candybars that take very little time, money, and effort. I had no idea how easy my favorites were to make! I'm so glad to share these with you this week. I hope you enjoy them as much as I have.
And my entire family and friends have. I have now shared some of my candybars with most of my family by request. They were all in aw of how close they were to the real thing! And by the ingredients too….you might be surprised what it takes to make them. But I'll shut up now and start you off today with Homemade Peanut Butter Cups!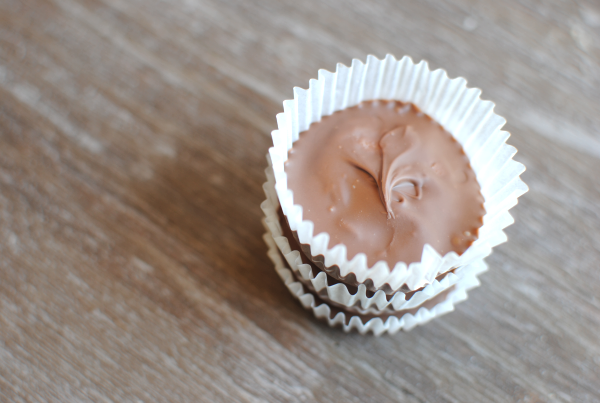 I can already tell you that you will love these Homemade Peanut Butter Cups. Much like the original Reese's Cups, these are much more special because they are made with love and ingredients from your very own kitchen. Can't you just imagine them as perfect Christmas gifts?
Grab your old trusty double boiler, or perhaps your two small saucepans like I do. Throw some hot water in the bottom one and get it going on a slow boil. Melt up a cup of milk chocolate chips. Or use your microwave if you're brave. I'm not, so I use my saucepans.
Line a muffin tin with liners and drop a thin amount of melted chocolate into each cup. Use your spoon to get it into each little crevice of the liners. This is what really makes it look like a peanut butter cup. Then pop them in the freezer for a bit while you whip up the filling.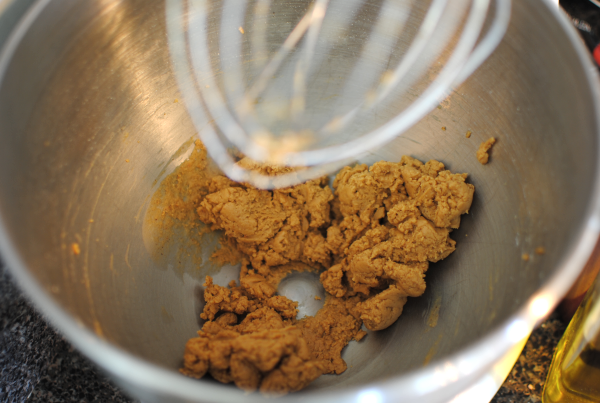 The filling is super easy. In a mixer, mix together natural peanut butter, powdered sugar and honey. Voila! It's ready to be rolled and then flattened into your frozen bottoms.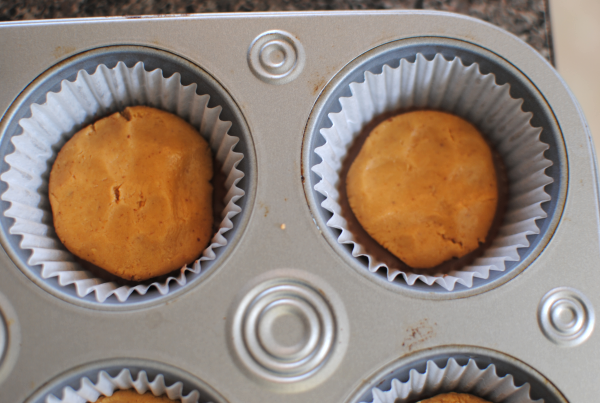 Use about a teaspoon of the filling per cup. Roll it up into a ball, then flatten onto the chocolate leaving a little space around the outside. This way the chocolate can ooze down in there to create a smooth outer shell.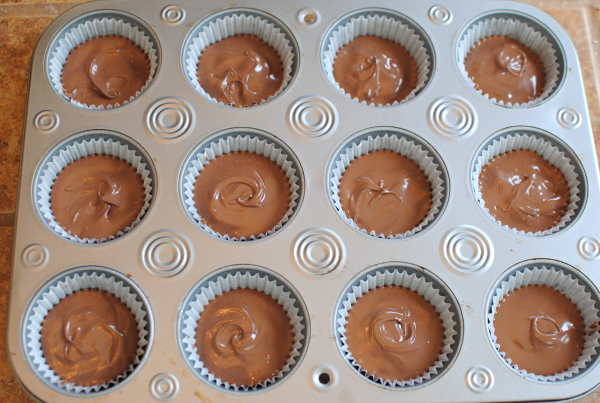 Melt another cup of chocolate chips and smooth it on top of each cup and freeze for a little bit longer and you're done!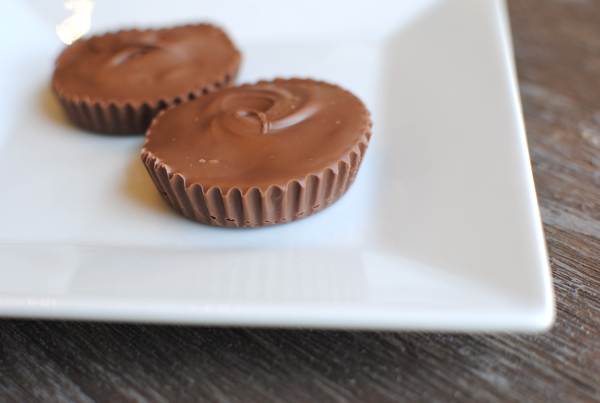 So tasty and so close to the original thing that you'll believe that's just what you're eating.
The first time I made them, I used semi-sweet chocolate chips for the coating. It was ok, but not near as good as the milk chocolate. We liked the ones made with them a lot better. I also made them in the mini muffin tins the first time and the second batch was in the larger ones. After having it both ways, my hips told me to go back to the smaller muffin tins next time. 🙂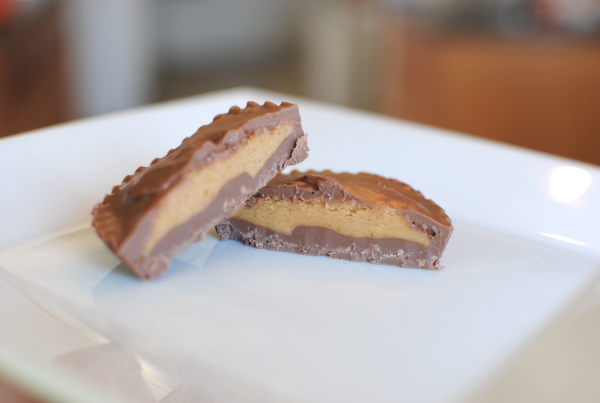 Mine weren't perfect by any means, but here's the inside. Oh my goodness, I want one right now y'all!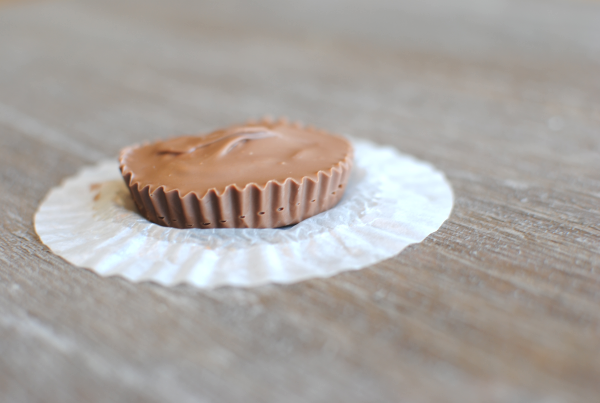 Let's talk about how to make them…
| | | |
| --- | --- | --- |
| CandyBar Week: Day 1- Homemade Peanut Butter Cups | | |
Recipe Type:
Candy, Dessert, Snack
Author:
With just 4 ingredients, create peanut butter cups that rival even the biggest peanut butter cup competitors.
Ingredients
2 c. Milk Chocolate Chips
1/2 c. Natural Peanut Butter
3 Tbsp Powdered Sugar
1 Tbsp honey
Instructions
Melt 1 cup of the chocolate chips in a double boiler. Drop equal amounts into a lined mini muffin pan. Use a spoon to even it out into the crevices of the liner. Place in freezer for 5-10 minutes while you make the filling.
With a mixer, whip together the peanut butter, powdered sugar, and honey. If you notice your filling being a little too thick, pour a few drops of the natural peanut butter oil into it to thin it out just a bit. It should be like dough and able to be rolled.
Remove the chocolate from the freezer. Roll the filling into 1 teaspoon- 1 and 1/2 teaspoon balls. I used about 1 and 1/4 tsp for mine. Flatten them on the chocolate leaving a little space on the outside of the filling for the chocolate to go into.
Melt the other cup of chocolate chips and even pour equal amounts on top of the peanut butter filling smoothing it out as you go. It's best to do one cup at a time because the peanut butter can make the chocolate harden faster this time.
Freeze for about 10 minutes then serve!
Like this post? SHARE it!