Did you ever eat caramel apples as a kid? Heck when I find them, I like to eat them now! They are kinda healthy aren't they? Big juicy apples covered in gooey caramel and crunchy nuts. Mainly apples, so I think that's worthy of calling "healthy".
And of course, the fact that they are on sticks makes them that much more appealing. It's amazing what putting something on a stick will do to it's allure. I watched an entire show dedicated to bacon on a stick the other day. There's a huge market for that you know.
Whether you like your caramel apples on a stick or not, this salad is very similar to that tasty treat. It's got it all, plus a little extra like marshmallows and crushed pineapple. I will have to admit that when I was making this, I wasn't sure about adding those things into it. I thought it might take away from the theme. It turned out that those things just enhanced it a bit.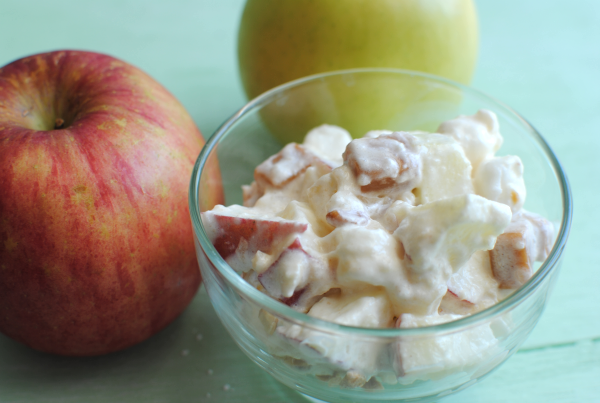 This salad would be perfect for a summer get together. Just don't set it next to the potato salad. There might be a little confusion…
I made this one morning and by the following day, it was completely gone. Between my little one who loves apples and us big kids who love the caramel and marshmallows, it was the perfect treat on a hot day.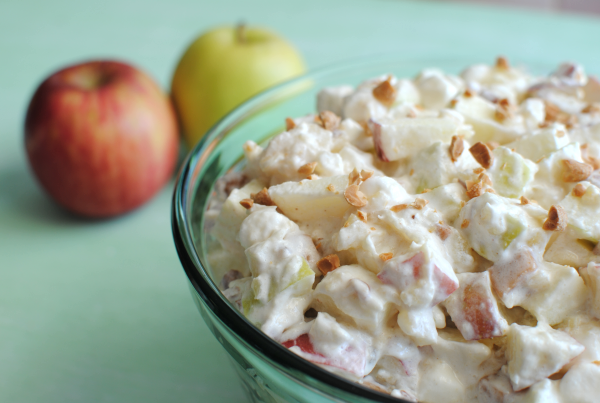 Recipe Type:
Side dish, Dessert
Author:
Ingredients
1 c. Sugar
2 Eggs
2 Tbsp Flour
1/2 c. Chopped Peanuts
1 (8 oz) Container Cool Whip
1 Can (20 oz) Crushed Pineapple, Drained
2 and 1/2 c. Mini Marshmallows
2 Red Apples, Unpeeled and diced
2 Green Apples, Unpeeled and diced
1 Pkg Caramels, Cut into fourths
Instructions
Mix sugar, eggs, flour, and peanuts into a small saucepan over medium heat. Cook until thick. Let cool and then fold into cool whip. Set aside.
Combine crushed pineapple, marshmallows, apples, and caramels and stir in cool whip mixture.
Serve chilled and store covered in refrigerator.
Notes
You will most likely want to make this close to the time that you intend on serving it. The apples can begin to brown after a couple days.
Like this post? SHARE it!