I think it's about time that I shared a bad recipe with you. No, not bad as in it tastes like crap, but bad as in naughty. Oh yeah, you know what I'm talking about.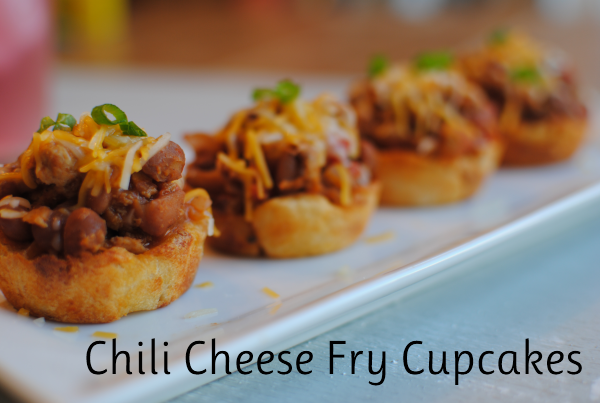 Try chili CHEESE fries. I'm feeling naughty just typing those words. Every now and then I like to take a break from my vegetable eating, low fat loving, and calorie watching to just make something so incredibly yummy that my toes curl. These Chili Cheese Fry Cupcakes come pretty darn close.
As you'd expect, I used ground turkey which makes me feel just a taddy bit better about them. I also used part skim low-moisture cheese which is also a little better. Besides that, all bets were off.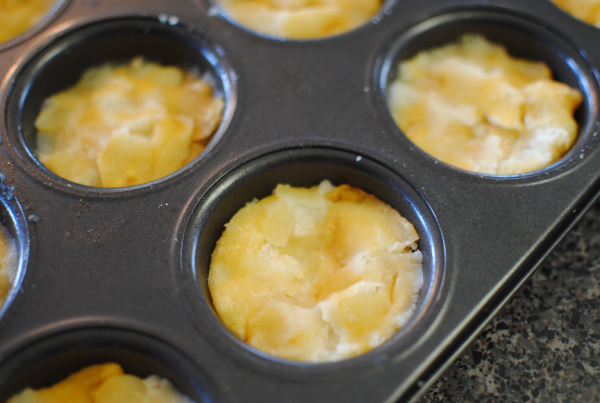 I started off by microwaving some store-bought steak fries until they were soft. Next time I will be making the fries from scratch in order for them to be softer. These ended up a bit crunchier than I would have preferred, but they were smothered in chili and cheese so I can't complain too much.
Once the fries are softened, you squish them into muffin tin wells to make the base of your "cupcake". Believe it or not, but your muffin tin will take an entire bag of steak fries. Then it's a matter of baking them a bit and letting them cool a minute before topping them with your fantastically easy homemade chili and melty cheese.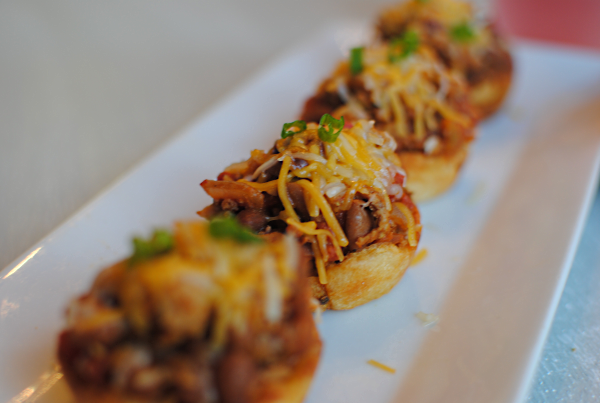 The result is nothing short of amazing. You have fries, chili, and cheese all in your hand. The only thing that could make this better would be….well,…….sour cream. (Which I unfortunately did not have otherwise I would have put a dollop on these)
I got the idea for these gems over at 1 Fine Cookie. I made the chili part up myself in an attempt to make it fast and wow did it come out well!
Chili Cheese Fry Cupcakes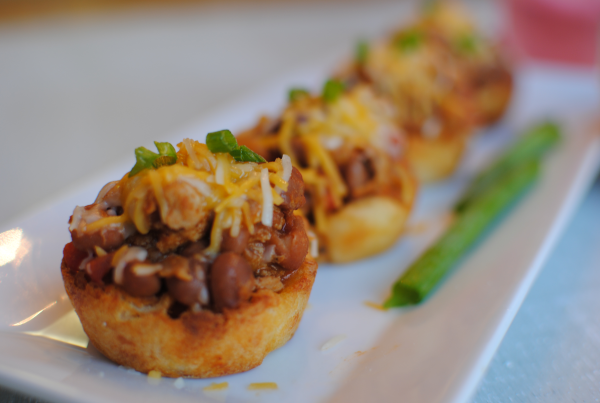 These cupcakes are anything but dainty. Chili, cheese, and fries come together to create the ultimate savory cupcake.
Ingredients
1 Package Frozen Steak Fries (or create your own fries)
1 Pound Ground Turkey
1 Can Ranch Style Beans
1 medium Onion, Chopped
1 Can Rotel
1 Tsp Chili Powder
1 Tsp Garlic, Minced
Salt and Pepper to Taste
2 Cups Shredded Cheddar Cheese
Method
Preheat oven to 375 degrees.
On a large microwavable plate, microwave steak fries for about 4 minutes or until soft. (You may have to do this in batches) Let cool.
Squish and flatten equals amounts of fries into the muffin tin wells.
Bake fries for about 25- 30 minutes. Do not overbake or else they will be hard as a rock.
Meanwhile, brown ground beef with onion and garlic.
Add in beans, rotel, chili powder, and salt and pepper to taste.
Once potatoes are done, removed from muffin tin and allow to cool.
Place a spoonful of chili on each of the fries. Next top with equal amounts shredded cheese.
If desired, place cupcakes in the oven to allow the cheese to melt for a moment or two.
Serve with sour cream and green onions if preferred!
Notes
If you do plan to make your own potato fries (I will do this next time!), parboil your fries a bit before placing them in the oven to crispy a little. Then squish them into the muffin tins before baking them one last time.
http://www.pennywisecook.com/chili-cheese-fry-cupcakes/
Like this post? SHARE it!